Tributes are pouring in for Mexican actress Carmen Salinas who has died. She was 82-years-old.
The prolific actress and important figure in the Mexican entertainment industry died after suffering a stroke that left her in a coma, her family has confirmed.
"For his painful passion, have mercy on us and on the whole world," a statement from Salinas' family posted to her Twitter account reads.
The statement, translated from Spanish continues: "With deep sorrow, we inform you that the top actress Carmen Salinas, has passed away today, December 9, 2021. Details about funeral services will be provided later."
On Thursday, her nephew Gustavo Briones confirmed that Salinas was being treated in intensive care.
Following her death, her daughter María Eugenia Plascencia Salinas paid tribute to her mother on a Mexican radio station.
"I managed to see my mother alive, and I spoke with her that if she had to leave, she would go away in peace, that she was going to meet my little brother Pedrito and my uncle Chato, that she didn't worry about anyone here, that she left calmly," she told hosts María Antonieta Collins and Raúl González, per outlet CVBJ.
She added that her mother would want to be remembered as "a great woman, like a great artist, a great friend, a great sister, mother, grandmother, great-grandmother, nobody will forget her, and remembering in movies, novels, my little mother will always be there."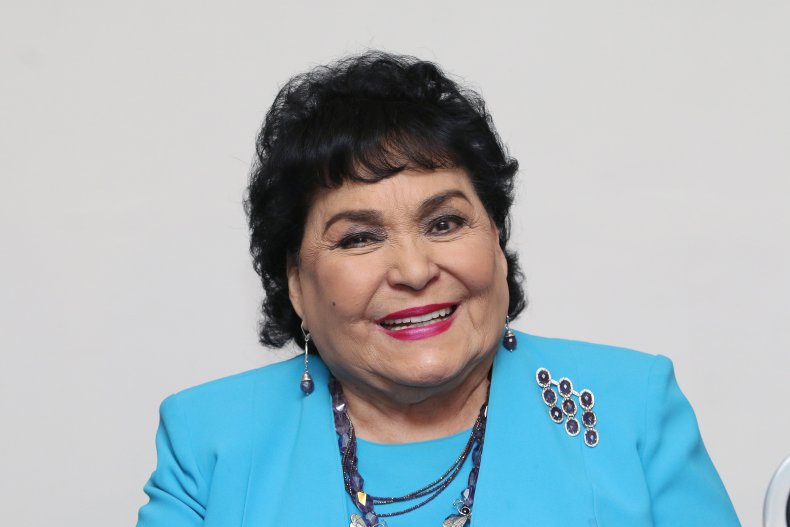 Several people are paying tribute to the late comedian, politician and theater entrepreneur on social media.
"Today we have to say goodbye with deep sadness to a woman who made history on television and film in Mexico," said actor Eugenio Derbez. "Her charisma filled any place where she was with light and that is how I will remember her. To his family I express my deepest condolences. QDEP Carmen Salinas."
Journalist Liz González tweeted: "She was AUTHENTIC. She was like our Tia who told it like it is. May she rest in peace. QEPD Carmen Salinas."
"Rest In Peace Carmen Salinas. you were everyone's mom in telenovelas & a comforting figure in my adolescence," added poet Yesika Salgado.
Writer Jenny Lorenzo tweeted: "I grew up watching Carmen Salinas and the many telenovelas she starred in. This one got me."
TV personality Gigi Graciette also paid tribute, writing: "Carmen Salinas, a beloved icon of Spanish-language television, has passed away at the age of 82. Que Diosito la tenga en su gloria."
Salinas is remembered by her daughter, María Eugenia Plascencia, and her seven grandchildren.