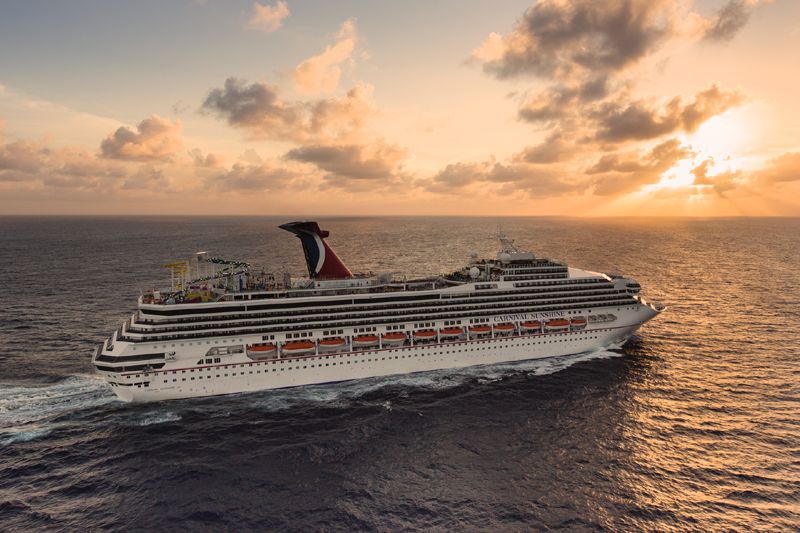 A cruise ship that departed Florida's Port Canaveral on Sunday evening descended into "chaos" after a technical issue caused it to tilt—leaving passengers in a panic.
Officials from the Carnival Cruise Line confirmed an issue with the vessel's fin stabilizer was to blame for the unexpected leaning, which is known as "listing." David Crews, a guest who was on the ship—the Carnival Sunshine—described his own experience to WKMG-TV (News 6).
"I didn't think anything of it since it's not uncommon for ships to rock back and forth," Crews, of Long Island, told the U.S. news outlet. "But it didn't rock back. It kept leaning. Plates and silverware started sliding off the tables. The tables themselves started to slide. Glasses and plates started to fall and shatter. At this point, it was pure chaos. Screams. Cries. Panic."
The cruise ship listing—which happened only hours after leaving the port—was eventually brought under control and officials confirmed the journey would continue as planned.
In a brief statement, Carnival Cruise Line said: "On Sunday evening, Carnival Sunshine experienced a technical issue which caused the ship to list. There was never any issue with the safe operation of the ship and our officers quickly intervened to correct the situation.
"Following the incident, evening events resumed for our guests. Carnival Sunshine proceeded on its Caribbean cruise as scheduled." the cruise company continued. "We are very sorry for the disruption this caused. The ship remains fully operational and will sail as scheduled. We remain confident of the safety of the ship as we are committed to the safety of our guests and crew."
A notice from the captain, dated October 29 and published to social media, explained the issue in greater detail and informed guests that they would receive compensation for the incident.
It read: "We have identified that an electrical switchboard malfunction impacted the use of the fin stabilizers. It's important to note that fin stabilizers are not a safety feature; they are deployed solely for guest comfort to minimize any potential ship motion while at sea. There was never any issue with the safe operation of the ship and our officers quickly intervened."
A $50 per person onboard credit would be posted to passengers' accounts. According to News 6, some guests decided to fly home after the ship docked in the Dominican Republic Tuesday. Carnival Sunshine is scheduled to dock back in Port Canaveral on Friday (November 2).
On social media, some passengers wrote about their frustration with the listing.
Twitter user Connie Calvert wrote: "Get me off this ship Carnival Sunshine. We just listed so bad that I am not comfortable being in this [ship] anymore. Water ran out if the pools, glasses shattered in my room and drink spilled in my suitcase! Another ship passenger then chimed in: "I was in the dining room on 3 when it happened. Everything when flying. Sooo scary."