Carnival Latest to Require Unvaccinated Florida Cruise Passengers to Have Travel Insurance
Carnival Cruise Line will now require unvaccinated passengers to provide travel insurance or proof of a COVID vaccination when boarding in Flordia.
Passengers must either show a physical vaccine card or a digital vaccine certificate, or prove that they have purchased travel insurance before being allowed to cruise.
Unvaccinated passengers 12 and older that are boarding Carnival ships are required to have travel insurance with a minimum of $10,000 per person in medical expenses and an emergency medical evacuation policy of at least $30,000.
"The insurance policy must name the unvaccinated guest as the policyholder or beneficiary and may be purchased from a travel insurance company of the guest's choosing or through Carnival Vacation Protection, which includes the required coverage," Carnival's policy said.
Carnival is offering Carnival Vacation Protection, which would cover meet the company's insurance requirements, for passengers in the U.S., Canada, the U.S. Virgin Islands and American Samoa. Passengers must purchase it no later than 14 days before departure, according to Carnival.
"Guests without the required proof of insurance will not be permitted to sail and no refund will be provided," the policy said.
The cruise line does not require vaccinated passengers to be tested for COVID-19 before boarding, but all passengers are subject to testing if the line deems it necessary. If a guest tests positive, they will not be able to board, but Carnival will grant them a credit to use on a future cruise.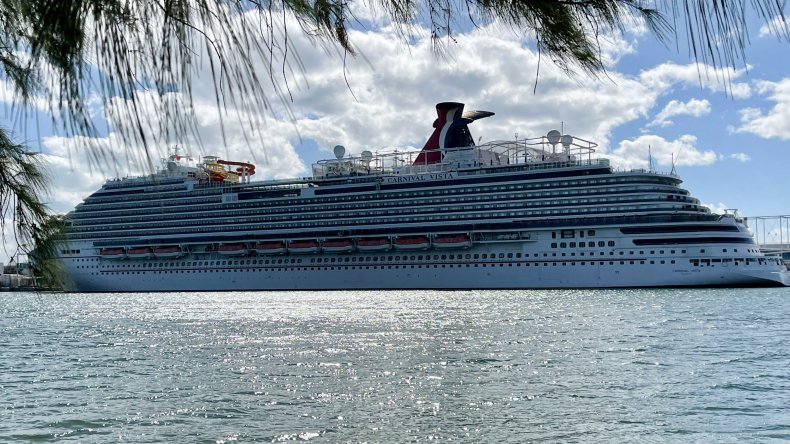 The cruise line sent out two cruise ships July 4, its first cruises since shutting down over 16 months ago due to the COVID-19 pandemic, a spokesperson told Newsweek. Carnival Vista left from a port in Galveston, Texas, while Carnival Horizon departed from Miami.
The cruise line plans to send out its Alsaka cruise ship, Carnival Miracle, and its brand new ship, Mardi Gras, by the end of the month.
Currently, the policy only pertains to cruises departing from Florida ports, and Carnival has not announced similar restrictions for Texas, Alsaka or any of their other domestic or international ports. It is set to go into effect on July 31.
Royal Caribbean cruises also require travel insurance for the unvaccinated, effective Aug. 1. Passengers boarding Royal Caribbean liners need "$25,000 per person in medical expense coverage and $50,000 coverage for emergency medical evacuation and no COVID-19 exclusions," according to their website.
Royal Caribbean will not require individuals to provide proof of vaccination, but passengers who do not will be subject to testing as well the insurance requirement.
"Since the majority of our guests will be vaccinated onboard, there will be venues and events restricted to vaccinated guests only," Royal Caribbean's policy stated. "We'll do our best to create opportunities for all guests to enjoy their time with us."