Carnival Passenger Plunges From Ship, Prompting Florida Coast Guard Search
The U.S. Coast Guard is searching for a man who jumped overboard a Mardi Gras Carnival Cruise ship near the Florida coast early Saturday morning.
The 43-year-old man, who has not been identified in media reports, plunged from the ship as it was returning to Port Canaveral, Florida, from a trip through the Caribbean. The incident occurred about 55 miles east of the shoreline, a Coast Guard spokesperson told USA Today.
Crew members on the cruise line and another nearby Carnival ship, Elation, said they began searching for the man immediately. The Coast Guard then took over, deploying two patrol boats and an airplane to assist in their efforts.
"The ship's crew participated in search and rescue efforts until the ship was released by the U.S. Coast Guard, which continues the search," the cruise line said in a statement, according to USA Today. "The Carnival Care Team is supporting the guest's family. Mardi Gras arrived to Port Canaveral and will be sailing its next itinerary."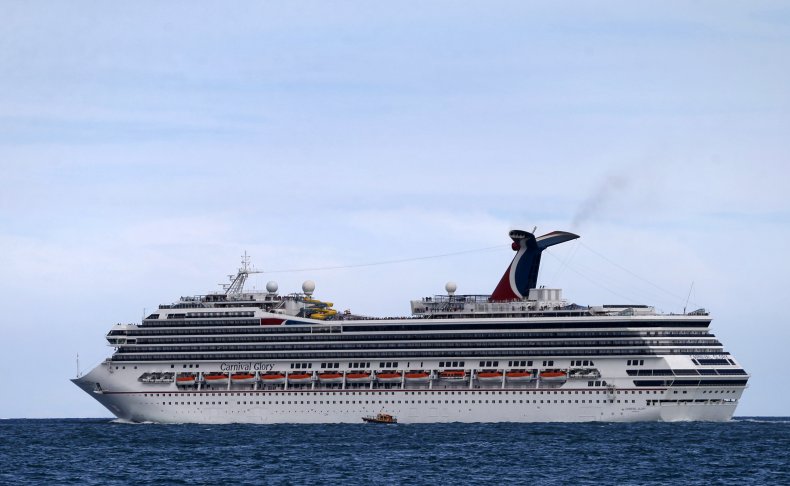 The Mardi Gras is Carnival's flagship cruise and began sailing Caribbean routes in the summer of 2021 following a pause on activity due to the pandemic.
The incident reportedly sent the ship into "pandemonium," with one passenger telling TMZ that staff members were scrambling to help find the man. It also marks the fourth incident in the last several months in which a Carnival passenger fell into the sea.
Last month, Coast Guard officials recovered the body of a man, who jumped overboard the Carnival Horizon cruise ship, as it departed from the Turks and Caicos, USA Today reported. A month earlier, a 32-year-old woman went overboard the Carnival Valor cruise ship about 150 miles offshore of Southwest Pass, Louisiana.
Meanwhile, an incident in December in which a woman in her mid-20s fell overboard the Carnival Miracle cruise ship near Ensenada, Mexico, sparked debates that there may have been "foul play."
Daniel Miranda, a Northern California firefighter paramedic onboard the vessel, told reporters that "someone has lost their life, whether it was done by accident or by foul play I don't know—there's some high suspicion of foul play," Newsweek previously reported. "A lot of people are concerned because that's somebody's life, and that's a high likelihood that this person will not be found alive."
Coast Guard personnel from San Diego joined the Mexican Navy in search for the woman, but they suspended their efforts after 31 hours without luck.
The Mardi Gras ship has a total guest capacity of 6,465 and a crew of approximately 1,745, according to the Carnival website. The ship has 2,641 guest staterooms and 17 passenger decks.
Newsweek contacted Carnival for additional comment.