Carnival in Venice 2019: Great Photos of Masked Revelers in the 'Floating City'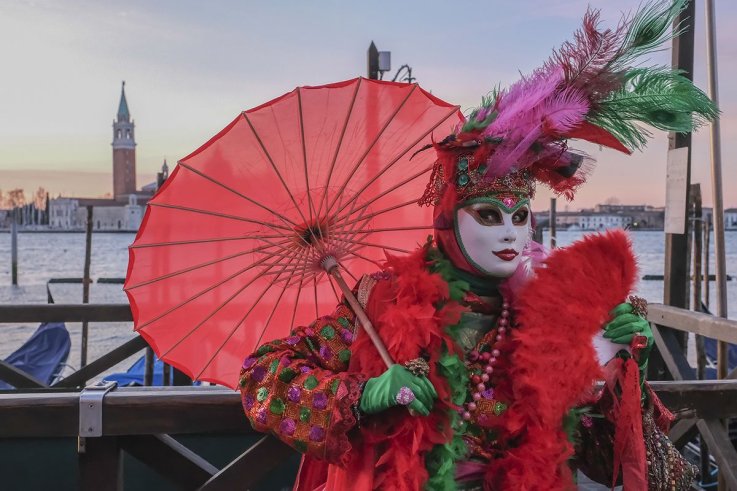 The annual Venice Carnival is in full swing, with thousands of revelers thronging the city's canals and squares in elaborate costumes and extraordinary masks. During the 18 days of Carnival, the lagoon city fills with thousands of tourists from across Italy and around the world.
The Carnevale di Venezia is thought to date back to the 11th century, making it one of the world's oldest. Carnivals are held in many Catholic countries, such as Spain and Brazil, where they serve as a last chance to eat, drink and be merry before the deprivations of Lent, the 40 days of fasting that precede Easter.
It is thought the masks allowed Venetians to hide their identities, allowing the poor to mix with the wealthy, breaking rigid social order, even if only for a brief and controlled period.
This year's Carnival festivities kicked off on February 16 and go on until March 5. The theme of Carnival 2019 is "Tutta colpa della Luna," or "Blame the moon," marking a half-century since man first walked on the satellite.
To prevent overcrowding, authorities have installed turnstiles at the entrances to the historic St. Marks' Square, closing it off to new visitors once 23,000 revelers have entered. Costumed revelers are also searched as they enter the square.
The city of Venice is made up of 118 islands separated by canals and linked by more than 400 bridges. Located in the shallow Venetian Lagoon in northeast Italy, the city is a UNESCO World Heritage Site.
Although most visitors stick to the traditional Carnival costumes of baroque gowns and bejeweled masks for women and black capes and menacing masks for men, more and more people are opting for their own unique interpretations.
Some visitors use Carnival as an opportunity to show off a fabulous creation they've always dreamed of wearing. It doesn't have to be Venetian. It doesn't have to be traditional. At Carnival, everybody is free to be who—or what—they want to be. Perhaps a different gender—or even species. That's the joy of the mask—nobody knows who or what the person wearing it was before Carnival.
Newsweek presents some of the best masks and costumes seen at this year's Venetian Carnival.