'Tiger King' Star Carole Baskin Slams New Series, Accuses Director of 'Betrayal'
Carole Baskin has lashed out at the making of Tiger King 2, after an announcement that the upcoming sequel episodes will air on Netflix later this year.
After appearing in the hugely successful Tiger King: Murder, Mayhem and Madness documentary series, which debuted last year, Baskin has openly expressed her objections to the way she was portrayed on the show.
At particular issue for Baskin was the show's third episode, which looked into the disappearance of her husband, Don Lewis, who her nemesis Joe Exotic—real name Joseph Allen Maldonado-Passage, né Schreibvogel—alleged was killed by Baskin and fed to her tigers, allegations she vehemently denies.
While Baskin, founder of the Big Cat Rescue animal sanctuary in Florida, was given time to deny the claims on the show, she still objected to the allegations getting air time.
And after Netflix unveiled teaser footage for Tiger King 2 on Thursday, Baskin—who will not be taking part—spoke out against the production, while she also accusing director Rebecca Chaiklin of "betrayal."
She said in a statement, per The Hollywood Reporter: "I don't know how they put out a Tiger King 2 when Joe Schreibvogel's in jail and I'm refusing to be played again.
"Rebecca Chaiklin said she wanted to 'clear the air' about what they did to me in Tiger King. I told her to lose my number. There is no explanation for such a betrayal and false portrayal."
Baskin is instead urging viewers to watch recently-released documentary film The Conservation Game, which investigates the exotic animal trade and has won her full support.
"If people really want to know how the horrific and unsafe conditions tigers endure in the U.S. was started, they should be demanding to see The Conservation Game film by Michael Webber," Baskin continued in her statement.
"His film answers the important questions that Tiger King glossed over."
Newsweek has contacted a representative of Netflix for comment.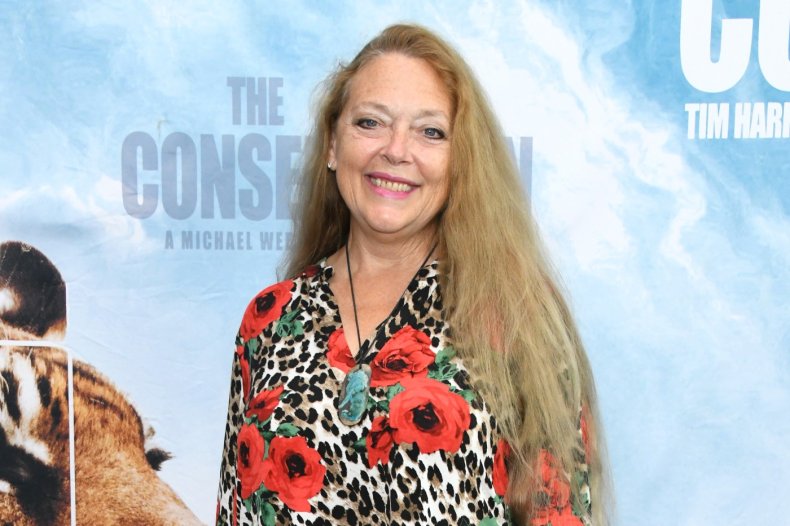 When she initially distanced herself from the show last year, Baskin told IndieWire that she was informed by the Tiger King production team that the project would be similar to the SeaWorld exposé Blackfish in unveiling the mistreatment of animals.
Instead, the series became a huge talking point for other reasons, thanks to its focus on Baskin's bitter rivalry with Exotic, former owner of the Greater Wynnewood Exotic Animal Park in Oklahoma.
The documentary also dedicated screen time to the disappearance of Baskin's former husband, who went missing in 1997 and was declared legally dead in 2002.
And it appears there may be more of the same, as a teaser trailer for Tiger King 2 shows conservationist Baskin walking down a hallway, before a billboard seeking information on who "murdered" her ex-husband is flashed up on the screen.
In a blog post on her Big Cat Rescue site last year, Baskin distanced herself from the show, as shew wrote: "It has a segment devoted to suggesting, with lies and innuendos from people who are not credible, that I had a role in the disappearance of my husband Don, 21 years ago.
"The series presents this without any regard for the truth or in most cases even giving me an opportunity before publication to rebut the absurd claims. They did not care about truth. The unsavory lies are better for getting viewers."
Also last year, Tiger King producer Eric Goode hit back at Baskin, telling Entertainment Weekly that he had particular issues with her sanctuary.
He said: "I think there's a lot of hypocrisy when it comes to Carole, and a lot of greenwashing.
"I think that what people should take away from the show and what one should do to protect tigers, in particular, big cats, is to support more programs in the wild... Carole keeps them [big cats] in cages for the duration of their lives, and I'm not sure that's the right thing to do."
Baskin's rivalry with Exotic hit its peak when he ordered a hit on her life. Those charges, including counts of animal cruelty, led to Exotic being sentenced to 22 years in federal prison in 2019.
In July of this year, a federal appeals court ordered that Exotic be resentenced, as his initial sentence was deemed too hard. He is currently awaiting resentencing.