Carole Baskin Sues Netflix, Production Company Over 'Tiger King' Footage in New Series
Tiger King star Carole Baskin is suing both Netflix and production company Royal Goode Productions for alleged unauthorized footage in the new documentary, "Tiger King 2."
On Monday, Baskin and her husband Howard Baskin filed a lawsuit against both companies alleging that Royal Goode Productions breached the contract by using footage of both her and her husband in "Tiger King 2." According to the lawsuit, which was obtained by Variety, the Baskins only signed appearance release forms for "Tiger King."
The lawsuit states that "understanding that the appearance releases limited Royal Goode Productions' use of the footage of the Baskins and Big Cat Rescue to the single, initial documentary motion picture, the Baskins believed that any sequel – though odious – would not include any of their footage."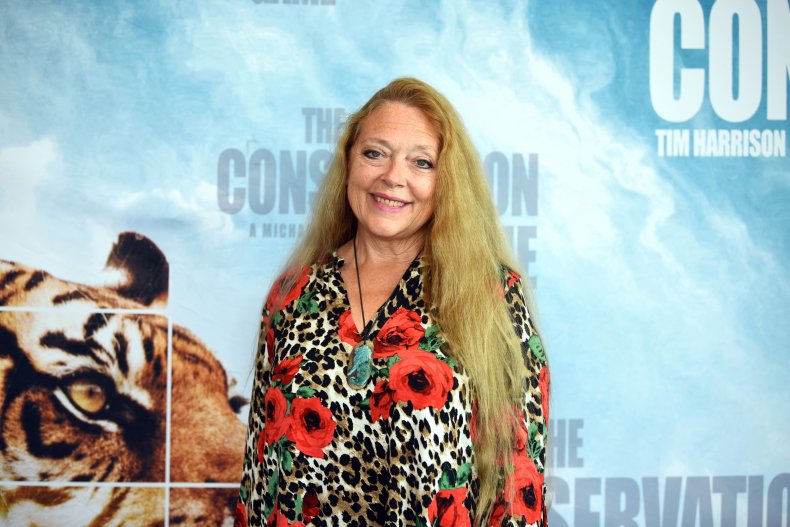 As continued, the suit also mentioned that "the appearance releases limited Royal Goode Productions' right to use film footage of the Baskins to 'a documentary motion picture.' Throughout the Appearance Releases there is only reference to and mention of 'the Picture.' No mention is made of granting Royal Goode Production sequel rights, rights to create derivative works from 'the Picture' or additional seasons or episodes."
Additionally, the suit alleges that "'Tiger King 1' was particularly harsh and unfair in its depiction of the Baskins and Big Cat Rescue. The 'Tiger King 1' series wrongly attempted to suggest that Big Cat Rescue abused its animals by keeping them in very small cages while not making clear that the animals actually reside in expansive enclosures."
In closing, the lawsuit confirms that since both Netflix and Royal Goode Productions used certain film footage in "sizzle reels," and "promotional trailers for the sequel titled 'Tiger King 2," they are in breach of the terms of the appearance releases, which allows the Baskins to bring the case in front of a jury.
Netflix has declined comment on the lawsuit.
Baskin has consistently expressed her disdain for the hit Netflix documentary since its premiere March 20, 2020. The documentary, which centers around the outlandish stories surrounding Greater Wynnewood Exotic Animal Park founder Joe Exotic gained popularity as many people stayed indoors due to the emergence of the COVID-19 pandemic.
Exotic will not appear in "Tiger King 2" due to him currently serving a 22-year-long prison sentence for hiring someone to murder Baskin along with a number of animal abuse charges.
"Tiger King 2" will premiere on Netflix November 17.
Newsweek has reached out to Royal Goode Productions for further comment.