Pop Singer Caroline Rose Seeks Fame and Fortune on Her 'L.A.' Album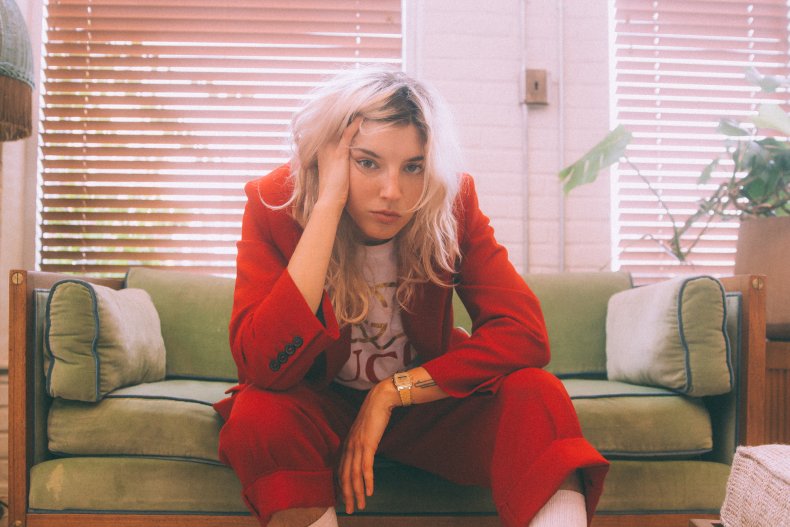 "Suddenly I heard the phone ring/I knew it was my destiny/Calling me from the Chateau Marmont lobby." Those are opening lines from the majestic-sounding "Nothing's Impossible," the lead-off track from indie pop singer Caroline Rose's brand-new record Superstar. They fittingly set up the album's narrative of an underdog who drops everything and reinvents herself in pursuit of stardom; in another song, Rose's protagonist declares: "I'm moving to L.A./I'll weekend in Paris/I'm gonna bask in fame."
For Rose, Superstar is part autobiography and part movie. "I think it was important for me to be honest about certain things that I'm kind of ashamed of, or embarrassed by in my life," she tells Newsweek. "I realized that it makes for a better story if I turn into a character and make it more like a movie. So I made a point of trying to not gender it or make it autobiographical about me, even though everything that happens in it is from my own life: the anxieties, the self-doubt, the regret, the nostalgia—all stuff that I've experienced."
The cinematic-sounding Superstar, which has just been released, marks another artistic progression for Rose, who also produced the record. Its music is dance pop with catchy melodies and grooves, sterling production, and a brash attitude. The new album is the follow-up to her 2018 breakthrough record Loner, which has earned Rose coverage in such outlets as Pitchfork, Rolling Stone and The New York Times.
Newsweek subscription offers >
Originally from Long Island, New York, Rose describes Superstar as an "L.A. record" whose sound and concept were envisioned from the very beginning. "I had all of the ideas," she says. "I had a very solid understanding of how I should approach it, how I was gonna be objective about the work. I made little notes for myself. I was obsessive over the narrative and checking myself, making sure I was still on track."
Newsweek subscription offers >
Given the backstory of Rose's musical career—her transition from a relatively-unknown roots musician to a pop singer with a satirical point of view—it's not surprising that Superstar would take on some autobiographical elements, particularly about having confidence and self-belief. Those aspects can be heard on Superstar's empowering and ruthlessly catchy first single, "Feel the Way I Want," in which Rose sings: "I took a pill and I hopped on a plane/And I'm never ever looking back again." (The song's humorous video shows the singer strutting from Hollywood, California to Hollywood, Florida, after mixing up the address of her acting audition).
"I think half of it is like a fascination with people who have just the most confidence, even if they're just kind of a giant loser," she says of the song. "The other part is like a giant f--k you to anyone who ever thought that I was incapable of something."
But it's not all fun and glamour on Superstar, as there are moments when reality intrudes on the protagonist's fantasy, as in the case of "Do You Think We'll Last Forever?", "Command Z" and the reflective "Pipe Dreams." "I wanted to feel like you're Icarus flying high and getting too confident, and then just falling down from this cloud," Rose says. "It isn't all fun and games. You start seeing some of the regret."
While the album itself was not informed by any specific artist or sound, Rose says she listened to the way instruments were laid out in certain pop songs. "I feel like in modern pop songs everything's just smashed to bits, and it's like a wall of noise constantly. I like the idea of each part having its place and there's no extra fluff, everything has a purpose. And if it doesn't, just cut it out."
Ironically for an album that is L.A.-centric, Superstar was recorded in Austin, Texas, which has been Rose's current home for nearly two years. "What's funny is I was gonna move to L.A., because I find it such an interesting weird place. And I like the sunshine. I've lived in the northeast of my whole life. I just have such a hard time in the cold. So it ended up working out. My plans got derailed and I ended up in Texas. But it's great, because it's very sunny and warm."
With its dazzling synth-dominated sound, Superstar seems poised to build on the momentum of Rose's previous album Loner. Both records are worlds away from her earlier foray into roots music, particularly on her 2014 record I Will Not Be Afraid.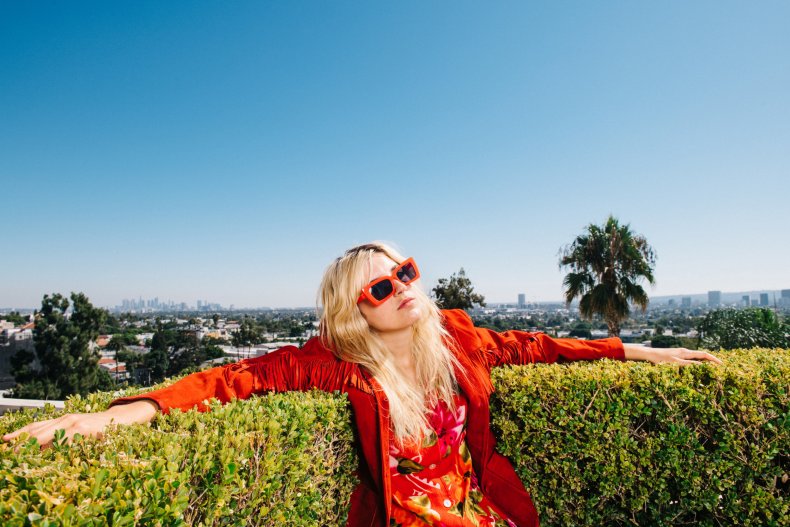 "I took some time to figure it out," she explains about her shift in stylistic direction. "There's like five years in between those albums [I Will Not Be Afraid and Loner] So if I had put out the stuff in between, it just would have made a lot more sense. When I was making Loner, I made a point of making it just weird enough that I could be more experimental in the future. I like the idea of being a little more experimental with each record. So I think that just makes it interesting."
Rose kicks off her latest tour in Albany, New York Friday. The singer's career has gradually been on an upward climb, from the time she was writing songs while living in a van to performing most recently on Late Night With Seth Meyers. But the main highlight for Rose was discovering that her hometown radio station, Long Island's WEHM, has been playing "Feel the Way I Want"—an indication of how far she's come in the last 10 years.
"My dad has been freaking out that they've been playing it on heavy rotation," she says, "and he's been carrying around a portable radio waiting for the song to come on. It's the cutest thing ever. I discovered so much good music from that radio station [growing up]. So hearing my own music on it and how excited my dad gets when it comes on, it's just so cool."
Caroline Rose's new record, 'Superstar,' is now out on New West Records.
Pop Singer Caroline Rose Seeks Fame and Fortune on Her 'L.A.' Album | Culture