NRA President: We Must Prevail With Donald Trump and GOP or Vanish as a Country
National Rifle Association President Carolyn D. Meadows said at a brunch hosted by the Cobb County Republican Women's Club on Saturday that the country is at a "crossroads," arguing that it will "prevail with Donald Trump," or else, "if the Democrats triumph, America as we've known it will vanish."
The comments, reported by the Marietta Daily Journal, came as part of a speech Meadows delivered at the event, which was convened to pay tribute to emergency workers.
"We wanted to honor our first responders here in Cobb County," she said. "They do so much for our community, and sometimes they're forgotten, so we wanted to make sure they were recognized today."
The NRA supports the first responder community through various programs it has developed, such as its "Law Enforcement Officer Line of Duty Death Benefit" payout which provides $35,000 to the survivors of a law enforcement officer killed in the line of duty if they also had an NRA membership.
Through a separate scholarship program, the NRA offers college stipends of up to $5,000 per year for the children of law enforcement officers (who were also NRA members) killed in the line of duty.
But the NRA president also peppered her remarks with references to the entrenched political fights her organization is currently facing at the nation's largest gun-rights group. Federal action on gun reform is a more likely prospect now than in years, and the upcoming general elections in Virginia have become their own battleground as gun-control groups seek to outspend the NRA to promote progressive challengers.
"The NRA stands ready to ensure that our politicians remain in office, those who are the ones who defend our right to defend ourselves and our loved ones," Meadows added. "We will work to defeat those who want to disarm us and look down on us. They look down on us because we cling to our Bibles and our guns. We're not going to have it."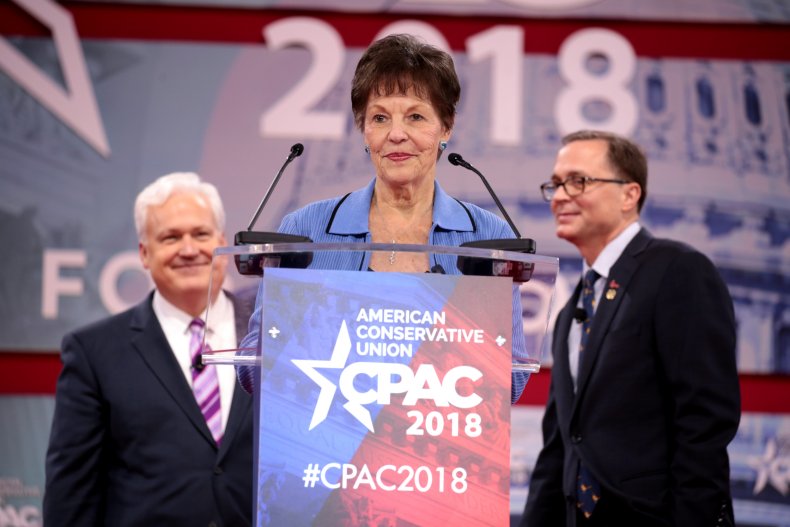 Meadows is a relatively new NRA president, although she is a longtime member of the organization. She has served on the board of directors since 2003 and, most recently, became the group's second vice president starting in 2017 until she was tapped for the presidency after the ouster of Lt. Col. Oliver North.
Until recently, Meadows appeared to be a more vocal advocate for oversight at the NRA, which has come under the cloud of a financial and governance scandal. In February and March of this year, Meadows co-signed memos which sought to scrutinize the billing practices of the NRA's outside counsel, William A. Brewer III, according to a letter written by North.
But since the changing of the guard, Meadows has taken a more defensive, institutionalist approach. She has consistently defended the organization's financial practices and its response to allegations of self-dealing.
Meadows, 80, is only the third woman to serve as NRA president. She is a longtime resident of east Cobb and also serves on the board of directors of the American Conservative Union.
Both Meadows and the Cobb County Republican Women's Club did not respond to requests for comment.