Caron Nazario Video 'Angered Me,' More Police Reform Needed, Says Virginia Gov. Ralph Northam
Virginia Democratic Governor Ralph Northam on Sunday weighed in on the video footage of police officers drawing their guns on Army Lt. Caron Nazario, and then pepper spraying and taking him to the ground during what appears to be a routine traffic stop.
The footage of incident from last December in Windsor has now gone viral since late Friday night, sparking yet another discussion of police reform in the Commonwealth.
Northam issued a statement Sunday, saying he was "angered," and that he has extended an invitation to Nazario to meet with him.
"The incident in Windsor is disturbing and angered me—and I am directing the Virginia State Police to conduct an independent investigation," the governor wrote. "Our Commonwealth has done important work on police reform, but we must keep working to ensure that Virginians are safe during interactions with police, the enforcement of laws is fair and equitable, and people are held accountable."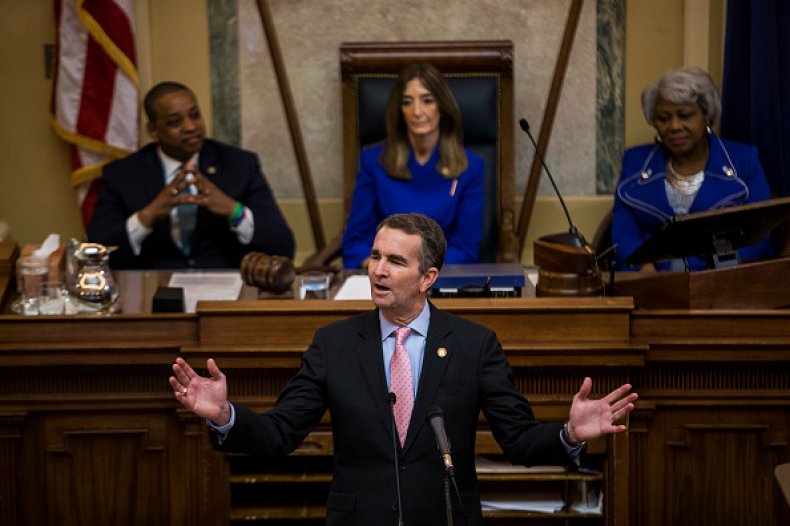 Nazario earlier this month filed a lawsuit in the U.S. District Court for the Eastern District of Virginia, claiming he was racially profiled and that his life was threatened. He said the actions of those officers could have perhaps smeared his military record and impacted his career.
The two officers involved are Daniel Crocker and Joe Gutierrez, and the incident was caught on both body camera and Nazario's cell phone, according to the lawsuit.
Newsweek reached out to the Windsor Police Department. As of Sunday, the department had made no public comment on the case.
Nazario, who was in his military uniform during the incident, is a second lieutenant in the U.S. Army Medical Corps.
"I am inviting Army medic Lieutenant Caron Nazario to meet soon," Northam continued in his statement. "We must all continue the larger dialogue about reform in our country."
Dr. Erroll Southers is the director of Safe Communities Institute at the University of Southern California, where the Law Enforcement Work Inquiry System (LEWIS) registry being getting developed. He told Newsweek on Saturday that it's "unconscionable" the Windsor officers would act in the manner they did with Nazario.
"There's just no excuse for that," Southers said. "They just ruined his life. They have no idea. Army Lieutenant or not, they have no idea what it's like to go through that kind of experience."
Windsor is a small town of less than 3,000 people, just 30 miles west of Norfolk, one of the largest military metropolises in the country.