Carr Fire: Death Toll Rises in Immense California Wildfire
The death toll in California's massive Carr Fire has now grown to seven people, authorities said. The seventh victim in the fire, Jairus Ayeta, was a PG&E crew member working to restore power in Shasta County. Ayeta, 21, died in a car accident, according to KGO-TV.
"Safety of our employees and customers is PG&E's top priority," a spokesperson said, according to KGO. "Our thoughts and prayers are with our fallen team member, their family and our extended team. We are working with law enforcement to investigate the circumstances of the incident."
The Carr Fire reached more than 160,000 acres by the beginning of this week, according to an update from the California Department of Forestry and Fire Protection (CalFire). The fire, burning in Shasta County and Trinity County, started July 23 and was 43 percent contained on Monday.
A sixth person was declared dead as a result of the fire at the end of July, The New York Times reported. The unidentified victim was found after the fire engulfed the victim's home. The fire also claimed the lives of a great-grandmother and her two young great-grandchildren.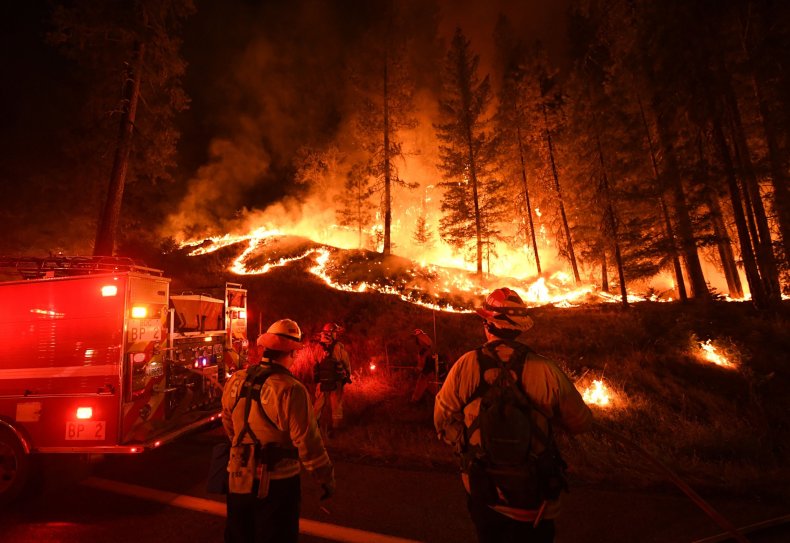 Some 1,080 homes have been destroyed by the Carr Fire, in addition to 24 commercial buildings and 500 outbuildings. Close to 200 homes have been damaged.
Elsewhere in California, other wildfires continued to burn. The Mendocino Complex Fire burned through more than 273,000 acres, making it the fourth largest fire in California state history, according to AccuWeather.
California Governor Jerry Brown announced on Saturday that he requested a presidential major disaster declaration from the White House to help with fires in the state.
"The president has been pretty good on helping us in disasters, so I'm hopeful," said Brown, according to CBS News. "Tragedies bring people together."