California Wildfires: Lead Plane Pilot Battling Carr Fire Lost His Own Home In The Flames
When Dave Spliethof left the ground on July 23 as the first lead plane responding to the Carr fire, he never imagined the blaze would burn over 218,000 acres, but by the time he flew his plane over his neighborhood only days later, his California home was completely gone.
Spliethof has been a pilot with the United States Forest Service for about 22 years and once the Carr fire in California broke out, Spliethof was the first in the air as a lead plane, responsible with guiding tankers to where they should drop fire retardant.
He knew the fire would be "tough" because of its explosive behavior but even when the fire jumped the dozer line and started to grow, he didn't think it would reach the magnitude that it did. On July 25, knowing he would be up early working the fire the next day, he tried to get some sleep while his wife, Eva, packed up some clothes in case they had to leave.
"I kept telling her, 'You know, it's not gonna be here,'" Spliethof told Newsweek. "I'll be working the fire just to the west of us tomorrow."
At around 1:30 a.m. PDT, he got a call from his brother, who told him the fire had reached Shasta, California, only about six miles from his home in Redding, California, and the proximity jarred the wildfire veteran. They put the horses in their trailer that was hooked up to a truck for him to drive, put their three dogs and two kids, aged seven and five, in another truck for his wife to drive, and off they went.
About five suitcases worth of clothes and some important documents were all they took with them. Left behind were all the priceless items every family stores in their home, including every family photo and the American flag that was given to Spliethof at his father's funeral in January as recognition of his service in the United States military.
They ultimately dropped the horses off at a nearby ranch and went to a friend's house, where they would stay for a few days. Working on about an hour of sleep, Spliethof got a good night's rest and then headed back out to work. During a pause in guiding tankers hoping to save other people's homes, he took a moment to see the status of his own.
"House is gone," a text message to his wife read.
Their family home had been reduced to ash and rubble and despite suffering his own loss, Spliethof knew he had to get back to work.
"When I saw my own house burned, I took one lap around the house just to gather my thoughts a little bit. I knew the family was safe, so I just took a deep breath and said, 'Well, okay. We've got a job to do,'" he explained to Newsweek.

He doesn't consider his job dangerous, just "unforgiving," so to alleviate the distraction of his personal life, he put the thought of his home out of his mind and made his job his priority.
When asked how he was able to compartmentalize the loss of his home, he largely credited it to training. His profession requires a constant state of preparedness and in moments such as this, he said you largely just "focus on what you've been trained to do," which allows a person to not think about what's happened or will happen but instead think about being successful in the mission at hand.
Having seen the devastation caused by the Tubbs fire, Thomas fire, and countless others across the country, Spliethof actively prepared a defense for his home against the flames by keeping the grass cut short, removing brush and having tall trees around the property.
"In my mind, we did everything we could to keep the house from burning," he explained. "The firestorm that actually took our house out – the magnitude of it – was greater than anything I've ever seen."
In a normal fire, Spliethof has no doubt his home would have survived, but the Carr fire was "beyond normal," and over three weeks after it started, the fire is still only at 75 percent containment.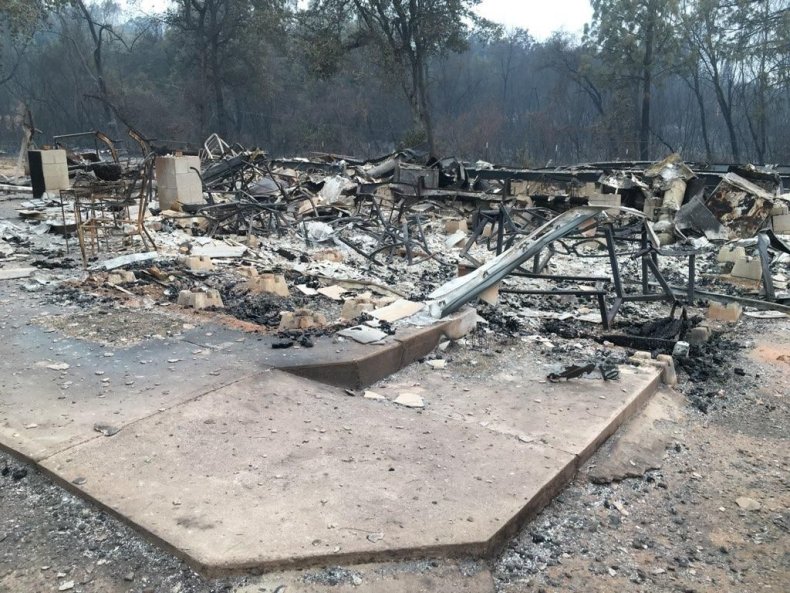 The days and weeks following the fire were filled with hard work for Spliethof, making plans for where they would live, and conversations with their kids about the loss of their home. While his son was in awe of the destruction during a ride past the house, his daughter still longs for her bed, which she got about a year ago.
"She got this nice, two-story bed with a play area underneath and a staircase that goes up to her bed. She was so proud of her bed and she keeps asking about it," the father of two told Newsweek. "In the wreckage, you can see her mangled up, twisted up, bed from the heat of the fire."
Although she knows the bed and a lot of her stuffed animals are gone, Spliethof wants to protect his daughter from unnecessary hurt, so he plans on making sure she doesn't see the charred frame of the bed she loved.
After about a week at their temporary home, they received a call from some friends who had moved to Idaho and were within days of putting their California home on the market. Their friends just wanted to let them know that they called the realtor, told her not to list it, and Spliethof's family is now renting the home from them. His kids, who struggled to deal with the lack of normalcy in their lives following the fire, love the home and are largely settled in and ready for school to start.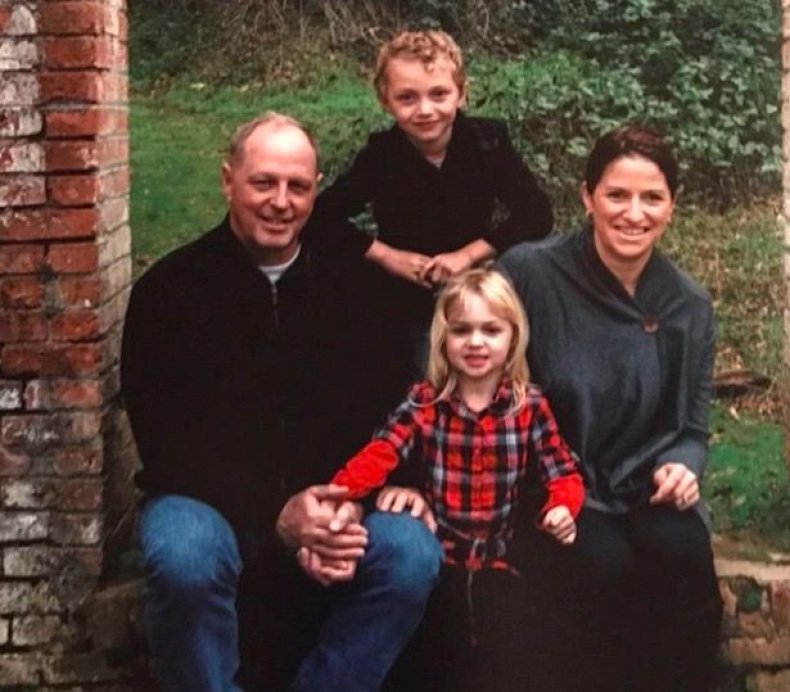 While Spliethof was able to laugh about his son offering to drive the family car during their evacuation and even his wife asking, "Are you sure?" when he told her the house was gone, when asked about what the $32,000 that was raised for his family on a GoFundMe page meant, he choked up and took a minute to collect himself.
"I would consider myself one of the luckiest people to be surrounded by such great people and so many of them," he told Newsweek. "You know that you're surrounded by a lot of friends and work with a lot of people that you highly respect and to have that come back to you, it's pretty overwhelming."
Spliethof isn't alone in this difficulty, either and he told Newsweek that he works with another pilot who lost his home, as well, and is going through the same ordeal.
Through all the outpouring of support for those fighting the blazes, Spliethof, the son of a veteran, told Newsweek he doesn't feel as heroic as people are making it sound and in his opinion, the real heroes, are the ones serving overseas in the military.
"We get to see a result. The fire's coming at us and people see the fight and they see the result," he explained to Newsweek. "People don't get to see that – the immediate effects and results – of the sacrifices people overseas are making for us. I'm just doing my job. The service people are definitely the real heroes."
With regards to where his family goes from here, Spliethof will continue working other fires as he has in the past days and weeks and planning how they're going to rebuild. Given the same circumstances, Spliethof firmly believes that anyone else would have done the exact same thing and even though his family lost their home, he's grateful to have been able to make a difference fighting the fire.