Carr Fire Latest: Evacuations Ordered as Deadly Blaze Rages
A vast wildfire is tearing through Shasta County in Northern California and has left one person dead. Firefighters ordered mandatory evacuations of the affected areas.
According to an incident update by Cal Fire just before midnight July 26, the fire had burned 28,763 acres and was only 6 percent contained. So far, 15 structures have been destroyed, five damaged and 496 threatened.
Cal Fire has 1,748 fire personnel battling the blaze, 110 engines, 10 helicopters and 22 dozers. Tragically, one private hire dozer operator died while fighting the fire.
"The operator was working on an active section of the Carr fire," Cal Fire Incident Commander Chief Brett Gouvea said in a press briefing.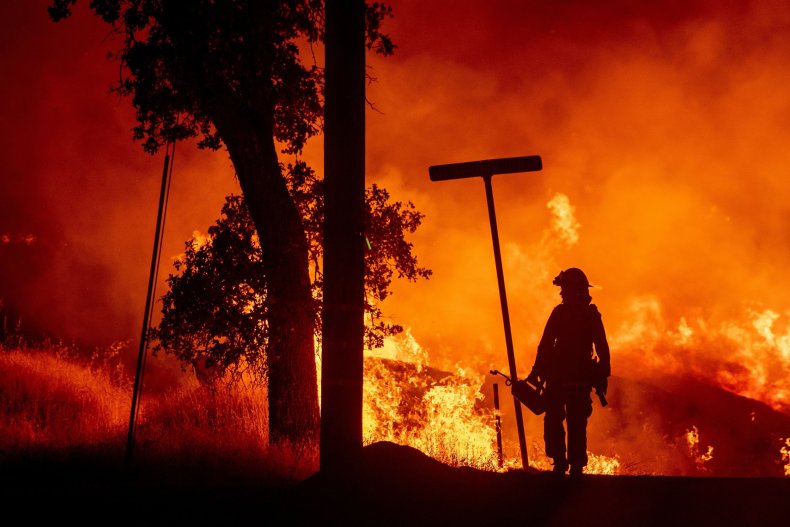 "We are in the process of notifying next of kin. The fire community is extremely heartbroken for this loss. They're dedicated to investigating what happened and will release more information as it becomes available."
Gouvea told residents to pay attention to warnings: "As we mourn the loss, we also battle a fire that is moving extremely quickly and erratically into western Redding," he said.
"We can confirm that we have additional firefighter and civilian injuries. This fire is making a significant push into the northwestern portion of Redding.
"We ask everyone to heed evacuation orders and leave promptly. This fire is extremely dangerous, and moving with no regard for what's in its path."
California Wildfires: Dramatic Photos of the Carr, Cranston and Ferguson Fires
Cal Fire also said triple-digit temperatures and dry weather were forecasted.
Mercy Medical Center was evacuating five babies from its neonatal intensive care unit, spokesman Mike Mangas told the Record Searchlight, though the hospital was not undergoing a full evacuation. Reports that a jail was being evacuated were false.
According to Cal Fire, this is the list of evacuations in place:
Shasta Dam Visitor Center
All of Shasta Dam Blvd.
All of Shasta Lake City and Summit City
Additional evacuation orders issued 7/26/2018 at 12:15 a.m.:
Pine Grove Ave., north on Lake Blvd. to Shasta Dam incorporating Summit City, North Belt Line and Flannigan Road
Intersection of Placer Road and Buenaventura Blvd. west to Thompson Lane
Buenaventura Blvd. from Placer Road to Westside Road
Westside Road to Keyon Drive incorporating Country Heights and West Redding neighborhood
Buenaventura Blvd. to Hwy 299 to Placer Road
Placer Road from Buenaventura Blvd. to Cloverdale Road
Cloverdale Road from Placer Road to Clear Creek Road
Clear Creek Road west from Cloverdale Road to Honey Bee Road
Additional evacuation orders issued 7/26/2018 at 11:00 p.m.:
North of Sacramento River to Keswick Dam Road, west of Market Street and Lake Blvd. to Keswick Dam
North at Lake Blvd. and Oasis Road to Pine Grove Ave. and Walker Mine Road, west of Cascade Road/I-5
Additional evacuation orders issued 7/26/2018 at 7:00 p.m.:
South along Swasey Drive from SR 299 to Placer Road
West along Placer Road from Swasey Drive to Prospect Drive
North from Prospect Drive to encompass Middle Park Ranch Land Area
West of Overhill Drive and north of SR 299
North of SR 299 and west of Spinmaker Road to the end of Harlan Drive
Keswick Dam East to Counter Lane, North to Quartz Hill Road