Carr Fire Update: Police Name People Missing Around Redding
Authorities battling the deadly Carr fire in Northern California have named four people around the Redding area who are still missing. The list originally listed 20 people, but a search of evacuation centers led to 16 of those being found within two hours.
The Redding Police Department said it was still working to find Richard Bigby, Justin Jones, Glenda Prusa—all of Redding—and Bruce Brown of Old Shasta.
"If you are one of the people on this list, or you have information that can help law enforcement locate someone on this list, please contact the Carr Fire Missing Persons Hotline at 530-225-4277," the police said in a statement posted to Facebook.
Six people have so far died in the wildfire, including two firefighters, one of them named by the local union as Fire Inspector Jeremy Stoke. A dozer operator was also killed as he battled the flames.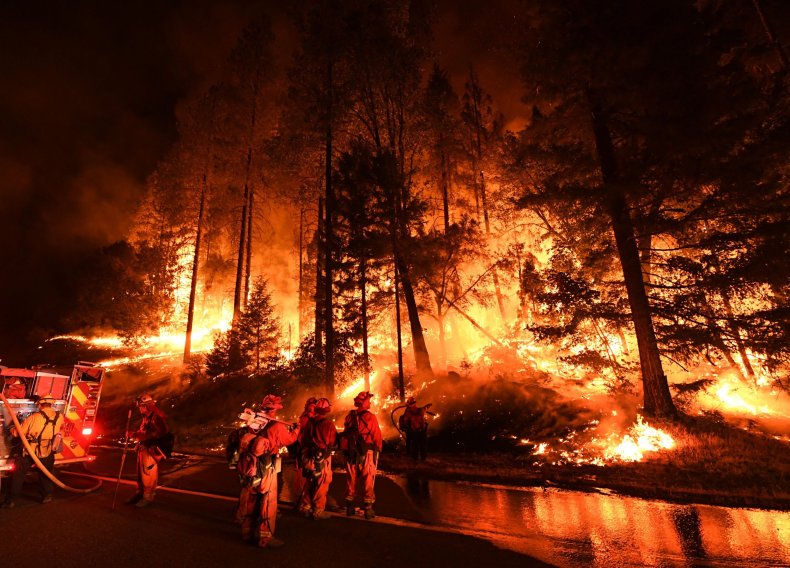 Three of the civilian victims were 70-year-old great-grandmother Melody Bledsoe and her great-grandchildren, Emily Roberts, 4, and James Roberts, 5, who died together in their Shasta County home. Another person also died at home as the fire closed in.
According to Cal Fire's last incident update on Tuesday evening, the Carr fire has so far burned 112,888 acres and is 30 percent contained. It has destroyed 965 homes, 16 commercial structures, and 397 outbuildings.
An additional 178 residences, six commercial structures and 60 outbuildings were damaged. And 2,546 structures were still threatened by the ongoing wildfire.
There are 4,151 fire personnel fighting the blaze and 366 fire engines. There are also 17 helicopters on hand and 119 dozers.
"Shifting winds, steep terrain, and previously unburned fuels are contributing to spot fire potential across lines," said Cal Fire's update.
"Firefighters will continue to build control lines to mitigate spotting, despite these challenging conditions. Winds will increase this evening and into Wednesday. Repopulation of communities affected by evacuations will continue as conditions allow."
Shasta County Sheriff's Office said on Twitter that residents were reporting food shortages because of fire damage and evacuations. It directed those affected to Red Cross evacuation centers, which were providing meals to those in need.
Breathing masks are also available from locations across Redding to help residents cope with the smoky air.
Because of the unhealthy air, public health officials in Shasta County are warning residents to limit exercise and outdoor activities, keep windows and doors closed, and turn on air conditioners with a recirculation setting.
"Certain areas may experience higher concentrations of smoke based on proximity to wildfires and current weather conditions," said a news release from the Shasta County Emergency Operations Center.
"All members of the public, especially those with respiratory or heart disease, the elderly, pregnant women and children should remain alert, and if necessary, reduce or avoid all outdoor exertion when wildfire smoke is present. Everyone else should limit prolonged exertion in areas of noticeable smoke accumulations."