Carr Fire Update: Inferno Spreads Over 100,000 Acres as Blaze Creates New Weather System
As wildfires tear through California, the northern counties of Shasta and Trinity are facing a blaze of more than 103,000 acres. More than 3,600 personnel are involved in the fight to put out the Carr fire—an inferno that began on July 23.
The Carr fire has become so intense it is producing its own localized weather system, CNN reported. The flames have created huge mushroom-shaped clouds that rise above the fire's smoke and are visible for miles, the news outlet reported.
Intense wildfires can produce rare "pyrocumulus clouds" that hover above the fire itself, according to CNN. Blazing heat makes air rise from the flames, and burning plants release water that evaporates into this hot air and condenses in the colder air above, CNN explained. The drops condense on particles of smoke, creating enormous dark clouds that can sometimes produce rain.
Residents also face towering flames. One Redding resident told CNN she had lost her home after twisting flames ripped through her property. "It was almost like a tornado with fire in it," Alyce Macken told CNN. "It came over the hill and it wiped out our house." The city of Redding is at the edge of the enormous blaze, which doubled in size at the weekend.
So far the blaze has killed six people, including two firefighters. It has destroyed more than 800 residences and damaged almost 170 more, according to the latest official Incident Update issued by the California Department of Forestry and Fire Protection (Cal Fire) on Monday evening. Nineteen people are still missing, CNN reported.
Authorities have ordered tens of thousands of people to leave their houses, The Associated Press reported, but some have now been allowed to return. As of the latest update, officials had lifted evacuation orders for Douglas City, parts of Happy Valley, Redding and Shasta Lake City.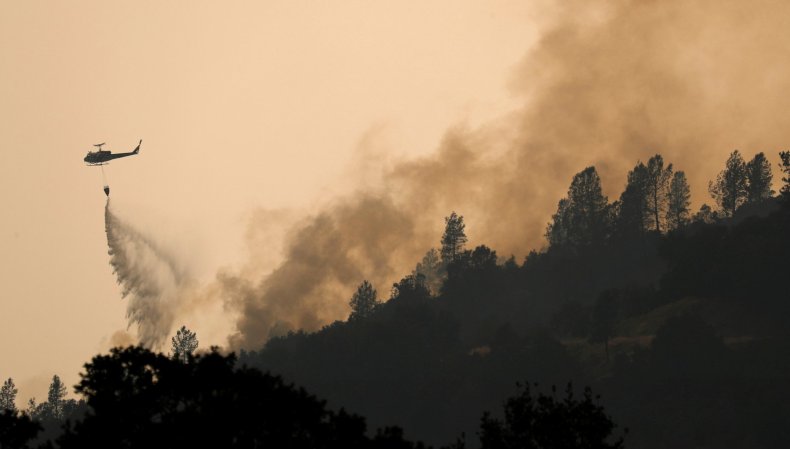 Although the deadly blaze is one of the most damaging in the state's history, firefighters are gaining control. On Sunday, authorities had contained only 5 percent of the fire, That has now risen to 23 percent, the latest update stated. Locals can track the fire's evolving structure on this map.
Meanwhile, two-year-old Gracie Lutz has been giving firefighters burritos at the Shasta District Fair and Event Center, ABC 7 reported. Firefighters smiled as the little girl handed them the food and thanked her for her kindness.