Whiskeytown's Carr Fire Near Redding, California, Grows Rapidly Overnight
A fire that started Monday in Shasta County, California, has burned 20,000 acres, according to the California Department of Forestry and Fire Protection. The fire grew rapidly overnight Wednesday, when it was covering just under 7,000 acres, increasing in activity into Thursday.
The fire was burning in Whiskeytown, near Highway 299 and Carr Powerhouse Road, according to the incident report. The cause of the fire was identified as a vehicle's mechanical failure. Although it was unclear what type of vehicle it was, officials said it might have been a trailer, the Redding Record Searchlight reported.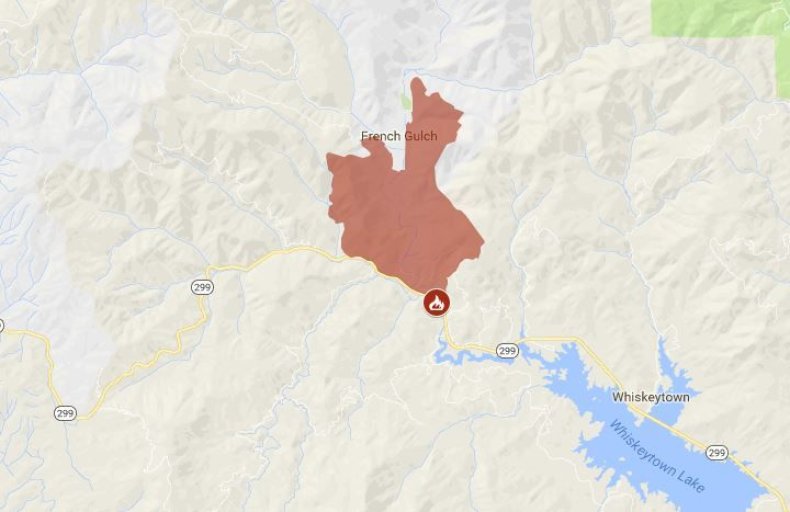 The fire was 10 percent contained Thursday. Firefighters were working to reinforce the set containment lines and add new ones Thursday while temperatures in the area approached 100 degrees Fahrenheit, the incident report said. As of Thursday morning, there had been no injuries or fatalities to either civilians or firefighting personnel.
The report said that no structures were destroyed but that there were 192 structures at risk of damage or destruction from the fire.
Mandatory evacuation orders were in effect at Rock Creek Road, Iron Mountain Road and all of the roads that came off of those two. There were also evacuations ordered for Old Shasta and Keswick, two communities in the area.
Other mandatory evacuations were issued for Swasey to Lower Springs and Lower Springs to Highway 299. Victoria Drive and the roads that extend from it were under evacuation, along with the French Gulch community. A full list of all of the evacuations and road closures is available from Cal Fire.
There were 1,344 people working to contain the fire. They had 110 fire engineers on the scene with the 40 crews, 10 helicopters and 22 bulldozers to help stop the fire from spreading.
California Wildfires: Dramatic Photos of the Carr, Cranston and Ferguson Fires
Hot and dry weather was expected to offer the perfect conditions for the fire to continue spreading. As with all fires, those in the area should pay attention to announcements from officials and any evacuation orders that are announced.
The Carr Fire is one of the many burning across California. One firefighter died while working to stop the Ferguson Fire, and another was injured at the same fire last week.
​