Carr Fire, California: What Is a Fire Tornado?
The Carr Fire in northern California has destroyed over 1,000 homes and killed at least six people as it continues to spread and wreak havoc in unprecedented ways, including the creation of a fire tornado.
California Department of Forestry and Fire Protection (Cal Fire) Information Officer Scott McLean told Newsweek that a rare fire tornado on July 26 caused the fire to spread into west Redding. McLean hasn't seen a fire tornado before and explained that new weather conditions, including two months of over 100-degree weather, are making things different this year.
However, he added, "we adapt to whatever's presented to us," and when it comes to fire tornadoes, first responders just have to wait until it dissipates and try to make sure everyone is safe. Images and videos posted on social media show a swirling vortex of flames and smoke extending high into the air that distinctly resembles a tornado, which are often seen in the Midwest.
"Some fire scientists would roll their eyes at the term 'fire tornado,'" Daniel Swain, a climate scientist at the University of California, Los Angeles, told Time. "But they aren't rolling their eyes on this one."
Unlike a fire whirl, which extends about 1,000 feet high, the fire tornado on July 26 rose 18,000 feet in the air and had winds that reached the lower end of tornado-strength wind speeds, according to KQED. While the phenomenon is rare, Time explained they can form when heat from extreme temperatures, like the ones California is experiencing, especially with the wildfires raging, is present. When the hot air rises above the fire, fresh, oxygenated air rushes in and the column of air above the fire can begin to rotate similarly to a tornado.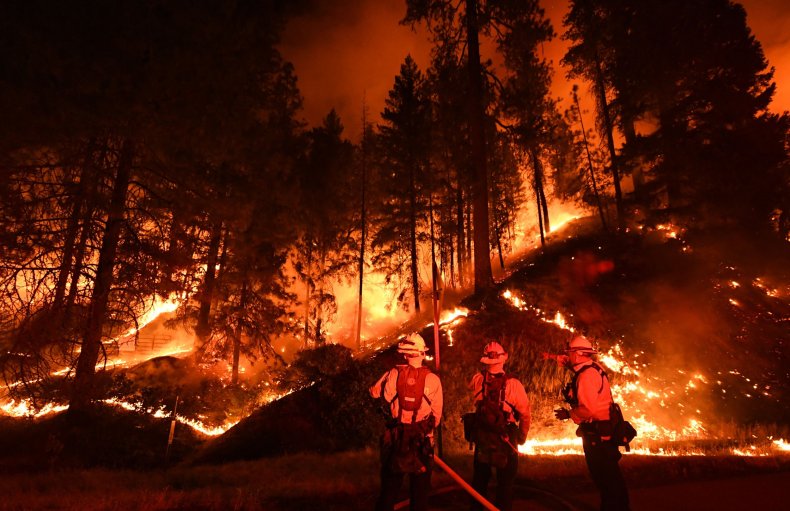 Brenda Belongie, the lead meteorologist of the U.S. Forest Service's Predictive Services in Northern California, told Mashable that she isn't "fond" of the term "fire tornado" but said in this instance, it's appropriate because the strength and destructiveness are similar to the power of a tornado.
California Governor Jerry Brown declared a state of emergency and pledged to provide any resources that are needed. He added that each year brings new fire lessons, and California is now in "unchartered territory" because of the change in nature and climate.
"No one expected a fire tornado," Brown told The Sacramento Bee. "We're getting a new phenomenon and that new phenomenon is we're in a new climate weather era and so we have to learn."
As of Wednesday evening, the fire had burned 121,049 acres and was 35 percent contained as over 4,000 people worked to fight the flames, according to Cal Fire. The Redding Police Department shared on Facebook a list of people who have been reported missing. Richard Bigby, Bruce Brown, Justin Jones and Glenda Prusa were the four people that officials were still looking for as of Tuesday night.
The six people killed include 70-year-old great-grandmother Melody Bledsoe, her two great-grandchildren, Fire Inspector Jeremy Stoke and Cal Fire bulldozer operator Braden Varney.
The Carr Fire is one of 18 fires currently burning throughout California, according to a Cal Fire map, and began on July 23.