Carrie Fisher is to be honored with a posthumous Hollywood Walk of Fame Star and fans say it's about time.
The late Star Wars legend will be joined by 38 new honorees for 2022 who have been selected by the Hollywood Chamber of Commerce.
Fisher passed away in 2016 and there have long been calls for her to get her own star, with Mark Hamill petitioning the committee on her behalf.
The Luke Skywalker actor even suggested replacing Donald Trump's star with one for Fisher back in 2018.
While actor William Shatner tweeted that same year: "Hey @starwars is it true that @carrieffisher does not have a star on the walk of fame? If it is what are we going to do about it?"
Hollywood Walk of Fame producer Ana Martinez revealed Fisher had not been nominated for a star while she was alive in a 2017 interview with Today and that posthumous awards require a five-year waiting period.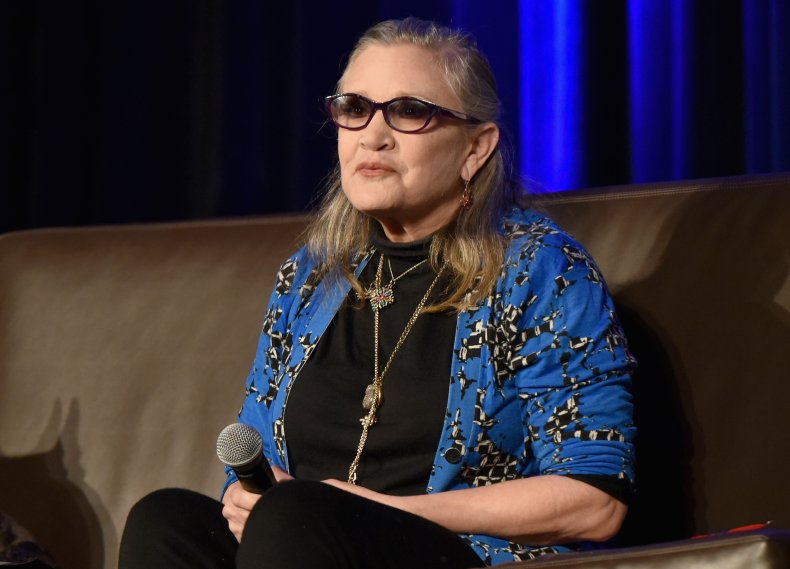 Many people are expressing disbelief that Fisher, Princess Leia herself, was not already on the Walk of Fame
"Carrie Fisher didn't already have a 'star'????" tweeted Elie Mystal. "They didn't correct this problem while she was still alive?????????? I need to go back to reading Supreme Court cases. Celebrity news is way more opaque and confusing."
While another fan wrote: "TIL Carrie Fisher didn't already have a star on the Walk of Fame. Seems 40 years too late."
"Carrie Fisher, Princess Leia is finally going to have a star on the Hollywood Walk of Fame in 2022. About damn time," said another.
One fan posted: "CARRIE FISHER, our Princess Leia, is getting a star on the Hollywood Walk of Fame. Would have been nicer if this happened while she was still with us but perhaps this will bring some comfort to her family. May the Force Be with Her. Always!"
Following her death, fans made a makeshift star on the walk for Fisher in her memory.
The Walk of Fame class of 2022 boasts an impressive lineup of A-listers from movies, , television and music.
Legendary filmmaker Francis Ford Coppola is on the list as well as former child star Macaulay Culkin.
Willem Dafoe, Salma Hayek, James Hong, Helen Hunt, Michael B. Jordan, Regina King, Ray Liotta, Ewan McGregor, Adam McKay, Jason Momoa and Tessa Thompson are all being honored in the motion picture category.
While for television, Better Call Saul star Bob Odenkirk is getting a star, as are Norman Reedus, Tracee Ellis Ross, Jean Smart, Ming-Na Wen, Kenan Thompson and more.
The late rapper Nipsey Hussle is also to receive a posthumous star.
Other music stars being honored are the Black Eyed Peas, George E. Clinton Jr., Ashanti Douglas, DJ Khaled, Avril Lavigne, Los Huracanes Del Norte and Martha Reeves.
"The Selection Panel, made up of fellow Walk of Famers, hand-picks a group of honorees each year that represent various genres of the entertainment world," said selection panel chair and Walk of Famer Ellen K in a statement.
"The Panel did an amazing job choosing these very talented people. We can't wait to see each honoree's reaction as they realize that they are becoming a part of Hollywood's history with the unveiling of their star on the world's most famous walkway!"