Carrie Fisher in 1999: "Star Wars Taught Me Everything"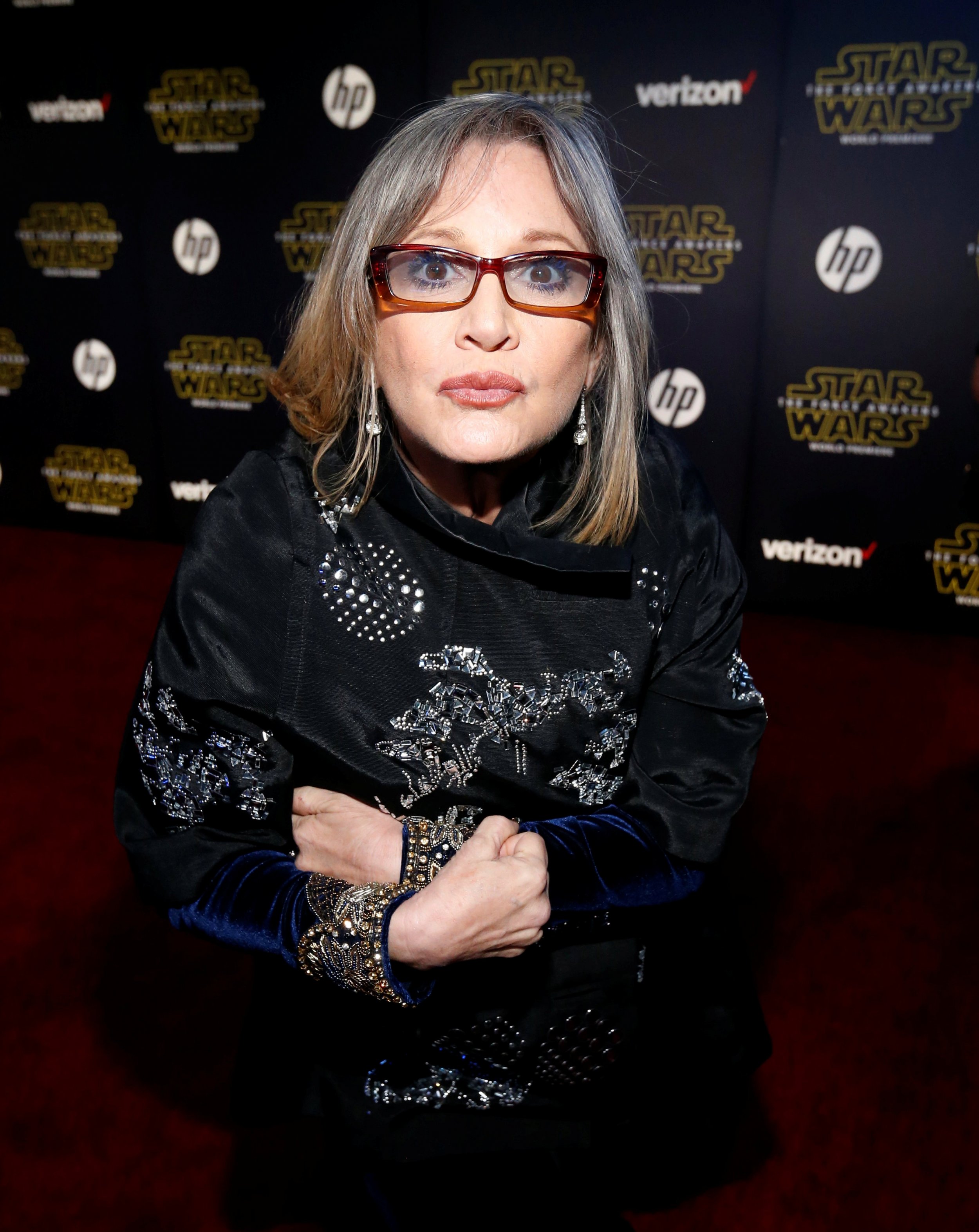 Below is an excerpt of Carrie Fisher's essay for Newsweek in May 1999. Fisher passed away on Tuesday, December 27, 2016.
Picture this: I'm in Westwood Village, seeing "The Matrix." Keanu Reeves is looking very buff and Prada. I'm alone. My daughter, Billie, and I saw the TV ad where Keanu's mouth starts mutating, and Billie thought it was interesting. But Billie's too young to see the Prada-mouth movie, so she couldn't come. The old "Star Wars" is more Billie's speed. She's still fond of the vintage soap that says on the back, Lather up with Leia and you'll feel like a princess yourself! She still likes the old shampoo bottle, too--the one where you can unscrew my head and pour soap out of my neck. And she still takes a Princess Leia homework folder to school, which breaks my heart. The folder got so ratty that I had to call George and ask him to go to his big Lucasfilm warehouse and get me a newer vintage homework folder.
Related: Carrie Fisher: George Lucas "Stole My Identity" (2011)
Anyhow, Billie's visiting with her father, and I'm standing alone at the concession stand, buying my butterless corn. It's raining outside. People are already waiting in line for "The Phantom Menace," opening at the same theater in a month--a mere menstrual cycle and full paper moon away. A dark-haired woman next to me searches for Sno-caps, Sprite, Good & Plenty. She gives me The Look: the one people get when they're about to ask if I'm in "Phantom Menace." She starts to ask, but I cut her off. "No," I say, "I'm not. It's a prequel"--uttered as if prequel were a lullaby. It seems to mollify her. Meanwhile, the prequel people in the rainy line outside are getting sneezy. They need Nyquil.
In the theater, the audience cheers the "Phantom" trailer. There are my old friends and foes—R2-D2, Jabba the Hutt, C-3PO, the evil Emperor. New movie, new improved old score, new old score to settle with the dark side. Whoa: the new footage reminds you how old the old "Star Wars" is. It's from long ago, a show business far, far away. Like Old Spice, it takes you back—it smells of lightspeed and wet Ewoks. It reminds me, for one thing, that I had a crush on Mr. Ford before it became a trend. When we shot the first movie, I was 19 and he was 34. I kept a journal chronicling my crush, as well as crushes past. Just a taste: "I've got to stop getting obsessed with human beings and fall in love with a chair. Chairs have everything human beings have to offer, and less, which is obviously what I need. Less emotional and intellectual feedback, less warmth, less approval, less patience and less response. The less the merrier. Chairs it is. I must furnish my heart with feelings for furniture."
In the beginning, when "Star Wars" became a bona fide phenomenon, we used to drive by theaters to watch people waiting in line. It was so unreal. We read our fan mail ourselves. A mother wrote that her daughter was having surgery on her eyes. We got the letter, and all of us--Mark, Harrison and I--called the hospital right away to say how sorry we were. We didn't know how to be famous. We toured on a massive junket, and in every town we went straight from doing press to whatever amusement park was available. I can still see Harrison hanging upside down in a Ferris-wheel monkey cage in Seattle, in his talk-show suit and tie. Harrison was very dignified. Needless to say, we attracted a lot of attention.
What do I remember from making the movies? I remember that iron bikini I wore in "Episode VI": what supermodels will eventually wear in the seventh ring of hell. I was lying next to Jabba the Hutt, in the third film—the one I can't remember the name of. (I keep wanting to call it "Rebel Without a Cause.") The actor who played Boba Fett stood behind me while I was wearing the bikini, and he could see all the way to Florida. My mother was always the girl next door. I wasn't quite girl-next-door material; I was the girl-next-dogstar, the one in the titanium thong.
Before making the "Star Wars" movies, I had acquired a floating British accent--from attending the Central School of Speech and Drama in London--along with an enormous amount of lip gloss. (I believe the two were related.) I was at a surreal age, on a surreal set. It took two hours to put my bad hair on. For some reason there wasn't any lingerie in space, so I didn't wear a bra, and when there were running scenes they bound my breasts with gaffer tape. I used to say, "At the end of the day we should have an auction with the crew--whoever wins gets to rip the gaffer tape off my breasts." At one point, I made a Xerox of said breasts, and my friend Charlie, who was a production assistant, passed copies out to the crew. Which reminds me of a revelation I ran across in the old journals. "There are three degrees of being weird. They are: (1) Salvageably weird. (2) Weird. (3) Irrevocably weird."
When we finished shooting the first film, George put it together in London. He had me come in, and he played me my theme--John Williams conducting the London Symphony. I'd never had a theme. George was laconic in those days. There was a joke that an L.A. Times reporter had visited the "Star Wars" set and that after three days, he'd said, "Which one is the director?" When George was directing, he'd only say two things: "faster" or "more intense." Then he lost his voice during the shoot. Since he didn't talk much, it was hard to tell. We wanted to get him a wooden board with two horns he could honk: one for "faster," the other for "more intense."
It was always hard to watch the finished product—they were like home movies. Very well-organized home movies that happened to take place in space. Most of us were in every scene. Once, they didn't use us all day; they kept us waiting in our space outfits and guns. Harrison went to the producer's office at 5 o'clock and said he wanted that day back at the end of his life. I always thought I'd like my day back in the middle of mine. Like now.
Here's one more memory. I shouldn't tell this story, but what the hell.
I was staying in Eric Idle's town house in St. John's Wood—that's near St. John's Wort, only more depressing—and Eric had just come home from filming "Life of Brian" in Tunisia. He brought this drink that he said they gave the extras so they'd work longer. I called it Tunisian Table Cleaner. As a rule I'm allergic to alcohol, and Harrison doesn't really drink either. But that night, there was a makeshift party. The Rolling Stones were there. They were recording two blocks away. We stayed up all night and drank the table cleaner and never went to sleep. When we arrived at the set the next morning, we weren't hung over--we were, like the extras in Tunisia, more than willing to work. That morning we shot our arrival at Cloud City, where we meet Billy Dee Williams. And it's one of the very few times in the series both Harrison and I smile. To this day, Eric is proud as a papa of his impact on the trilogy.
"Star Wars" taught me everything: how to shoot a gun. How to have my breasts taped. I had the time of my life--and the time of yours. Speaking of time, I've just gotten word that I've managed to get back that day that Harrison demanded. I'm going to use it by standing in line for "The Phantom Menace." Pass the Nyquil.