Carrie Underwood's New Song: 'The Champion' Features Ludacris and Puzzles Some of Country Music Singer's Fans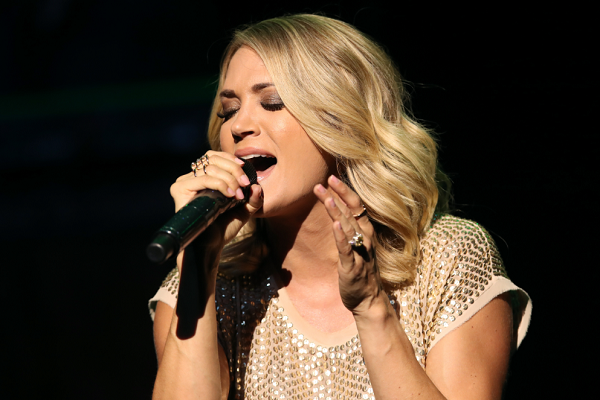 Country music sensation Carrie Underwood has traded in her guitar and harmonica for a shot at becoming a pop star. The singer released an upbeat and anthemic new single, "The Champion," on Thursday, and it features an unexpected guest—Ludacris.
The song, which will be used in broadcast coverage of the 2018 Winter Olympics and Super Bowl LII, is unlike anything fans of the "Before He Cheats" singer have heard from her before. The up-tempo track includes electronic beats, a piano melody and speaker-banging bass, while the empowering lyrics celebrate being "born to win."
"I am invincible, unbreakable/Unstoppable, unshakeable/They knock me down, I get up again/I am the champion, you're gon' know my name/You can't hurt me now, I can't feel the pain/I was made for this, yea, I was born to win/I am the champion," she sings.
There are also references to sporting legends like Muhammad Ali and fictional boxing champion Rocky Balboa. A music video for the single is expected to air during the opening of the annual NFL championship game on February 4.
Most surprising for Underwood fans, though, is that "The Champion" is completely stripped of 34-year-old's signature country sound. (Her southern twang is still intact, though.) This has caused some speculation about Underwood's future: Could she be planning to use her talents to move into a more pop-heavy direction, following in the footsteps of country music star-turned-global megastar Taylor Swift?
Fueling speculation is that Ludacris is featured on the track. The Atlanta rapper, 40, drops a few motivational bars near the song's end: "The 'C' is for the courage I possess through the drama/'H is for the hurt but it's all for the honor/'A' Is for my attitude working through the patience/Money comes and goes so the 'M' is for motivation/Gotta stay consistent the 'P' is for persevere."
The song—and Underwood's decision to team up with Ludacris—has drawn mixed reactions on social media. Some Twitter users have expressed confusion over the direction of Underwood's music, while others suggested that the Storyteller singer should stick to her usual country music format.
But there were still some folks who were able to find empowerment in the track.
Whatever "The Champion" means for Underwood's career path, she has come a long way since winning American Idol in 2004, snagging seven Grammys and 12 American Country Music Awards for her chart-topping country albums.
Carrie Underwood's New Song: 'The Champion' Features Ludacris and Puzzles Some of Country Music Singer's Fans | Culture