Carrie Underwood Reveals She Suffered Three Miscarriages
Carrie Underwood revealed she suffered three miscarriages in an interview CBS News posted Sunday.
The 35-year-old American Idol winner is pregnant with her and her husband Mike Fisher's second child, but it wasn't an easy journey. The title track of her new album, Cry Pretty, "speaks to a lot of things that have happened in this past year," she said on CBS Sunday Morning.
The past year wasn't easy for the singer, nor did it work out the way she had planned. She'd wanted to produce new music and have another baby. "We got pregnant early 2017 and it didn't work out," she said. "Got pregnant again in the spring and it didn't work out. Got pregnant again, early 2018, didn't work out."
After the first miscarriage, Underwood thought it was about timing. "It was like, 'Okay, God, we know this just wasn't Your timing, and that is all right. We will bounce back and figure our way through it,'" she said, but she couldn't maintain that attitude after the third time she lost a baby. "At that point, it was like, 'Okay, what's the deal?'"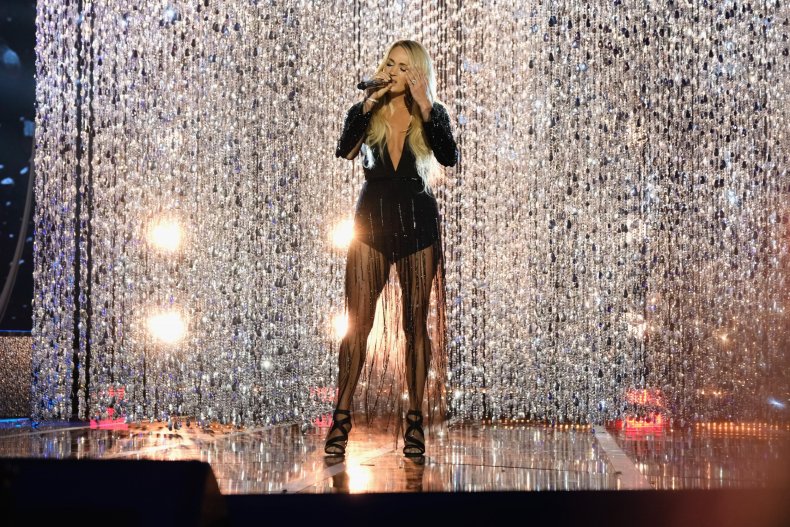 She continued to write music and work through these painful times and it helped. "Literally right after finding out I would lose a baby, I'd have a writing session. I'd be like, 'let's go. I just can't sit around thinking about this. I want to work. I want to do this,'" she told CBS News.
"Because I would literally have these horrible things going on in my life and then have to go smile and do some interviews or do a photo shoot or something," she continued. "It was kind of therapeutic."
When she thought she suffered a fourth miscarriage, she got angry. She hadn't allowed herself to be mad earlier because she felt she had an "amazing life" with "an incredible husband, incredible friends, an incredible job, an incredible kid," she explained. She has a 3-year-old son, Isaiah, with the NHL player.
Thinking she was losing another baby changed that. "I was like, 'Why on Earth do I keep getting pregnant if I can't have a kid? … Either shut the door or let me have a kid,'" she said. "For the first time, I feel like I actually told God how I felt." When the doctor told her she hadn't lost her baby, she thought God heard her.
Underwood announced her pregnancy on Instagram in August. "Mike and Isaiah and I are absolutely over the moon and excited to be adding another fish to our pond," she said in a video. "This has just been a dream come true."