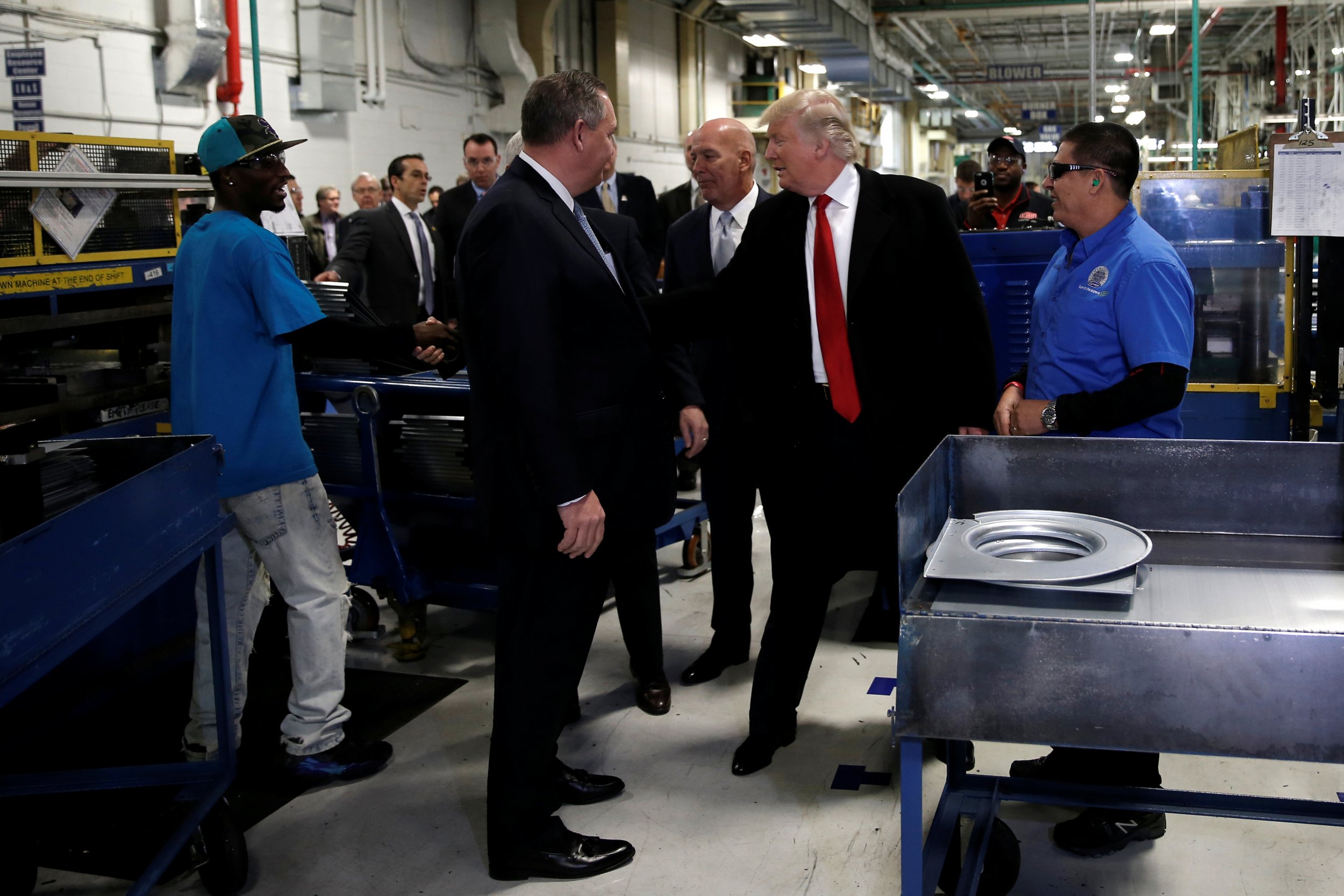 A plant where jobs were purportedly saved by Donald Trump ahead of his inauguration is set to make at least 600 staff cuts, many before Christmas.
Carrier had opted in December 2016 not to move a number of jobs to Mexico from its Indianapolis furnace factory, following a visit to the plant by Trump. The president claimed he had convinced Carrier to retain 1,100 jobs in Indianapolis rather than outsourcing them in Mexico. And of those 1,100 jobs Trump spoke of, 300 had reportedly never been threatened with a move to Mexico—meaning a total of 800 jobs had been saved.
But the company has since announced that at least 600 employees at the factory will still be laid off, with the final 290 job cuts coming just ahead of Christmas.
In a filing seen by CNN, the company announced it would be making an initial 338 job cuts in July, four in October and a further 290 jobs on December 22, just three days before Christmas.
During a press conference at Carrier, Trump said: "that big, big beautiful plant behind us… will be even more beautiful in about seven months from now. They're so happy. They're going to have a great Christmas. That's most important.
He added: "And that these companies aren't going to be leaving anymore. They're not going to be taking people's hearts out. They're not going to be announcing, like they did at Carrier, that they're closing up and they're moving to Mexico, over 1,100 jobs.
"And by the way, that number is going to go up very substantially as they expand this area, this plant. So the 1,100 is going to be a minimum number," he said.
The plant said at the time the number of jobs saved was closer to 800, but explained it would be replacing some of the jobs that were saved with an automated system in order to save money, although CEO Greg Hayes did say there would be less money saved by the company in doing so than if they moved production to Mexico.
A Carrier spokesperson said in a statement sent to Newsweek: "Notices provided last week are consistent with our previously announced plans regarding our Indianapolis facility. We continue to actively engage with our workers and the community to provide impacted employees with both the time and opportunity for a smooth transition."
"Carrier will continue to manufacture gas furnaces in Indianapolis, in addition to retaining engineering and headquarters staff, preserving more than 1,000 jobs. We have also designated our Indianapolis facility as a Center of Excellence for gas furnace production, with a commitment to making significant investments to continue to maintain a world-class furnace factory," the statement added.