Carrier to Lay off 215 More Workers from Indiana Plant Despite Trump's Vows to save Jobs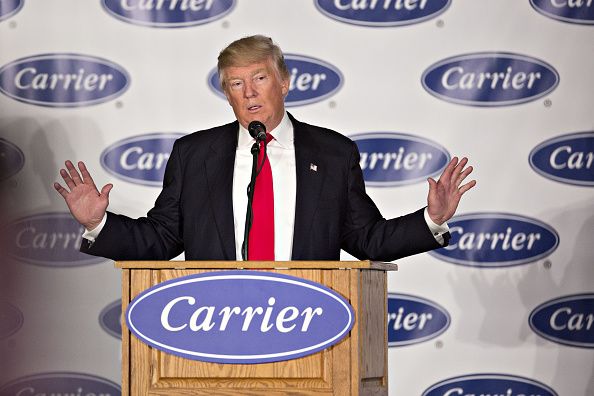 The Indiana-based heating and air conditioning plant Carrier will lay off 215 workers this week, the last of about 600 layoffs that were previously announced, despite efforts from President Donald Trump and Vice President Mike Pence to prevent the company from moving operations to Mexico and slashing its workforce.
The Trump administration touted its role in negotiations that led to around $7 million in economic incentives to Carrier to encourage the manufacturer to keep about 1,100 jobs at its Indianapolis plant — around half of what Carrier's parent company United Technologies originally planned to cut. The plant agreed to stay open in the U.S. for 10 years, but the deal did not prevent the company from moving some production to Monterrey, Mexico.
On the campaign trail, Trump slammed Carrier's plans for a Mexico move and threatened to "tax the hell" out of it as punishment. The company became symbolic of Trump's focus on restoring manufacturing jobs in blue-collar regions, but the incentives deal that Carrier eventually struck with the Indiana Economic Development Corp. was widely criticized as short-sighted, and several union leaders said the saved jobs would only be a temporary fix to a larger issue. Carrier made its first round of 338 job cuts in July 2017.
During a press conference at Carrier in December 2016, Trump said the deal was a part of his effort to bring back manufacturing to the United States, giving himself credit for the deal that Pence reportedly had a hand in negotiating, as former governor of Indiana. It's unclear what role Trump himself had in striking the deal.
"These companies aren't going to be leaving anymore. They're not going to be taking people's hearts out," said the president. "They're not going to be announcing, like they did at Carrier, that they're closing up and they're moving to Mexico, over 1,100 jobs."
"And by the way, that number is going to go up very substantially as they expand this area, this plant," he continued. "So the 1,100 is going to be a minimum number."
Trump also announced that Carrier would invest $16 million to upgrade its Indiana facility for continued production. At the time, the plant said that the number of jobs rescued was closer to 800, and that some of the $16 million would be used to automate parts of the factory in order to save money, which would ultimately mean fewer jobs. The CEO of United Technologies, Greg Hayes, said automation and the tax incentives would not lead to as many savings as would a move to Mexico.
Carrier said that 60 of the laid off workers have registered in a company program that reimburses them while pursuing educational degrees.
On Wednesday night, Carrier employees gathered for a livestream event regarding the layoffs. Speakers included local union representatives, who slammed Trump for breaking his promises to them, and warned that he would pay the price politically if he didn't make good on other campaign promises to blue-collar workers. Former employees said they expected the president to save more jobs, and called on him to use executive power to stop offshoring.