Cars Abandoned on Flooded Highways as States Desperately Try to Clean Up After Ida
The northeast was pummeled by heavy rains, leading to power outages, flash floods and major impacts to transportation systems. New York, New Jersey and Connecticut grappled with the effects of the storm from Wednesday and are working to restore all forms of road access.
New York's downstate counties were placed under a state of emergency in response to the storm.
Roadways in the region were heavily impacted by flooding, and CBS New York reported that exits on the Long Island Expressway were shut down and cars were left abandoned on the side of the road.
"Multiple roadways across New York City, Long Island and the lower Mid-Hudson were flooded and impassible at times, with people rescued from vehicles trapped in floodwaters," a press release from New York Governor Kathy Hochul's office read.
To help the counties most affected, Hochul said she directed state agencies experienced in emergency response to provide assistance.
The New York Police Department notified drivers to give themselves additional time to get to their destinations because of the ongoing road cleanup. Drivers who left a disabled car on the highway or on a New York City street because of the flooding were told to contact NYC311 to learn where the car was relocated.
New Jersey's road system faced similar challenges and its Department of Transportation urged people to stay home. Governor Phil Murphy declared a state of emergency across the entire state of New Jersey.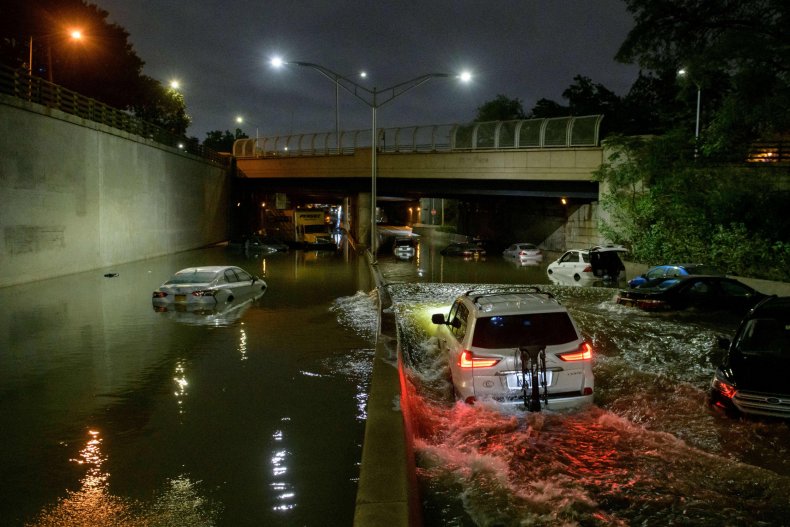 "Many roads remain closed this morning," the department tweeted at 6:24 a.m. "NJDOT Crews and emergency personnel have been working through the night, and will continue to do so, to get roads clear and open. Please stay off the roads so they can do their job safely."
Murphy tweeted he met with emergency management officials to discuss storm response and recovery to restore power to those who lost it.
In Connecticut, the state's Department of Transportation Press Officer Kevin Nursick told Newsweek the major highways were closed at the height of the rain, but have since reopened and open to drivers.
"There were some issues, but they cleared up after the rain subsided," Nursick said.
He said there isn't much that a state can do to prepare for weather to this degree, but taking small steps, like ensuring the drainage infrastructure is clear, is helpful.
"To some extent, with major weather events, you are at the mercy of Mother Nature," he said. "There are proactive measures, we try to perform them before a major weather event comes in. We do make sure our drainage infrastructures are clear so that when a major rain event comes in, the rain has somewhere to go."
When Newsweek spoke with Nursick, he said there were 27 residual road closures across the state. These roads are secondary state routes that may be single-lane roads. Nursick said in addition to the flooding, a handful of roads were closed because of downed trees and wires.
And, while Nursick said there wasn't major damage reported in Connecticut, he said crews are continuing to respond to the damage that the storm left behind.
"It wasn't a walk in the park, it wasn't good and we're still going to deal with some issues on the secondaries, but the highways really made it out, for the most part, with minimal impact," Nursick said.
Newsweek reached out to the New Jersey Department of Transportation but did not hear back by press time.