The Fastest Cars in the World, From Tesla to Ferrari And More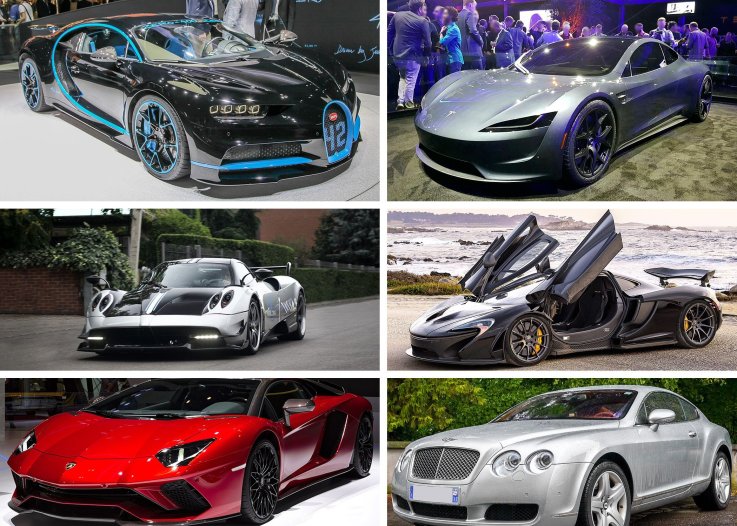 Do you feel the need, the need for speed? We know that line from Top Gun, which is technically about planes. But the sentiment also applies to cars. From Rebel Without a Cause to the Fast and Furious films (all 83 of them), our obsession with fast cars is as American as apple pie. But which are the fastest ones?
Now when we say fast, we're not talking about your average cars. No, no, those are for amateur speed demons. We're talking cars made for speed. Think Hennesseys, Bugattis, Ferraris, and those are just some of the classic models. Newer cars like Tesla have entered the market and given old speedsters a run for their money (literally).
How fast can they go? Fast. Like blink-and-you'll-miss-it fast. The slowest car on our list reaches speeds as high as 205 miles per hour (mph), which, if you can't tell, isn't slow at all. Their engines are made to go from 0 to over 100 mph in mere seconds. Think about how fast you could get the kids to school in one of these cars? Come to think of it, it would probably be darn near impossible to fit them all in, considering most of these cars are two-seaters.
How in the world do they even test the max speed of some of these cars, considering freeways cap out at 75 mph in most states? Sure, they have labs where they can test it out, but nothing is like the open road. Many of these manufacturers work with various cities to actually close down stretches of road and open land to test the speed of some of these cars on our list. For example, the Koenigsegg Agera RS had the Nevada Department of Transportation close down an 11-mile stretch of Route 160, just outside Las Vegas. Now that's something that happened in Vegas that so will not stay in Vegas.
So what are the fast cars in the world? Digital Trends compiled a list of the sports cars that have topped the world's fastest cars list. Buckle up and slide through, it's gonna be a fast ride.