Carson City Earthquake: 4.2 Temblor Rattles Reno, Lake Tahoe, Dollar Point
A magnitude 4.2 earthquake shook the border of Nevada and California, with people in both states reporting they felt tremors.
The United States Geological Survey (USGS) said the earthquake occurred about 5 miles southeast of Dollar Point, California, which sits on Lake Tahoe. Carson City, Nevada, is just over the border, and more than 1,300 people in the area reported feeling the shake.
It was a relatively light earthquake, with the USGS identifying it as Level 4 in intensity. This means many people could feel it if they were indoors, but few people would notice it if they were outside. It could have awakened people who were sleeping, and it's possible that dishes, windows and doors were disturbed.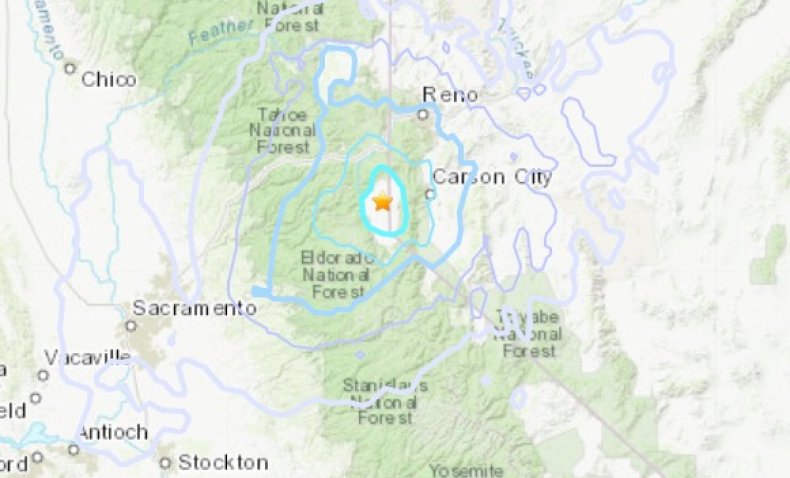 Fortunately, at a 4.2 magnitude the earthquake was not expected to cause any damage, and so far none has been reported.
The quake happened to occur during a Nevada Senate Finance Committee meeting about expanding Medicaid coverage. In a video of the meeting, the plexiglass in front of a lawmaker was seen shaking, and a lawmaker said, "We are in the midst of an earthquake."
While not strong enough to put a halt to state Senate business, Friday morning's quake was enough to trip sensors in the building's elevators, tweeted Megan Messerly, a reporter for The Nevada Independent.
Nevada Attorney General Aaron Ford also posted on Twitter, asking if anyone else felt the earthquake.
Earthquakes aren't uncommon for California. The California Governor's Office of Emergency Services (Cal OES) tweeted that the state experiences more than 100 earthquakes a day, although most of them are small in magnitude.
Cal OES has advised residents to prepare themselves and their family members for a potential earthquake. Creating a plan should include how people in the house will communicate in an emergency, as well as an emergency kit with water, canned food, first aid supplies and flashlights with extra batteries.
The office also advised people to sign up for earthquake alerts with the MyShake app, which can give people "vital seconds to prepare." Another recommendation is to identify objects in the house that could be disturbed during an earthquake, such as bookcases and heavy picture frames, and secure them properly.
Several smaller earthquakes also hit the area on Friday morning. Recorded magnitudes were 3.1, 2.8 and 2.7, according to the USGS.