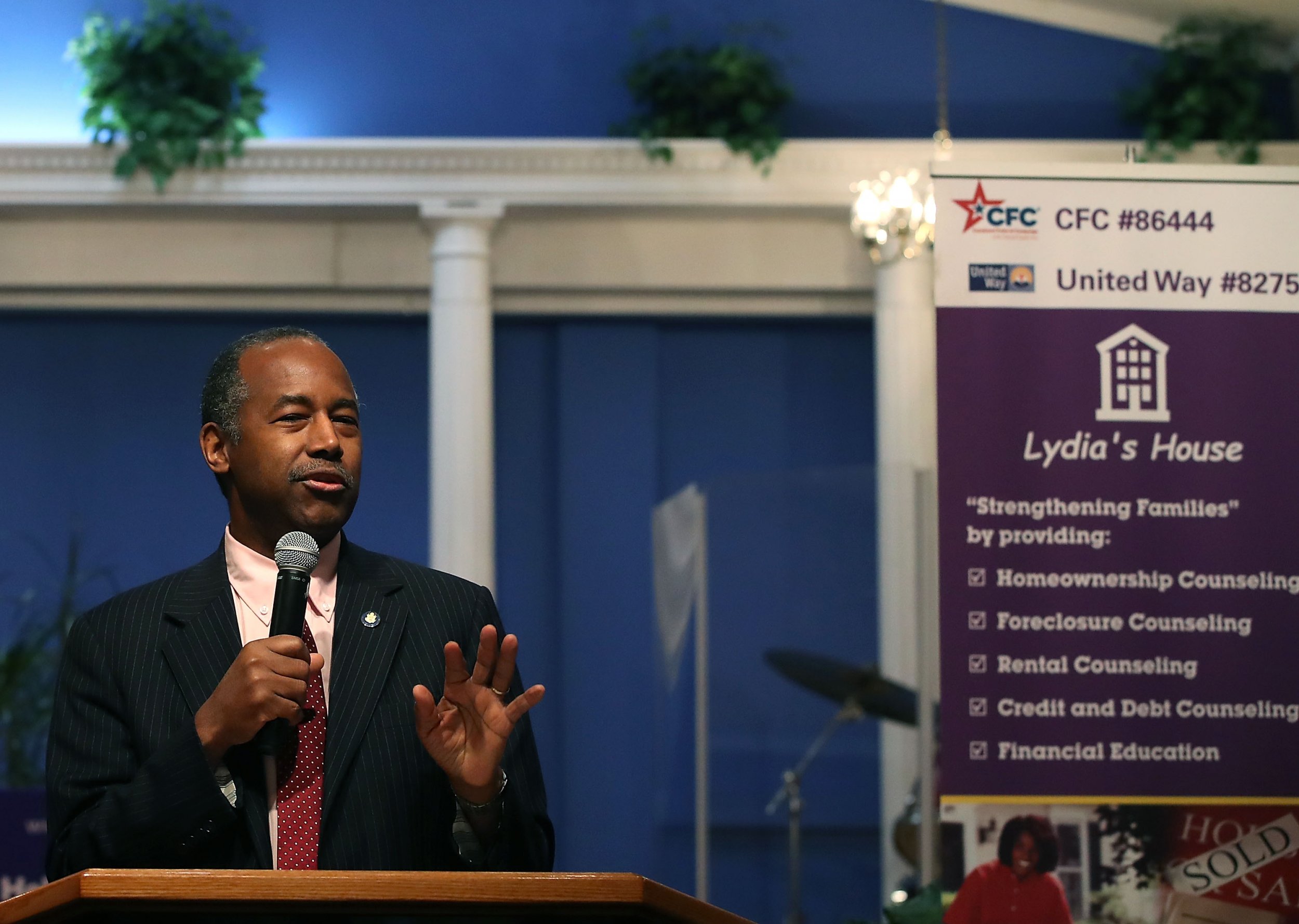 More than 200 homes listed for sale across the country on the Department of Housing and Urban Development's home website cost less than the more than $31,000 HUD Secretary Ben Carson spent for a new dining room set for his office, Newsweek found in a review Wednesday.
Carson came under fire Tuesday after federal records showed HUD officials spent $31,561 for a custom hardwood table, chairs and a hutch, The New York Times. reported. The total far exceeded the $5,000 limit applied for new furniture or redecorating an office unless Congress approves.
For the amount Ben Carson doled out for the furniture, 211 different homes spread out in 31 U.S. states could have been bought at auction. Overall, Ohio represented the state with the most available units up for bid until early next month at 26, followed by Illinois with 21, Pennsylvania with 17 and Michigan with 15.
HUD homes are single-family properties acquired by the agency after foreclosure on a Federal Housing Administration-insured mortgage.
HUD did not immediately respond Newsweek's request for comment on this story.
Speaking about the furniture cost, HUD spokesman Raffi Williams told The Times that Carson had no knowledge "the table had been purchased" but that the secretary did not think the cost was very expensive and that he did not plan on returning it.
Carson's expenses take on particular scrutiny given the budget cuts the Trump administration has suggested for HUD. The agency could see its budget slashed by $6.8 billion, or 14 percent, while it had also expensed out $165,000 in September for new furniture at its Washington D.C. offices, according to The Guardian.
Lavish spending by members of President Donald Trump's Cabinet has brought about criticism. Secretary of Veteran Affairs David Shulkin was called out in a report by his agency's inspector general earlier this month over his questionable spending for a trip to Europe last year with his wife, including tickets to the Wimbledon tennis tournament in London.
Treasury Secretary Steve Mnuchin's use of a government plane for his honeymoon last year and a trip to see the solar eclipse also raised questions about his use of public funds. Environmental Protection Agency head Scott Pruitt, meanwhile, was discovered to have flown first class for work trips, claiming that he needed to do so for security reasons.