A Surging Ben Carson Likely to Be Chided at GOP Debate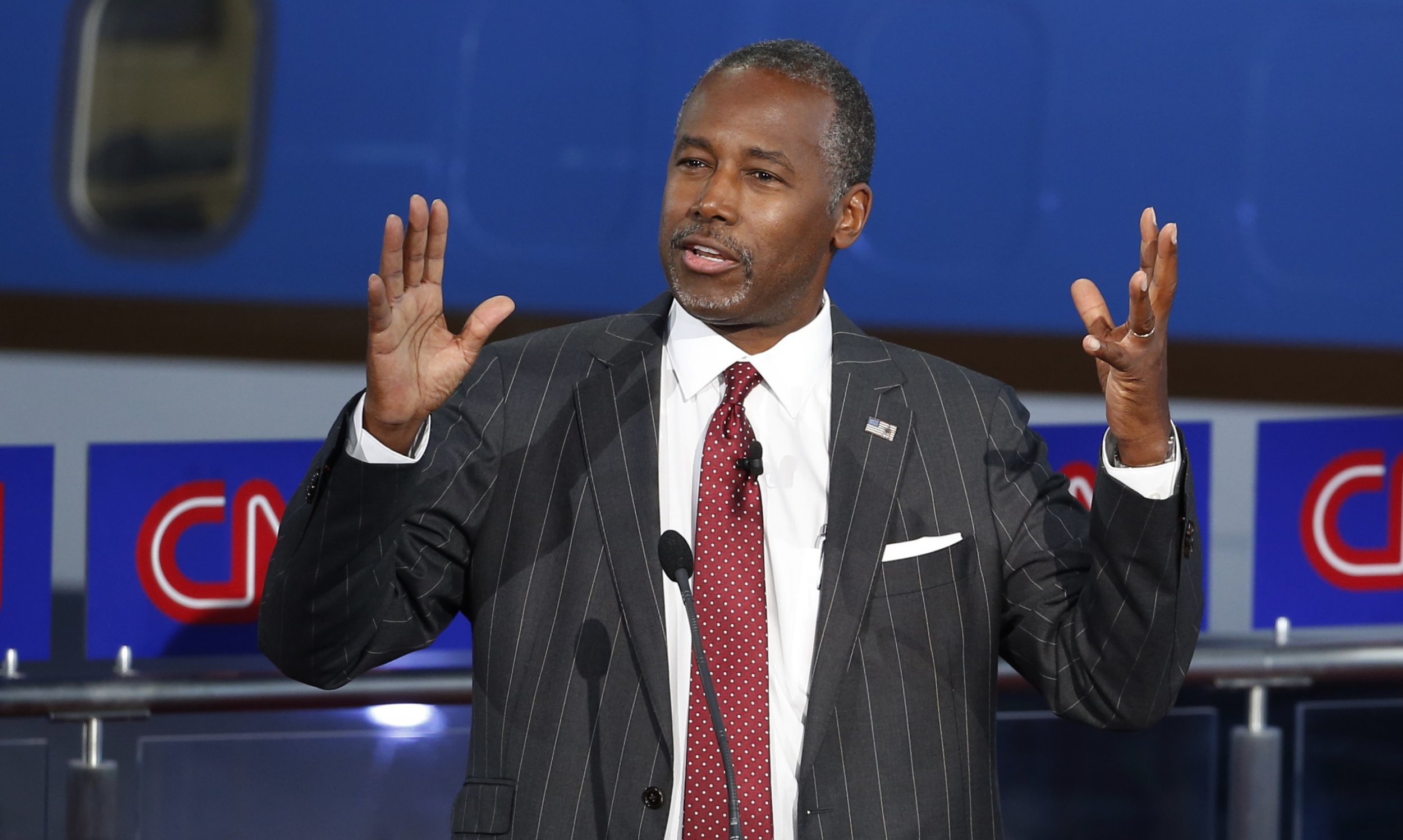 News broke Tuesday morning that retired pediatric neurosurgeon Ben Carson now leads the Republican presidential field not only in Iowa but also in a national New York Times/CBS News poll. And that means just one thing for Wednesday night's debate in Boulder, Colorado: Carson will be under fire. How the GOP race's newest front-runner fields the attacks will offer another angle on a candidate who is only beginning to face real scrutiny.
Carson is known for his calm, soft-spoken demeanor. Over the course of his acclaimed surgical career at Johns Hopkins Medical Center in Baltimore, he earned the moniker "Gentle Ben." That reputation, his devout Christian faith and his position as a political neophyte have drawn primary voters to him. A recent Washington Post/ABC News poll found that Republicans viewed Carson as the most honest of their candidates and believed he had "the best personality and temperament to serve effectively as president." Pundits panned his two previous debate performances, knocking him for being vague and unaggressive. But it didn't hurt his standing with voters. In fact, he's only gained strength since.
Related: Trump Questions Carson's Faith, Won't Apologize
Carson has also benefited from all eyes having been on real estate tycoon Donald Trump, whose bombast is media catnip. They haven't been as interested in—and frankly have underestimated—Carson's appeal. Of course, when the doctor has been on the hot seat, he's been known to make outrageous comments of his own, getting in hot water in a series of television news interviews with eye-popping claims, including that a Muslim shouldn't be president and that stronger gun rights could have prevented the rise of the Nazis in Germany.
Carson has acknowledged that political debates are not his forte. "It's a matter of how good a politician are you, and how polished are you in getting out a sound bite, but I'm not sure that's all that helpful to the American people," he told Fox News after the second debate, a three-hour marathon in California. It doesn't help matters that Carson will be much more of a target on Wednesday night, after keeping a low profile in the first two rounds.
Voters got a preview of Carson in the crosshairs over the weekend, when Trump raised questions about Seventh-day Adventism, Carson's religion. The doctor is also likely to be pressed hard on specific economic policies, the focus of the CNBC-hosted debate. Carson is no wonk and has largely spoken in generalities about complex issues such as tax reform, job creation and global economics. (He's cited biblical tithing as his preferred tax plan.) Rivals will be eager to not-so-subtly compare their economic experience with his. Of course, there is a risk in attacking a candidate who is so well liked, which is why some Republicans on the dais may choose to rush to his defense.
Related: CNBC Debate Could Highlight Big Business Tensions With GOP
One Carson friend and fundraiser, businessman and former Ambassador Harold Doley, expects Carson to take his lumps in the debate. "I just hope that Trump doesn't get under his skin," Doley says.
He notes, however, that Carson's previous experience in pediatrics could give him an advantage. "Dr. Carson is accustomed to being around children," Doley says, "and sometimes what's best for a child is to be ignored and let them just settle down."