Man Who Asked For Beer Money on TV Gets a Million Dollars, Gives it All to Charity
A man whose plea for beer money appeared on national television earned more than a million dollars in donations. But instead of spending the money on suds, he's donating the funds to charity.
On September 14, Carson King attended a college football game at Iowa State University's Jack Tice Stadium, where the Cyclones were playing the University of Iowa Hawkeyes for the annual Cy-Hawk Trophy. The game was featured on ESPN's College GameDay, as did King, who was standing behind the host's platform, holding a sign reading "Busch Light Supply Needs Replenished," with King's Venmo account number.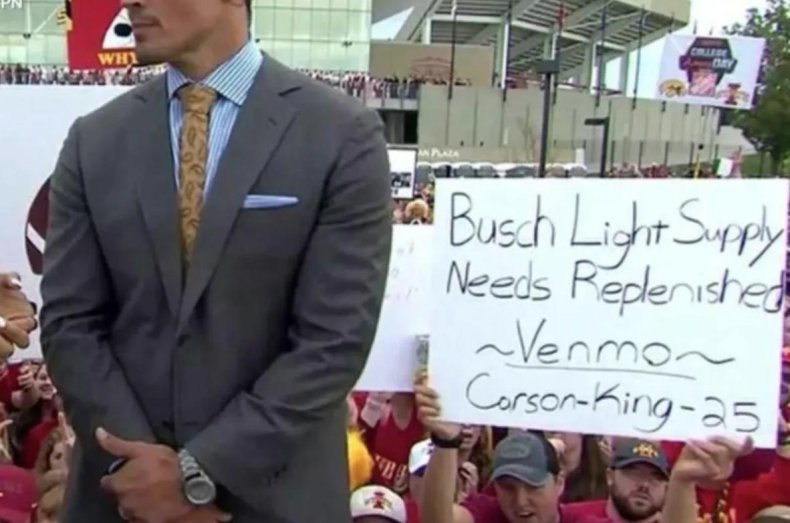 Fans started sending money to King, who works at Prairie Meadows Casino in Altoona. When the donations broke $600, he realized he'd never be able to drink that much beer at the game. So King announced he was redirecting funds to the University of Iowa's Stead Children's Hospital—minus the cost of one case of Busch Light.
That didn't stem the flow of money and, over the next week, Venmo donations came from all over the country. Both Busch Light and Venmo got in on the act, too, offering to match any donations through the month of September. Other companies have chipped in as well, including a $50,000 donation from Northwestern Mutual.
King's employers at the casino are making sure he doesn't suffer any tax burdens from passing the donations through.
"This was way better than expected," King told the Des Moines Register. "It just goes to show that no matter if you're a Hawkeye fan, Cyclone fan or Grand View Viking, we're all Iowans, and Iowans take care of each other."
Busch has taken the promotional windfall in stride, offering King a year's worth of Busch Light with cans emblazoned with King's name and face. A petition asking the brewery to release a run of those cans to retailers, as well, as received more than 26,000 signatures.
King's fundraiser shows no sign of slowing down: With seven days left to donate for matching funds, he's making multiple media appearances to draw attention to his cause.
The Stead Children's Hospital is a teaching institution celebrating its 100th anniversary this year. It moved into a new facility in 2017. The new space has a top-floor lounge area with glass walls overlooking Kinnick Stadium, allowing patients and families to watch the Hawkeyes during Iowa home games from inside the building.