Carson Wentz Explains Decision Not to Get COVID-19 Vaccine in Viral Video
Carson Wentz's opinion on the COVID-19 vaccine hasn't changed despite spending five more days away from his team.
The Indianapolis Colts quarterback returned to practice Thursday and explained his decision to remain unvaccinated during a post-practice press availability that went viral on Twitter, garnering over 211,000 views.
Wentz, who the Colts acquired from the Philadelphia Eagles for two draft picks in February, hadn't practiced for Indianapolis since July 29 while recovering from foot surgery, which he had August 2.
He was supposed to return to the Colts on Monday but instead was placed on the team's COVID-19 reserve list after coming in close contact with a team staffer who tested positive, according to ESPN. According to NFL-NFLPA protocols, any unvaccinated player who comes in close contact with a person who tests positive must quarantine for five days. Vaccinated players do not have to quarantine after close contact with a positive case.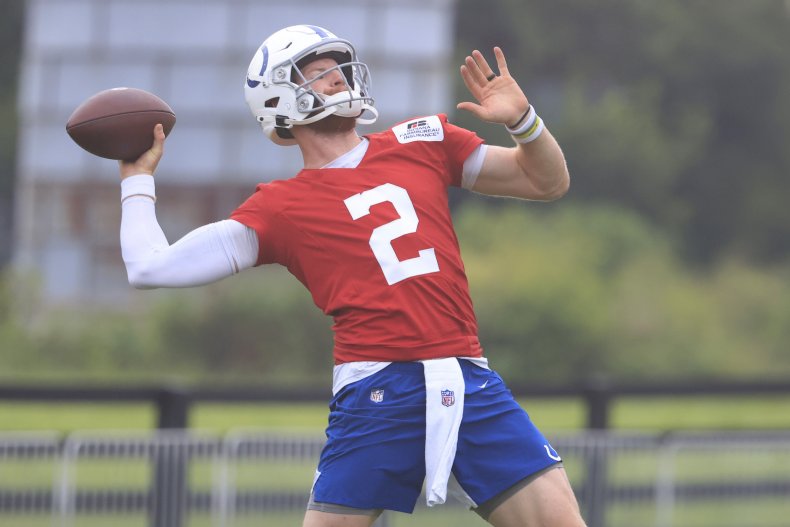 But Wentz was back in full pads Thursday, a month after surgery, then was asked about his decision to remain unvaccinated given the league's crackdown on players who do not get their shots.
"It's a personal decision for me and my family," Wentz said. "I respect everyone else's decision, and I ask that everybody else does the same for me."
Wentz said he needed to remain diligent in following the approved NFL-NFLPA protocols in order to remain off the reserve list and on the field during the 2021 season.
"With the protocols and everything the way they are, it's really for us about understanding them clearly and making sure that we are dotting our I's and crossing our T's—all those things that we can avoid what happened this week," Wentz said.
But the protocols are what they are to encourage players to get one of the three available coronavirus vaccines, since unvaccinated players are required to get tested daily and aren't even allowed inside team training facilities until they test negative for COVID-19.
Thus far about 93 percent of NFL players have been vaccinated, but the Colts, along with the Buffalo Bills and Minnesota Vikings, reportedly among the lowest vaccination rates in the NFL. Vaccines are not cure-alls, which the Colts have discovered since coach Frank Reich and defensive coordinator Matt Eberflus have each missed time during training camp due to breakthrough infections.
Wentz, who has missed time due to injury in three of his five NFL seasons, says he knows what is at stake. Jacob Eason is, for now, the only healthy quarterback on the roster, after Indianapolis placed 2021 sixth-round pick, Sam Ehlinger, on injured reserve with a knee injury Thursday. Wentz said he realizes his absence could sink his team's hopes of competing in the winnable AFC South.
"I've weighed a lot of things. I've factored in everything," Wentz said according to the Associated Press. "I know what's at stake. I know all of those things. ... The protocols are in place, so we've got to honor them as best we can so we can avoid what happened."
But Wentz and two-time All-Pro linebacker Darius Leonard continue to put his team at a disadvantage by not getting jabbed. Leonard's rationale for remaining unvaccinated— as he told the Indianapolis Star -- is to learn more about the vaccines' long-term effects before getting one and regularly discusses the process with his teammates who have gotten their shots.
But NFL players are constantly educated about the vaccines, plus Leonard then confidently proclaimed the Colts would remain fully available even as the Delta variant has created a virus surge in the United States.
"I know what it feels like last year to not have the main guys up there," Leonard told the AP. "We're not going to do anything stupid as hell to put our team or our teammates in jeopardy of that."