Carson Wentz Receives Support From Eagles Veterans After QB Benched
Carson Wentz may have lost the job as Philadelphia Eagles starting quarterback, but retains support from his teammates and head coach Doug Pederson.
On Tuesday, Pederson announced rookie quarterback Jalen Hurts would start in Week 14 against the New Orleans Saints after replacing Wentz during Sunday's defeat 30-16 road loss against the Green Bay Packers.
The Eagles head coach, however, backed Wentz to overcome the slump he has been mired in for most of the season.
"I think Carson Wentz can be an exceptional quarterback in this league. He's proven that," Pederson said during a media session on Wednesday, as per The Athletic.
"We've got to continue to battle, fight and work. [...] Just get back to being Carson Wentz, back on track. That's my focus with him."
Pederson wasn't alone in showing support for Wentz, with at least two Eagles veterans firmly behind the quarterback.
"Carson is my best friend. He's my guy," Philadelphia defensive tackle Fletcher Cox said.
"I've always had his back since day one. Jalen, he's my teammate also, so you've got to support whoever is in there. It's the NFL and we understand that things happen."
Earlier on Wednesday, Cox took part in a Twitter poll from Philadelphia broadcaster SportsRadio 94 WIP, which asked users to give their verdict over whom should start at quarterback.
Hitting "like" on the post meant casting a vote for Wentz, while those in favor of starting Hurts could express their opinion by retweeting the post.
Cox, part of the Eagles team that won Super Bowl LII, was among those in the former category.
"It sucks for a guy like Carson to be put in that position because it never just comes down to one guy. There are 11 guys on the field," the five-time Pro Bowl selection added.
"With that being said, my tweet is my tweet and I stand with it."
Center Jason Kelce echoed Cox's stance, acknowledging Wentz's struggles this season were down to a series of collective failures.
"This is ultimately a culmination of a lot of failures on offense," he said.
"This comes down to more of a failure of every position, including coaches, to facilitate a functioning offense.
"That's the biggest story here, not that Jalen Hurts is picked and there was some sort of internal battle and struggle going on with Carson Wentz. I don't buy that."
The second overall pick of the 2016 NFL Draft, Wentz signed a four-year, $128 million contract extension in June 2019, but has endured the worst season of his professional career from a statistical standpoint.
Wentz has thrown a career-high 15 interceptions so far this season, the most of any quarterback in the NFL and more than he did over the last two seasons combined. He has been sacked 50 times this season, more than any other quarterback in the league and comfortably over his previous career-high tally of 37.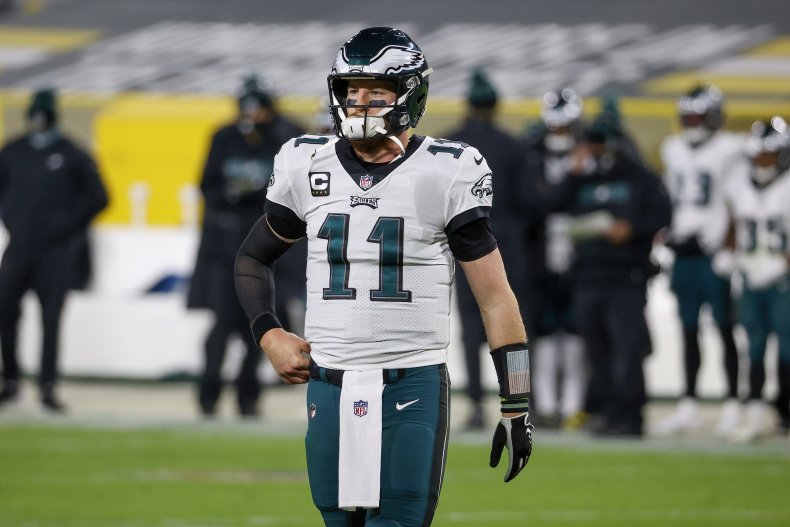 Only Denver Broncos quarterback Drew Lock has a worse completion percentage than Wentz's 57.4 percent this season, while the Eagles quarterback ranks 30th out of 33 eligible quarterbacks in passing yards per attempt, and 31st out of 34 in adjusted yards gained per pass attempt and 27th in quarterback rating.
As per Football Outsiders data, meanwhile, with Wentz under center the Eagles' passing offense ranks 31st out of 32 teams in the NFL in DVOA—a metric that gauges a team's offensive efficiency by comparing success on every play to a league average based on situation and opponent.
Philadelphia's offense ranks 29th in total yards and 28th in passing yards respectively. Only six teams have scored fewer points than the Eagles this season, who have failed to score more than 17 points in the last four games, all of which have ended in defeat.
The four-game losing streak has dropped Philadelphia to third in the NFC East with a 3-8-1 record, but the division's dismal state means they retain a chance of qualifying the playoffs as the New York Giants and the Washington Football Team are both still within reach at 5-7.
Hurts, a second-round pick in this year's draft, passed for 3,851 yards, 32 touchdowns and eight interceptions during his senior year at Oklahoma, rushing for 1,298 yards and 20 touchdowns. Having played just 33 snaps in the first 11 weeks of the season, the rookie completed five of his 12 passes on Sunday, throwing for 109 yards one touchdown and one interception with 29 rushing yards over five carries.
Wentz, meanwhile, finished with 79 passing yards and completed just six of his 15 passes.