Cartel Chief 'El Chapo' Guzman Raped Girls as Young as 13: Witness
Drugs cartel chief Joaquin 'El Chapo' Guzman raped girls as young as 13 who he called his "vitamins," according to a witnesses quoted in newly unsealed court documents.
Guzman, 61, was extradited to the U.S. last year to face multiple charges of drug trafficking and money laundering, after escaping a Mexican maximum security prison then being recaptured.
The former Sinaloa cartel chief is accused by government witness Alex Cifuentes in the documents of drugging drinks given to girls aged as young as 13 with a "powdery substance" and raping them in a Mexican hideout in the late 2000s.
Guzman "called the youngest of the girls his 'vitamins' because he believed that sexual activity with young girls gave him 'life'," Cifuentes claims.
Newsweek subscription offers >
He alleges that an associate of Guzman named "Comradre Maria" would send him pictures of girls, and for $5,000 the girl Guzman selected would be sent to his ranch.
Cifuentes said he also had sex with the girls, but did not drug them.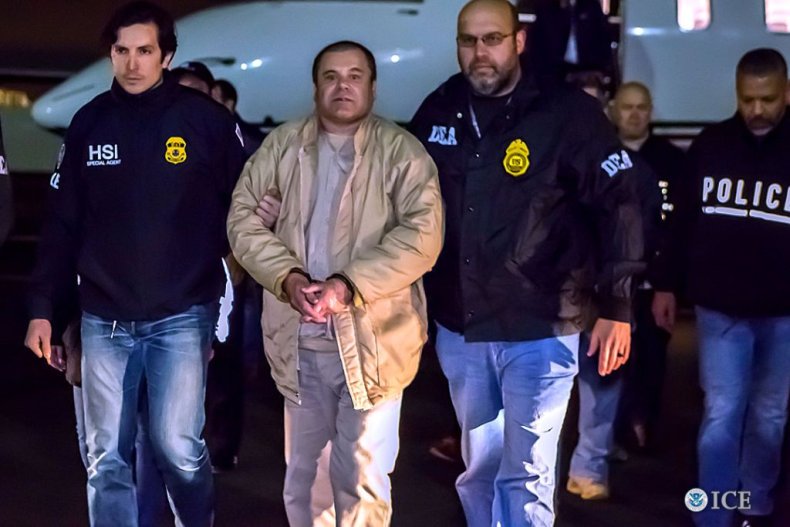 According to the documents, other government witnesses corroborated the allegations. The documents were initally sealed because the allegations did not directly relate to drugs trafficking charges.
Newsweek subscription offers >
Eduardo Balarezo, one of Guzman's attorneys, told CNN in a statement his client denies the "extremely salacious" allegations that "lack any corroboration and were deemed too prejudicial and unreliable to be admitted at trial."
"It is unfortunate that the material was publicly released just prior to the jury beginning deliberations," Balarezo said.
The court documents were unsealed following a request by Vice News and the New York Times.
The jury in Guzman's three-month trial will begin its deliberations on Monday.
Cartel Chief 'El Chapo' Guzman Raped Girls as Young as 13: Witness | U.S.