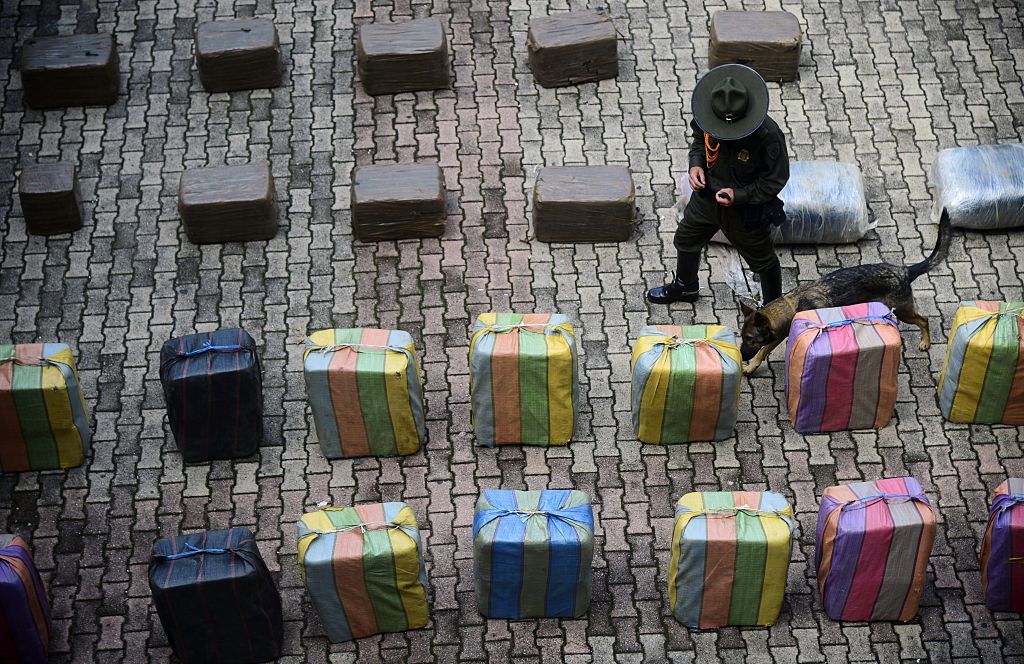 A Colombian drug cartel has put out a $70,000 hit on a drug-sniffing German shepherd after she helped authorities discover nearly 10 tons of the group's cocaine.
Sombra ("Shadow" in English) has been relocated by authorities after the Urabeños, which is considered to be Colombia's most powerful criminal organization, put the price on her head, the BBC reported Thursday. The 6-year-old canine has had an incredibly successful career as a drug sniffer thus far, reportedly having uncovered a record amount of narcotics.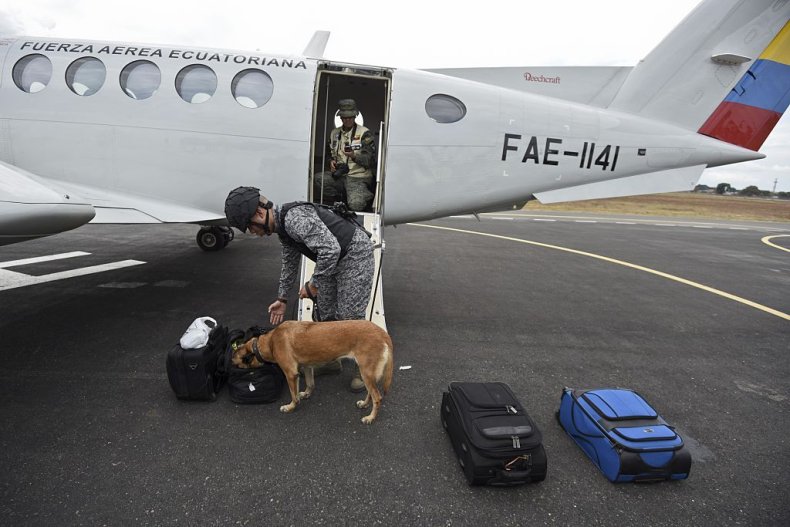 Previously, Sombra worked along the South American country's Atlantic coastline, especially in the town of Turbo. The area is well known as a key shipping area for tons of cocaine sent by speedboats—and sometimes by submarine—to Central America as well as the U.S. The dog has now been transferred to the Columbian capital, Bogotá, where she'll continue working in the El Dorado airport and can be more easily protected from the cartel's threats.
While she worked along the coast Sombra managed to sniff out 5.3 tons of cocaine. She also recently discovered an additional 4 tons stored in car parts awaiting export, according to the BBC.
The leader of the Urabeños, Dairo Antonio Úsuga, also known as "Otoniel," is one of Colombia's most wanted criminals. The cartel, which is also known as the Úsuga clan or Gulf clan, controls a major portion of the country's drug trafficking trade.
Last June, Colombian authorities dispatched 1,000 police officers to search for Úsuga in northern Colombia. They were using black hawk helicopters and said at the time that they had "him within striking distance," Agence France-Presse reported.
"He has had to run for it at the last second, more than once," Jose Angel Mendoza, head of the anti-narcotics police division, told the news agency.
The U.S. government offered a $5 million reward for the drug leaders' apprehension back in 2009, after an indictment in a New York court. The State Department describes Úsuga's gang as "a heavily armed, extremely violent criminal organization comprised of former members of terrorist organizations."
Urabeños has previously offered monetary rewards to anyone who kills its opponents. Back in 2012, the organization issued leaflets offering $500 for murdering policemen, the BBC reported at the time. The move was in retaliation for the death of Juan de Dios Úsuga, one of the leaders at the time.
However, the hit on Sombra is exceptionally high, signaling the gang's anger over the deep financial losses the expert sniffer had caused.