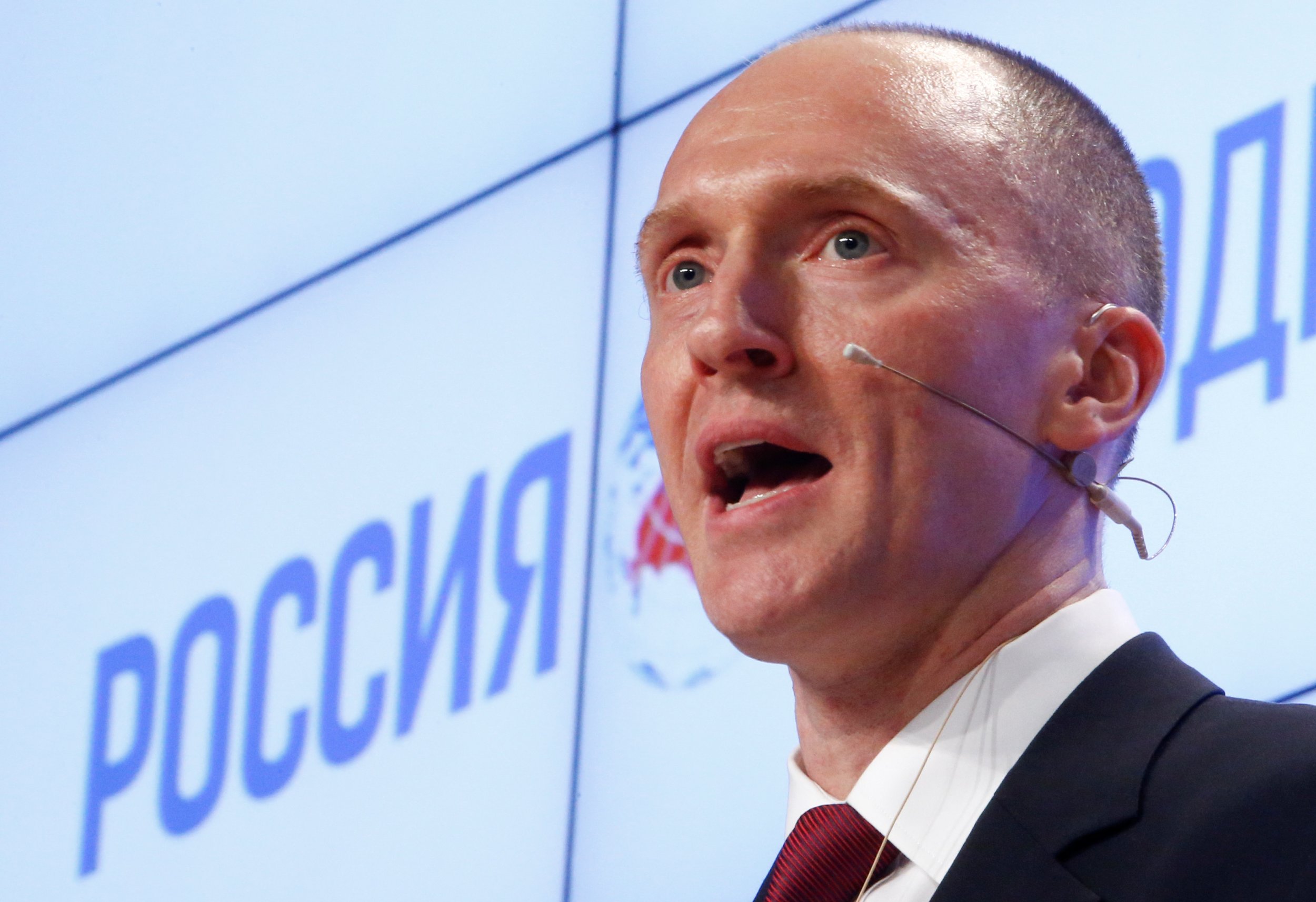 A former foreign policy aide to Donald Trump wanted the then presidential hopeful to make a landmark speech in Moscow during the 2016 race for the White House.
Transcripts of the House Intelligence Committee's interviews with Carter Page released Monday have revealed new information about the former campaign aide's relationship to Russia.
Carter told the panel that he had suggested to other foreign policy advisers on the campaign that Trump make a trip to Russia in 2016.
"The idea there was bearing in mind Barack Obama's speech as a candidate in Germany 2008. That was what I was envisioning," Page said.
Obama's historic Berlin speech in 2008 while still a presidential candidate drew an audience of thousands.
Page is one of several former Trump campaign staffers who have come under investigation by Congressional and FBI probes into alleged interference by Russia into the 2016 election. He was interviewed by the committee behind closed doors last week.
Page has denied allegations of collusion with Russia, but the documents show him keen to broker Trump an audience in Russia—even suggesting that Trump take Page's place on a July trip to Moscow where he had been invited to speak.
Trump campaign foreign policy aide George Papadopoulos also suggested a meeting between Trump and Kremlin officials, according to Department of Justice documents. Page said he was not aware of Papadopoulos's efforts.
"I got another idea," Page wrote to foreign policy advisers J.D. Gordon and Walid Phares, according to an email read out by the committee's top Democrat, California Representative Adam Schiff, cited in the transcripts. "If [Trump would] like to take my place and raise the temperature a little bit, of course I'd be more than happy to yield this honor to him."
Page said he could not recall if Gordon or Phares responded to the email, but said he believed they "probably" did not.
He told the panel that he eventually took the trip himself, delivering a commencement speech at a Moscow university where he exchanged pleasantries with Russian deputy prime minister Arkady Dvorkovich.
Schiff said that Page wrote in an email to the campaign that Dvorkovich "expressed strong support for Mr. Trump and a desire to work toward devising better solutions in response to a vast range of current international problems." He also met Dvorkovich at a private dinner held by university academics when he returned to Moscow in December.
Page told the panel that he did not make the Moscow trip as part of his role as a Trump campaign adviser, but had told campaign manager Corey Lewandowski, and Trump backer and future attorney general Jeff Sessions, about the journey.
FBI officials have told CNN that Page may have become compromised by Russia during the July trip.
Page was named in the dossier about Russia's alleged attempt to collude with Trump and several key aides, compiled by former British spy Christopher Steele. The validity of the dossier has become a central point of dispute between Republicans and Democrats involved in the Russia probe.
Page has dismissed the dossier as false, and has denied any wrongdoing in his relations with Russia.