Los Angeles Times Did Not Defame Fired Cartoonist, Judge Rules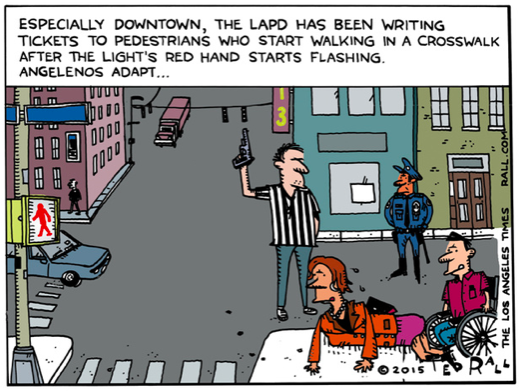 Why did the editorial cartoonist cross the road?
A variation on that very question is the basis for one of the more contentious fights in journalism today, between cartoonist Ted Rall and his former employer, The Los Angeles Times. And although a court seemed to hand the Times a victory earlier this week, Rall has vowed to continue fighting.
At the heart of the matter is jaywalking, and what happened when Rall committed that very crime more than a decade ago.
In 2015, the Los Angeles Police Department began the enforcement of an anti-jaywalking ordinance (a state law, in fact) in that city's recently revitalized downtown district. This galled many Angelenos, who thought the LAPD was favoring drivers over walkers, even as the city was trying to move away from its notorious car-centric reputation.
On May 11 of that year, Rall published a cartoon in the Times that criticized the LAPD crackdown. He also wrote an accompanying blog post that described his own encounter with the LAPD in 2001, after he jaywalked across Melrose Avenue. In that blog post, Rall described a harrowing scene: "All of a sudden, a motorcycle officer zoomed over, threw me up against the wall, slapped on the cuffs, roughed me up and wrote me a ticket. It was an ugly scene, and in broad daylight it must have looked like one, because within minutes there were a couple of dozen passersby shouting at the cop. Another motorcycle officer appeared, asked the colleague what the heck he was thinking and ordered him to let me go, which he did. But not before he threw my driver's license into the sewer," he wrote.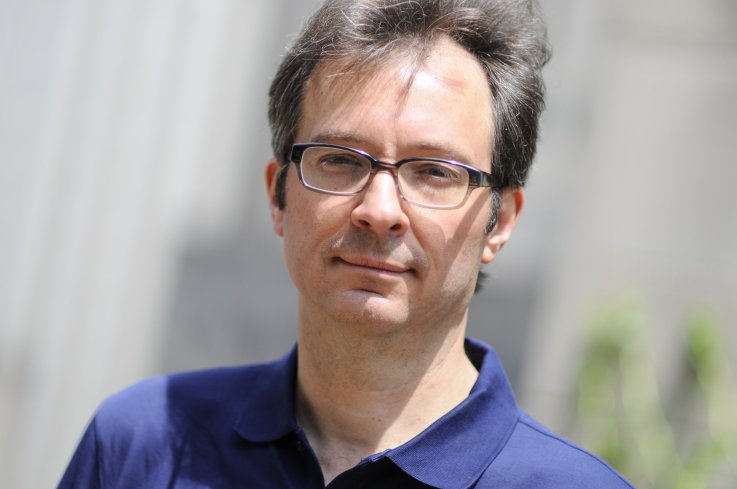 But according to the LAPD, that was an inaccurate description of what actually transpired 14 years earlier. The police department provided editors at The Los Angeles Times with audio recording of Rall's arrest, as well as the complaint he subsequently filed with the department. Those materials led editorial page editor Nicholas Goldberg to conclude that Rall had misrepresented the incident.
"An audiotape of the encounter recorded by the police officer does not back up Rall's assertions," Goldberg wrote in a lengthy note that was appended to Rall's original post. "[I]t gives no indication that there was physical violence of any sort by the policeman or that Rall's license was thrown into the sewer or that he was handcuffed. Nor is there any evidence on the recording of a crowd of shouting onlookers.
Rall was fired shortly thereafter. Rall had never been shy about his own liberal convictions, which made him an easy target for outlets like Breitbart News, which called him "noxious" and a racist.
Rall maintained that his version of events was accurate and sued the Times for wrongful termination and defamation. Among those named as defendants was then-publisher Austin Beutner, a well-regarded member of the city's ruling class who, according to the suit, fired Rall as a favor to his friend LAPD Chief Charlie Beck.
On Wednesday, a Superior Court judge in Los Angeles dismissed what the Times described as "key parts" of Ralls suit. "Judge Joseph R. Kalin dismissed Rall's claims of defamation and intentional infliction of emotional distress against three current Times journalists and former Publisher Austin Beutner," the Times reported.
Rall said he remains uncowed. "I am suing the LA Times to set the record straight: I told the truth in that blog piece," he said in an email to Newsweek. He added that Wednesday's ruling was "disappointing, but I plan to continue my fight to clear my name and hold the Times accountable for its corrupt relationship with the Los Angeles Police Department."
A spokesperson for the Los Angeles Times declined to comment, pointing to the fact that parts of the lawsuit remain unresolved.
Los Angeles Times Did Not Defame Fired Cartoonist, Judge Rules | Culture