Casa Bonita Bankruptcy: Locals Raise Money to Save Denver Restaurant of 'South Park' Fame
Having closed its doors for more than a year due to COVID, Colorado's Casa Bonita restaurant has filed for bankruptcy—with locals rushing to save the "cultural and historic icon."
The Denver restaurant was famously the subject of a 2003 South Park episode, which is said to have been based on the crew's memories of going there as children.
Written and directed by series co-founder Trey Parker, the episode revolves around Kyle's birthday at the Mexican-themed restaurant and Cartman's plans to arrange for Butters to go missing.
However, according to a document from the United States Bankruptcy Court for the District of Arizona, seen by 9NEWS, the company that owns Casa Bonita, Summit Family Restaurants, filed for Chapter 11 bankruptcy on April 6.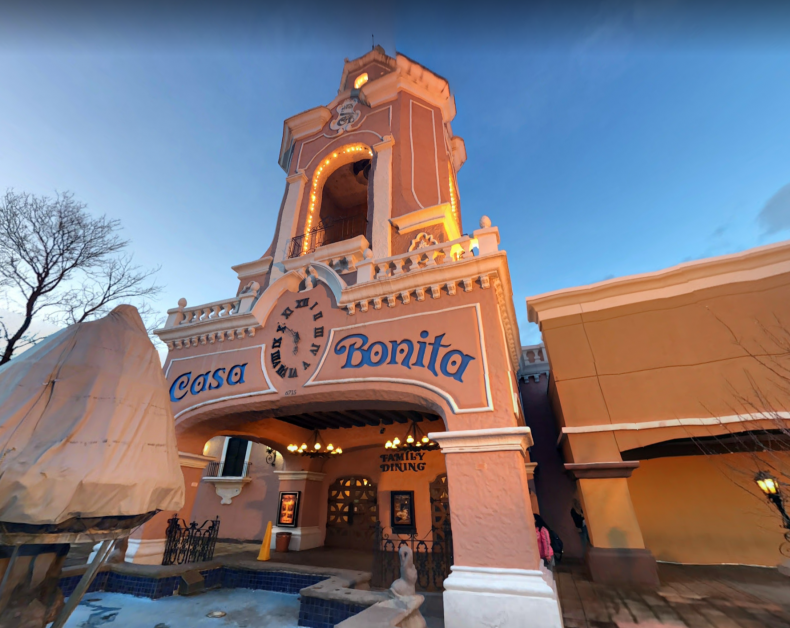 Chapter 11 allows a debtor to propose a plan of financial restructuring and reorganization in order to preserve and protect an ailing business by keeping the business alive and paying creditors over time. A bankruptcy filing may be voluntary and filed by the debtor, or involuntary and filed by creditors.
A Denver institution, the restaurant has been in operation for 46 years and drew large crowds due to its 30-foot waterfall, cliff divers and amusement arcade.
"That was your dream as a kid, to be able to go to Casa Bonita for your birthday," South Park founder Trey Parker said in an episode audio commentary when describing its relevance in the hit TV series.
In March, the eatery and entertainment venue shuttered after the State of Colorado ordered all restaurants in the state to close and has remained closed since.
Although its website promises diners it will be "reopening soon", a group of local campaigners are worried.
A GoFundMe page created last month and set up by Andrew Novick—the restaurant's self-described number one fan—has raised more than $15,000 toward its $100,000 goal. Novick, a lifetime Colorado resident, says he has visited the restaurant over 300 times.
"Casa Bonita is an important cultural and historic icon and a vibrant piece of the Colorado landscape," the page description reads.
Contributors to the campaign described the restaurant and entertainment venue as "a staple of my childhood" and a "Denver treasure."
In fact, Lakewood Mayor Adam Paul said he had "made it a goal that before I'm done being mayor, I want to cannonball from the waterfall," in an interview with Westworld in February. "So that's another motivation that they stay open, so I can get that done."
Owner Robert Wheaton admitted the restaurant's extensive interior required ongoing weekly maintenance. "Every day that [Casa Bonita] stays closed, it's increasingly difficult to get it reopened," Wheaton told the publication. "Our top priorities there are the dive area and the waterfall, which require constant attention even when not in use."
Before it was known that Casa Bonita had filed for bankruptcy, local campaigners hoped to raise $100,000 in order to secure a business loan or purchase the intellectual property, Novick told The Denver Post in March.
"If we need to negotiate with Casa Bonita (ownership), then we could. If we need to negotiate with the landlord, then we could," Novick said. "If we have some funds, we have at least a chance to have a seat at whatever table there is."
Newsweek has contacted Casa Bonita and South Park creators Trey Parker and Matt Stone for comment.