Bernie Sanders's 'Medicare for All' Plan Can't Work, and Here's Why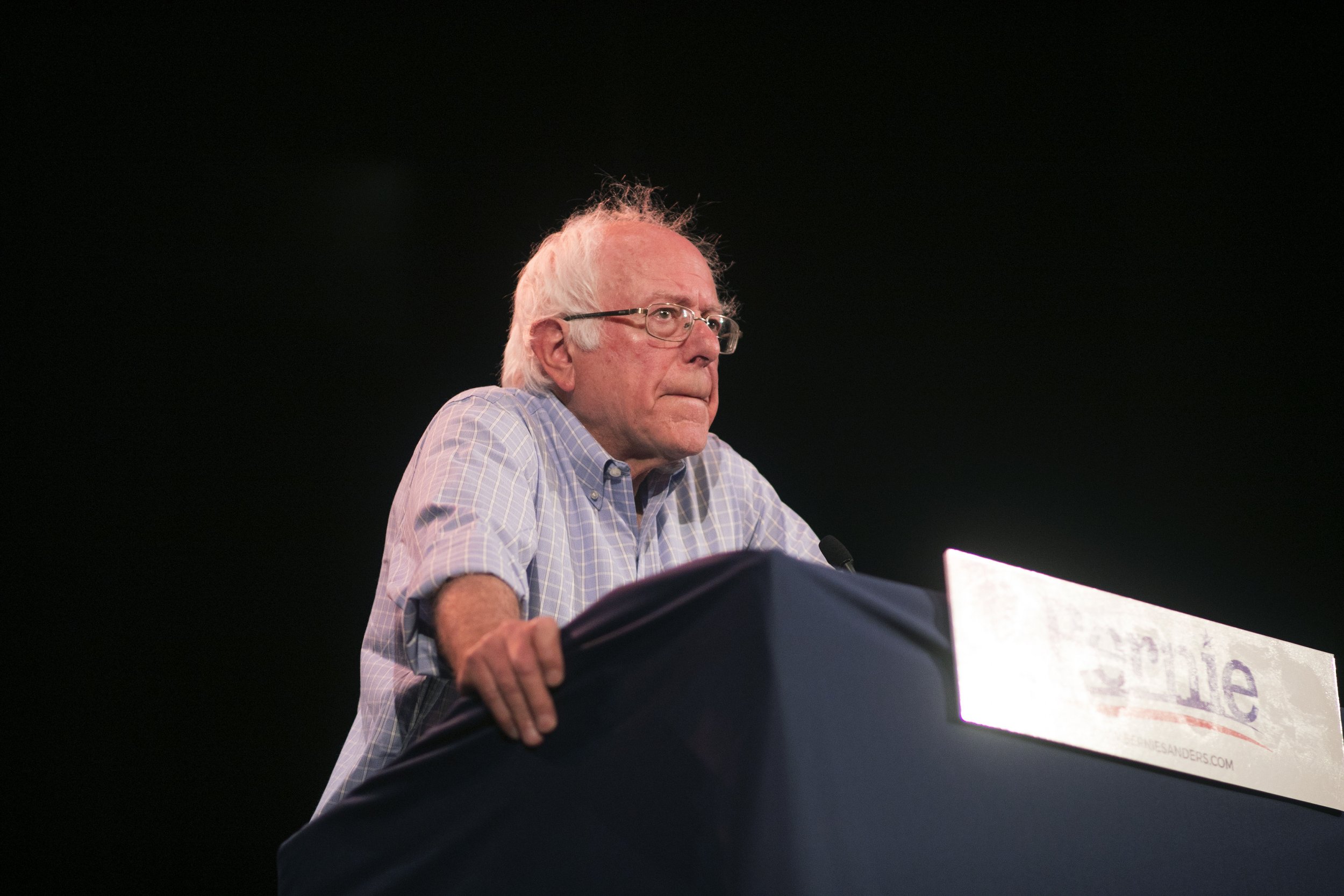 Most notable early on in Bernie Sanders's self-consciously awkward video announcement Wednesday were his rumpled suit and throaty New York accent. The senator faced the camera and counted down "3-2-1" before declaring he was introducing his "Medicare for All" bill in the U.S. Senate.
The Vermonter said he has 15 co-sponsors in the chamber (last year he had none), and while heralding his momentum, he did acknowledge the titanic struggle ahead. "I know that taking on insurance companies and all those people who profit off our dysfunctional health care system is not going to be easy," he said.
No kidding. The bill stands no chance of passage in the Republican Congress, let alone getting President Donald Trump's signature, something that Sanders, an Earth-based politician, has elsewhere allowed. Still, the bill is clearly capturing the progressive imagination. Many of those mentioned as possible 2020 presidential contenders, including Senators Corey Booker of New Jersey, Kamala Harris of California and Elizabeth Warren of Massachusetts, have signed on to the bill. Michael Lighty of the California Nurses Association isn't wrong when he calls "Medicare for All" a "wildfire" that's sweeping the party.
But there is a resistance, to borrow a phrase, and not just from Republicans. ("The president as well as the majority of the country know the single-payer system the Democrats are proposing is a horrible idea," White House press secretary Sarah Huckabee Sanders said during the daily briefing on Wednesday.) The fissure in the Democratic Party from those who are reluctant to sign on—including the leaders in Congress, Senator Chuck Schumer of New York and Representative Nancy Pelosi of California—is not likely to be closed.
Schumer and Pelosi know Democrats have to win in so-called red states if they are to gain back their majority in Congress, and despite progressives' dreams that Bernie ideas can sweep Trump Country, they may be right to resist. So far, Tammy Baldwin of Wisconsin is the only Democratic senator from a state that Donald Trump won who is backing the Sanders measure. Other red state Democratic senators who face tough fights in 2018, including Jon Tester of Montana, Claire McCaskill of Missouri and Debbie Stabenow of Michigan, aren't on board yet. Neither is one from a swing-state: Senator Amy Klobuchar of Minnesota, who is up for re-election in 2018.
Pelosi made her concerns clear earlier in the week. While she shares the goal of making health care a universal right and not a privilege, she's not ready to give up on the Affordable Care Act (ACA)—especially now that Obamacare, as it's more commonly known, is so much more popular in the wake of the Republican efforts to "repeal and replace" it.
Her caution seems well placed. The Sanders bill would transform America's health care system much more dramatically than Obamacare, replacing the current Affordable Care Act with a public system that would be paid for by higher taxes. Americans younger than 18 would immediately obtain "universal Medicare cards," while other Americans would be phased in over three years. The entire employer-provided health care system would be gone. Private insurers might continue to exist, but only in a limited form to cover things not included, such as plastic surgery.
It's a radical turn, but Sanders's success in the 2016 Democratic primaries and a newfound feistiness among progressives make this a popular idea in the Democratic Party—and perhaps outside as well. Polling shows the idea of a government takeover of health care to be less jarring to voters of all stripes than it once was.
The problem, of course, is that whenever popular, transformative health care ideas get exposed to the inside-the-Beltway crucible of special interest critiques and attacks from lobbyists, they become pretty hard to pass, let alone sustain. Remember, Obamacare barely got through the Senate in 2010, when Democrats and their allies controlled 59 seats. Today, that number is down to 48. How in the world will Democrats ever get the numbers needed to pass something like Berniecare? Even after Obamacare passed, attacks on the president's health care plan cost him the House and the Senate later that year. You want a plan than can be enacted and that can last.
Politico's Bill Scher put it well: "Single-payer hardly comes with an Election Day guarantee. More than 90 percent of voters support requiring background checks for gun buyers. More than 60 percent oppose a border wall. Fifty-six percent say America should discourage the use of coal. And yet, we have a president on the opposite side of all those issues."
In The New York Times, Margot Sanger-Katz noted, "Nearly any single-payer plan would require substantial disruptions in the current health care system, upending the insurance arrangements of the 156 million Americans who get their coverage from work, changing the way doctors, hospitals and drug companies are paid, and shifting more health care spending onto the government ledger. Such a proposal would reshuffle the winners and losers in our current system."
Even some Sanders backers allow that their co-sponsorship of the bill doesn't preclude other ideas. Senator Al Franken said in a statement that "this bill is aspirational, and I'm hopeful that it can serve as a starting point for where we need to go as a country…. In the short term, however, I strongly believe we must pursue bipartisan policies that improve our current healthcare system for all Americans—and that's exactly what we're doing right now in the Senate Health Committee, on which both Senator Sanders and I sit."
Indeed, Senator Chris Murphy of Connecticut, another Sanders "Medicare for All" co-sponsor, has his own bill that has a more limited buy-in to the current system.
Tearing down the current health care system rather than buttressing Obamacare is ambitious and profoundly risky. It demands that Americans swallow a significant tax increase with the hope and faith that their insurance costs will go down as much or more. But no Democratic nominee for president has campaigned on raising middle-class taxes since Walter Mondale in 1984, who won one state that year. The red skein running through Democratic presidential bids for a generation has been to raise taxes on wealthier Americans to pay for expanded social programs. Sanders would have the middle class pay more in exchange for bigger benefits. Will they buy that?
It's remarkable that the ideas that progressives championed just a few years ago, such as the public option—a government-sponsored, nonprofit health care choice that was proposed and rejected as part of Obamacare—have been sent to the scrap heap along with other expansions of the ACA framework.
Ironically, all of this comes while there is some incremental progress on health care in the wake of the Republicans' calamitous summer of failing to repeal Obamacare. The leaders of the Senate Finance Committee, Republican Orrin Hatch of Utah and Democrat Ron Wyden of Oregon, agreed this week on a plan to fund the wildly popular sCHIP, or State Child Health Insurance Program, for another five years. At the Health Education Labor and Pensions Committee, or HELP, the Republican chairman, Senator Lamar Alexander of Tennessee, and Senator Patty Murray of Washington are (shockingly) looking at ways to stabilize the insurance markets to keep choices available to consumers under the ACA. While Sanders and progressives are swinging for the fences, other pols are aiming for singles and doubles.
So far, the record in the states when it comes to single payer is not overly encouraging. In 2014, Vermont, Sanders's home state, had to give up on its single-payer aspirations when it became clear that it would require almost a doubling of tax revenue. "It is not the right time for Vermont" to pass a single-payer system, Democratic Governor Peter Shumlin acknowledged in a public statement at the time. Somehow, the 11.5 percent payroll assessments on businesses and sliding premiums up to 9.5 percent turned out to be too heavy a lift, too dangerous for the state's economy.
In California, the single-payer idea has divided the Democratic Party, with the Assembly speaker, Anthony Rendon, getting death threats after shelving a single-payer bill that was more symbolic than anything, because the state's notorious public referendum system would have required taking it to a vote of the people. David Dayen, a progressive advocate for universal care, noted, "The bill's chief backers, including the California Nurses Association and the Bernie Sanders-affiliated Our Revolution, angrily point to Rendon as the main roadblock to truly universal health care…. They're completely wrong. What's more, they know they're wrong. They're perfectly aware that SB562 is a shell bill that cannot become law without a ballot measure approved by voters."
Joshua Holland, writing in progressive magazine The Nation, got a lot of blowback for his reporting and analysis that weighed how hard it would be to pass single-payer. He noted that there are other ways to get to the promised land of universal coverage. "Rather than making Medicare-for-All a litmus test, we should start from the broader principle that comprehensive health care is a human right that should be guaranteed by the government—make that the litmus test—and then have an open debate about how best to get there," he said.
The Sanders bill is a milestone, a galvanizing event for Democrats, but it's not the end of debate in the party. It is just the beginning.
President Barack Obama has said often that single-payer might work if you were starting de novo. He told Vox just before he left office, "If I was starting from scratch. I would have supported a single-payer system, because it's easier for people to understand and manage…. But that wasn't available. We weren't starting from scratch. So what did I then do? We said, What's a system out there that seems to be providing coverage for everybody that politically we could get through a Congress, which we can get Republican support?"
He came up with the Affordable Care Act, and Democrats and progressives have shed blood to keep it. Are they ready to give it up?