The cases of 11 women and a fetus found dead in Albuquerque, New Mexico, continue to remain unsolved after 13 years, prompting some to wonder if a serial killer is still out there.
The first bone was found by a dog walker, leading to the discovery of what would be the "The West Mesa Bone Collector" case, the largest homicide case in Albuquerque's history. The discovery of the first bone, a femur, was made in February 2009 at a site in West Mesa near 118 Street SW, according to A&E.
Over the next year, the bones of 11 girls and women who disappeared between 2003 and 2005 were found by the Albuquerque Police Department. A&E reported that the group burial indicates a serial killer.
Authorities gathered at the site where the first bone was found to mark the 13th anniversary on February 2, 2022, the Associated Press reported.
The police department says it is still receiving tips from the tip-line database. They have had over 1,184 tips documented to date. The police also have a task force investigating the unsolved cases.
"13 years is a long time to wait for justice and we are committed to finding answers for all the families who lost loved ones to this tragedy," Police Chief Harold Medina said.
The police mentioned there are eight other women that remain missing that have backgrounds similar to the women found at the site. Two extensive searches were conducted in 2018 to find the missing women. One was based on a tip and used ground-penetrating radar. The other was done close to the original site which was determined to be an ancient burial ground. Another search was done off a tip to the task force in 2021.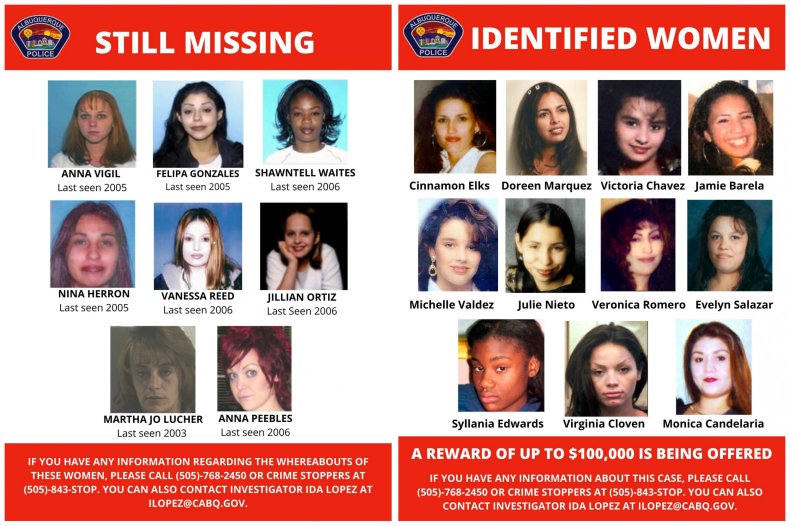 Ten of the victims have connections to drugs and prostitution, while the eleventh victim has no known ties, police said. Around 200 women with arrest records for drugs and prostitution have been interviewed for the investigation.
Regardless of their involvements, though, these women were loved.
"These women were loved, each one has a unique story and their families want answers, and we are dedicated to finding those answers," said Investigator Ida Lopez.
The 11 victims' names are Monica Candelaria, Victoria Chavez, Virginia Cloven, Syllannia Edwards, Cinnamon Elks, Doreen Marquez, Julie Nieto, Veronica Romero, Evelyn Salazar, Michelle Valdez, and Jamie Barela, according to the police.
There is a maximum reward of $100,000 for information that leads to an arrest and successful prosecution in the unsolved cases, police said.
"These women and their families have not found justice and we hope today's remembrance will help bring new tips and information to help this ongoing investigation," Albuquerque City Councilor Klarissa Pena said.