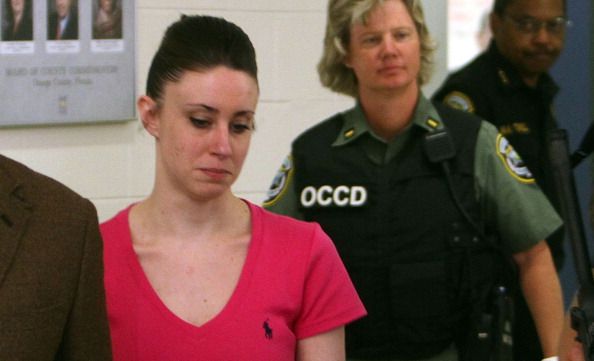 Casey Anthony is mentally ill and may have blacked out during a seizure when her daughter, Caylee, died, her parents claim in an explosive new interview that delves into the notorious 2011 trial and its aftermath.
Anthony's parents, George and Cindy, say they still see the dead 2-year-old Caylee in their Orlando, Florida, home and talk to her, telling Crime Watch Daily host Chris Hansen that one morning the brown-haired toddler woke them up.
"She was tapping [me with] her little finger like she used to do," George Anthony told Hansen. "That's not an imagination. That's love and that's a connection that I wish more people could have."
Caylee went missing in 2008, but Anthony didn't notify authorities until a month later. She was arrested on a number of charges, including first-degree murder, but she was acquitted in 2011 of the serious charges in a trial that gripped cable news television. Anthony was found guilty of several misdemeanors, including lying to authorities.
The charge fueled critics, who over the years have insisted that Anthony was responsible for her daughter's death. The case is similar to that of O.J. Simpson, who was acquitted in 1995 but whose verdict still divides the nation.
Simpson was later found guilty of kidnapping and robbery after trying to get back some of his memorabilia from a Las Vegas hotel room in 2007.
He was recently released from prison, and the timing of his release and Casey Anthony's first-ever interview, where she talked about her fascination with Simpson, caused many to wonder whether the pair were debating a reality show.
Her parents told Crime Watch Daily they would sue if she sold her story or went on a reality show with the former football star.
Anthony's mother, Cindy, said Anthony would often have seizures and blackout.
She said most times, Anthony wouldn't even know she had a seizure unless she bit her tongue. "I think Casey is mentally ill. I really do," she told Hansen, adding that after one seizure, "she didn't remember anything. She had wet the bed. I told her. I had to tell her everything that had happened to her."
She said she believes the day Caylee died, her daughter may have had a seizure, "blacked out and found Caylee" dead in the pool.
The interview also touched on the attempted suicide of Anthony's father, George. He told Hansen he felt guilty and just wanted to be with his granddaughter.
"I didn't feel I did enough to go find her," he said. "I wanted to be with her. Even to this day, I feel she should be here, not me."
He hasn't been close with Anthony since Caylee's death. When asked if he had anything to say to his daughter, he had a fierce message.
"Stay away. Stay away from me," he said. "If she wants to have a relationship again with her mom, she's got a lot of explaining to do, but I don't want to hear another word from her. I don't want to see her."