Casey Anthony To Release Movie About Life After Caylee: 'Yes, I Drank and Carried On Like Nothing Happened'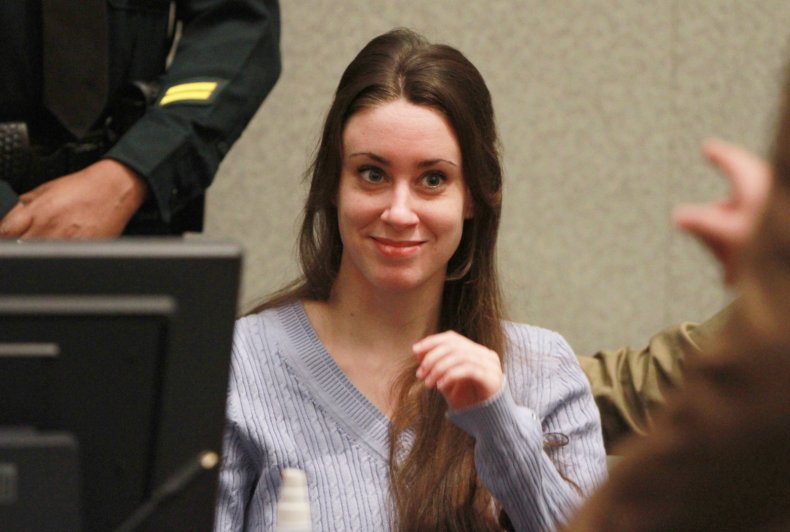 Casey Anthony, who was once accused of murdering her toddler, is working on a film that depicts her life after Caylee's death. Anthony, who was notorious for publicly partying instead of mourning, explained those wild moments will be featured, in addition to her murder trial, where she was ultimately acquitted.
Anthony said the movie will be called As I Was Told, in a conversation with The Daily Mail on Thursday. She claimed the movie, which promises both legal and erotic content, could premiere as early as next year.
The conversation also explained the title of the film, which comes from Anthony's failure to report her daughter missing. "Yes I drank and carried on like nothing happened," she said of her decisions after Caylee's death. "The movie is called As I Was Told because I'd done what I was told to do. I had to put on a fake persona throughout those 31 days."
Anthony said a man who found Caylee's body in a trash bag told her to continue with her life as normal, and to pretend she didn't know of Caylee's death. According to Anthony, Caylee's body was wet as if she had drowned. The man apparently told Casey he would "take care of it."
As for if she would have gone to the police without the nameless man's idea, Anthony answered: "I should have taken reign and done what I felt I should have done no matter who it hurt. My life was in others' hands from beginning to the end."
Anthony has been known as one of America's most hated mothers, and though she was not convicted of Caylee's death, many still speak of her possible guilt. She's been the subject of more than a handful of true crime documentaries, some in which her parents have been vocal about their views.
Both of Anthony's parents, Cindy and George Anthony, reported to the police and publicly, that Anthony's car smelled like a dead body had been in it. The parents have told their story to many outlets, which explains Anthony told them Caylee's babysitter had taken her for a full month, and she couldn't find them, according to A&E.
While both of her parents think Anthony was involved in Caylee's death, they have different ideas of what happened.