Casey DeSantis, Wife of Florida Governor, Diagnosed With Breast Cancer
Florida Governor Ron DeSantis announced that his wife and First Lady of Florida, Casey DeSantis, has been diagnosed with breast cancer.
"I am saddened to report that Florida's esteemed First Lady and my beloved wife has been diagnosed with breast cancer," the governor said in a Monday statement. "As the mother of three young children, Casey is the centerpiece of our family and has made an impact on the lives of countless Floridians through her initiatives as First Lady."
"As she faces the most difficult test of her life, she will have not only have my unwavering support but the support of our entire family, as well as the prayers and well wishes from Floridians across our state. Casey is a true fighter, and she will never, never, never give up," DeSantis said.
The governor's 41-year-old wife is a former producer and television show host for the PGA tour. The couple, who married in 2010, share three children: 4-year-old Madison, 3-year-old Mason and 18-month-old Mamie.
The first lady, who hails from Troy, Ohio, is also a three-time national champion equestrian and runner-up Division 1 NCAA champion.
Upon hearing the news, several politicians sent their well wishes, including Republican Representatives Madison Cawthorn and Kat Cammack.
Democrat Nikki Fried, who is running against DeSantis for governor in 2022, also sent a message of support for Casey, tweeting "Our hearts are with Florida's First Lady Casey DeSantis and her family. We are all praying for you!"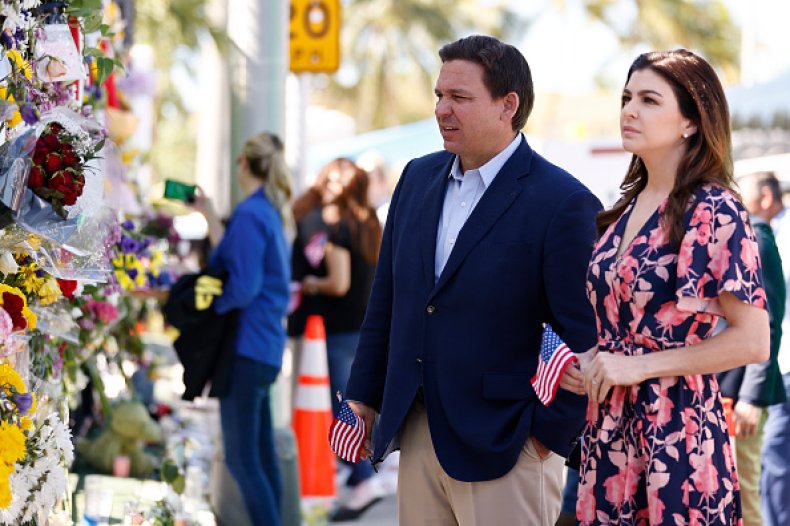 The news comes four days into October, which is breast cancer awareness month.
On Friday, the White House was illuminated in pink to honor breast cancer survivors, those who lost their battles and those currently going through treatment.
October also acts as an annual reminder for women to get screened for breast cancer. Early detection has been shown to be critical in saving the lives of many.
Last month, Senator Amy Klobuchar of Minnesota also revealed she had undergone radiation treatment earlier this year after being diagnosed with stage 1A breast cancer.
In the announcement, Klobuchar encouraged many people who may have delayed routine health exams because of the pandemic to see their doctors.
"It's easy to put off health screenings, just like I did. But I hope my experience is a reminder for everyone of the value of routine health checkups, exams, and follow-through," she wrote in a Medium post. "I am so fortunate to have caught the cancer at an early enough stage and to not need chemotherapy or other extensive treatments, which unfortunately is not the case for so many others."
DeSantis' office has not released any details on the stage of the first lady's cancer or where she will be treated.