'Cash Me Outside' Girl Bhad Bhabie Explains How She Made $50m
Rapper Bhad Bhabie has claimed that she is now sitting on a $50 million fortune, six years after becoming a viral sensation for her appearance on Dr. Phil.
The 19-year-old, real name Danielle Bregoli, shot to fame when she sat down with Dr. Phil McGraw as a guest on a 2016 episode titled "I Want To Give Up My Car-Stealing, Knife-Wielding, Twerking 13-Year-Old Daughter Who Tried To Frame Me For A Crime."
During the episode, Bhabie claimed that she stole cars and credit cards, and when she was vexed by the live audience's laughter, she referred to them as "hoes," before challenging them to a fight as she said: "Cash me outside, how 'bout dah?"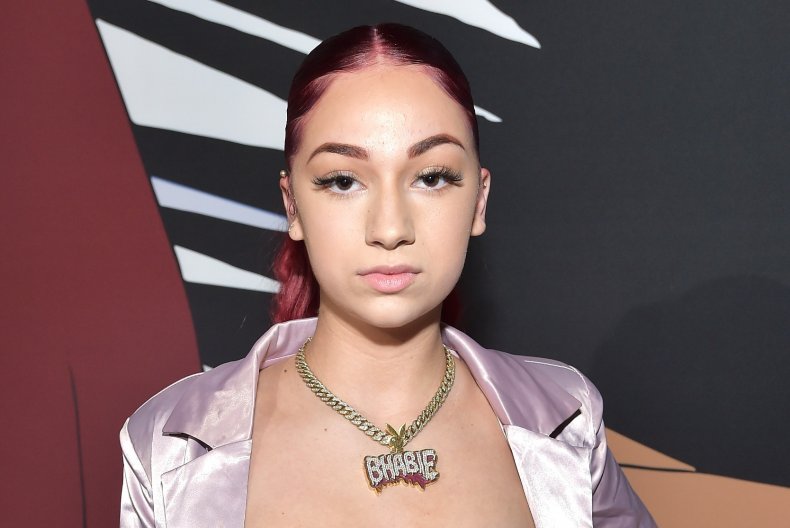 And while she has repeatedly been referred to as the girl who uttered the term on Dr. Phil's show, the "Hi Bich" hitmaker said she now wishes to be celebrated for her own accomplishments since appearing on the infamous episode six years ago.
Speaking in a video shared by TMZ this week, she said: "It's not something that I'm so in love with being the girl who got famous for being on Dr. Phil and saying some crazy s***. No, that's not how I feel!"
"Call me the f***ing youngest female of the decade to go platinum. Call me some s*** like that," the "Gucci Flip Flops" rapper went on. "Call me the Gucci f***ing Flip Flop girl, the Hi Bich girl, the girl who got a million-dollar makeup deal!"
She then shared a claim about her fortune, as she expressed a wish to also be referred to as "the girl who made over f***ing $50 million on OnlyFans!"
While it is unclear whether Bhabie's fortune has actually reached the heights of $50 million, she did rake in more than $1 million in just six hours after launching her OnlyFans account just over one year ago.
The account debuted days after she turned 18.
OnlyFans is popular with adult film stars, who can charge their fans for exclusive content that would normally be seen as too risqué for Instagram. Bhabie last year told Variety that she appears scantily-clad on the site and only shows what she's "comfortable with."
Newsweek has contacted representatives of Bhabie and OnlyFans for comment.
Whatever the balance in her bank account, Bhabie appears to be living decidedly comfortably, as she last month paid $6.1 million in cash for for mansion in Boca Raton, Florida, according to the New York Post.
The publication reported that the 9,200-square-foot home, which sits on an acre of land, boasts seven bedrooms and seven bathrooms, as well as a two-story guest house, an outdoor Jacuzzi area, a billiard/club room, and a dry sauna.
She is also reported to own a five-bedroom, seven-bathroom property in the same neighborhood. It is said to have been placed on the market for $3.67 million.
A Variety article published last year stated that Bhabie had earned upwards of $2 million for product placements in her videos and online endorsements for popular fast fashion retail company Fashion Nova.
At the time, it was reported that was also pulling in $40,000 a post to Snapchat. She currently has more than 16 million followers on Instagram and over 7.5 million subscribers on YouTube.
Her videos have been streamed more than one billion times.
Adding to the tally of income streams are the nail, beauty and hair products bearing her name.
Bhabie told Variety of her finances: "My main business manager, who's been with me since I was like 15, when my mom had control of everything, tells me, 'Everyone thinks that you're going to blow it, but I think you're going to do great.'
"And when I turned 18, I started making so much money when I started doing OnlyFans. And when I say making money, I mean, I could retire right now if I wanted to."