Santa Barbara is dripping with oil. Walk along the beaches of this Southern California city and chances are, tar will stick to your feet from the natural seeps. In 1896, due west of the waterfront, the world's first experiment in offshore drilling unfolded in the Summerland oil field. A half-century later, Congress passed the Submerged Land Act, which established that states regulate everything within 3 nautical miles of the shoreline. Beyond that, it's federal territory. The first federal lease, about 8 miles off Carpinteria, was sold to Phillips Petroleum, Continental and Cities Service Oil Co. in 1966; two years later, 2,000 gallons of crude leaked from the platform that Phillips Oil built on the lot. Phillips and then-Secretary of Interior Stewart Udall assured angry residents that a spill of that magnitude would never happen again.
It turned out to be an empty promise. In 1969, about 3 million gallons of oil oozed from the nearby field of another consortium, spreading across 35 miles of the beach and 800 square miles of the Pacific Ocean. At a time when there was very little federal environmental regulation for offshore drilling, it took months to cap the blowout. The drilling explosion was so powerful that it cracked the seafloor in five places. Thousands of birds, seals and dolphins were poisoned and died, and the tourism-dependent coastal region was devastated economically. In 2015, Santa Barbarans relived their worst nightmare when an All-Plains American pipeline broke and slathered Refugio State Beach. More than 20,000 gallons of crude fouled the ocean.
President Donald Trump has been clear about his desire to increase offshore drilling, and on April 25 Interior Secretary Ryan Zinke announced that "nothing is off the table"—even the Pacific. He told guests at a private event for the Young America's Foundation at the Reagan Ranch Center in Santa Barbara that offshore drilling in the federal waters off California would soon increase. On April 28, Trump signed an executive order that revokes limits on offshore drilling in the Atlantic, Arctic and Pacific oceans. He has instructed Zinke to review the five-year plan imposed by President Barack Obama that blocked the sale of new federal leases in California waters until 2022.
Most of the oil reserves off the West Coast are in the Santa Barbara Channel. The Trump administration is fast-tracking the application process for new lease sales off the coast of Santa Barbara, the very place where oil spills first led to the expansion of federal protections for the environment. Perhaps most galling to Santa Barbara environmentalists: Trump and some members of his Cabinet have deep financial ties to the area's energy industry, which has invested huge sums to consolidate its influence in the state.
This is shaping up as a pivotal moment for oil companies that do offshore business in Santa Barbara. Though oil has fueled U.S. politics for more than 100 years, climate change and safety legislation have limited production. After 1969's massive oil spill off Santa Barbara, President Richard Nixon established the Environmental Protection Agency (EPA), the National Oceanic and Atmospheric Administration and the Occupational Safety and Health Administration. In 1971, the Senate introduced what would eventually become the Clean Water Act. The Southern California coast has been under federal and state protection ever since, and during Obama's last term further limits were imposed. But in the Trump era, old rules often no longer apply. The oil industry, which last year spent about $40 million lobbying California politicians, this year bankrolled much of Trump's $107 million inauguration. Now Big Oil is looking to strike it rich out West like it's 1876—the year the California oil boom began.
Offshore drilling boom?
It's been 30 years since the last lease was officially approved. Today, there are 43 active leases in federal waters off California. A month after Trump was elected, Exxon Mobil applied for a new one in the channel. Zinke's Interior Department continually updates the list of lease candidates, and many of those candidates can also be found on Trump's 2016 stock portfolio disclosure. One of them is Exxon Mobil, which until this past January was run by Rex Tillerson, Trump's secretary of state. Others include Freeport-McMoRan, a mining company in which Trump adviser Carl Icahn holds 91.2 million class B shares, and Noble Energy, where Trump energy appointee Michael Catanzaro was a lobbyist.
William Koch's Harvest Energy and his brothers' Koch Industries have all shown interest in building or leasing pipelines in the Santa Barbara Channel. William Koch is a paying member of the Florida White House resort Mar-a-Lago and threw Trump fundraisers last year, though Charles and David Koch publicly campaigned against Trump during the election. This year, they've warmed up to him. The Koch brothers lobbied feverishly in a successful effort to have Oklahoma anti-EPA crusader Scott Pruitt appointed head of the EPA and have already spent more than $3 million this year lobbying against environmental policies like the Clean Air Act. Before the last election in California, the Koch-funded organization Americans for Prosperity ran a 15-city " Already Taxed to the Max" campaign against new taxes in the state budget. It worked. The Koch brothers co-own active oil rigs north of Santa Barbara in an area that Obama designated a national marine sanctuary for the native Chumash tribe. (Devon Energy, Exxon Mobil, Freeport-McMoRan and others also own active wells in the area.) Trump's latest offshore drilling order also prohibits the designation or expansion of a national marine sanctuary, unless it "includes a timely, full accounting from the Department of the Interior of any energy or mineral resource potential in the designated area."
Environmentalists are fighting back. When Exxon Mobil applied for a new lease last year, the Environmental Defense Center and the Center for Biological Diversity filed a lawsuit challenging the federal government, which failed to meet the legal requirements for environmental analysis. Recently, the American Petroleum Institute and DCOR LLC have officially signed on with Exxon Mobil as defendants. Center for Biological Diversity attorney Kristen Monsell calls the lack of federal programs to study the risks of offshore fracking "doubly disturbing." According to her, every offshore frack "increases the risk of poisoning our ocean, and that danger could now spread along our coast if the Trump administration opens up waters off California to new oil and gas leasing."
More troubling: To increase drilling, oil companies aren't always required to apply for new leases. Recent technology allows operators with existing leases to slant-drill from platforms already in place to create more wells. Even under the Obama administration, the feds didn't have a great record. Documents obtained by the Environmental Defense Center from a Freedom of Information Act request reveal that federal regulators were clueless about where offshore drilling happened or how the process worked. The EDC accused two federal agencies under the Department of the Interior of issuing 53 permits for offshore fracking without conducting an environmental analysis or giving any public notice after the 2015 pipeline spill.
Republican administrations have a history of cozying up to big oil. In 2008, The New York Times reported that under President George W. Bush, Department of Interior employees were "caught up in a wide-ranging ethics scandal—including allegations of financial self-dealing, accepting gifts from energy companies, cocaine use and sexual misconduct." The chief attorney for the scandalous department was David Bernhardt, who later became a California water lobbyist during the drought. Trump tapped Bernhardt to lead the hiring of Interior staff during his transition. Bernhardt is now the Interior deputy secretary.
Of all the petroleum and energy companies that helped fund Zinke's congressional campaigns, his biggest donor has been Fidelity National Financial, which has a subsidiary that underwrites the title insurance policies for offshore oil leases. Bill Foley, the company's billionaire chairman, is a Santa Barbara local. Foley also owns Fidelity Environmental Solutions, which has patented fracking technology. Trump's new tax assistant Shahira Knight was the vice president of Fidelity National Financial, which The New York Times dubbed a "foreclosure machine" in 2008.
Offshore oil in Santa Barbara is also personal to Zinke. His wife, Lolita, a Breitbart op-ed writer and fellow Trump administration staff member, grew up in Santa Barbara's mission area after the big spill. During the 1960s, her late half-brother, Fred Hand Jr., worked at Phillips Petroleum—the first oil company to spill offshore, in 1968, before the Union Oil disaster in 1969. Last year, Zinke helped fundraise for Justin Fareed, a Santa Barbara Republican congressional candidate who had one of the most expensive House election races in the country. In a political gaffe, Zinke sent out invitations to a Fareed fundraiser with Paul Ryan that asked guests to "the home of Ryan and Lolita Zinke" in Santa Barbara. It became a scandal in Zinke's home state of Montana because it implied that the congressman was living in California, an impression strengthened when Democrats revealed that one of his two Montana addresses was a bed-and-breakfast. Fareed ended up losing Santa Barbara to Democrat Salud Carbajal, who introduced two House bills this year to protect waters from offshore fracking.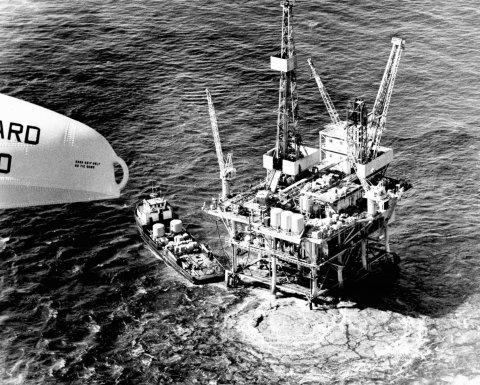 While working in the Montana's Senate, Zinke consulted and invested in a Santa Barbara pipeline technology company called Save the World Air. According to its Securities and Exchange Commission filings in 2013, after Zinke helped with official introductions, Save the World Air entered into a lease agreement with energy company Kinder Morgan for the Dakota Access pipeline, which Zinke has long championed.
For some Trump supporters in Santa Barbara, the imperative is energy independence. "The Southern California oil reserves are worth a minimum of $750 billion," says Jim Nelson. "Probably a lot more." Nelson is a former Helix Energy exec who serves on the board of a Santa Barbara research company that pushes information on the dangers of natural seepage and the environmental benefits of increased offshore oil well production. "The more drilling production increases," says Nelson, "the more seepage decreases." While Nelson agrees that spills can do damage, he insists that the technology has become so advanced and environmental regulations so strict that disaster couldn't happen again. He says that more drilling will help California's gas prices go down and school funding go up.
Nelson has numerous conflicts of interest with oil companies. He says he's also served on the boards of Quintana and Genesis Energy. Both are fuel companies associated with billion-dollar Dallas petroleum heir Corbin Robertson Jr., who has invested $ 950 million in coal and oil reserves. According to an exposé by Wall Street Journal energy journalist Steven Mufson, Robertson once invested in Montana coal mines and then created a tax-exempt nonprofit called Plants Need CO2 to secretly fund TV commercials in the state that said "there is no scientific evidence that CO2 is a pollutant." Five years after the commercials aired, Zinke said during the Montana congressional debate: "Evidence strongly suggests that humans have had an influence on higher CO2. However, the evidence is equally as strong that there are other factors, such as rising ocean temperatures, that have a greater influence." Zinke earned a geology degree from the University of Oregon, at a time when the Western Fuels Association was filling University of Oregon libraries with anti-environmental, pro-carbon dioxide love letter documentaries (now on YouTube ). The overworked librarians filed them with the given description: "the most misunderstood environmental phenomenon of the 1980s."
In April, Zinke spoke at the Reagan Ranch Center in downtown Santa Barbara. Activists gathered in the parking lot, chanting, "This is what democracy looks like!" and brandishing signs reading, "Keep Oil Out!," among other things. Some signs—perhaps left over from the 1960s—bore images of a tar-soaked seal pup.
On the same day that Zinke appeared at the Reagan Ranch Center, an offshore rig in state waters named Holly shut down—maybe for good. Venoco, the drilling company that operated the platform, declared bankruptcy and abandoned the rig. Santa Barbara County Supervisor Das Williams blames the bankruptcy on the compliance failure of All Plains American, the subcontractor that was indicted on 46 criminal charges last year for causing the Refugio oil spill after failing to follow environmental guidelines. "Don't these oil companies see the irony?" asks Williams. "Venoco actually went out of business due to the lack of environmental regulation."