Cashing In on Michael Jackson's Death Anniversary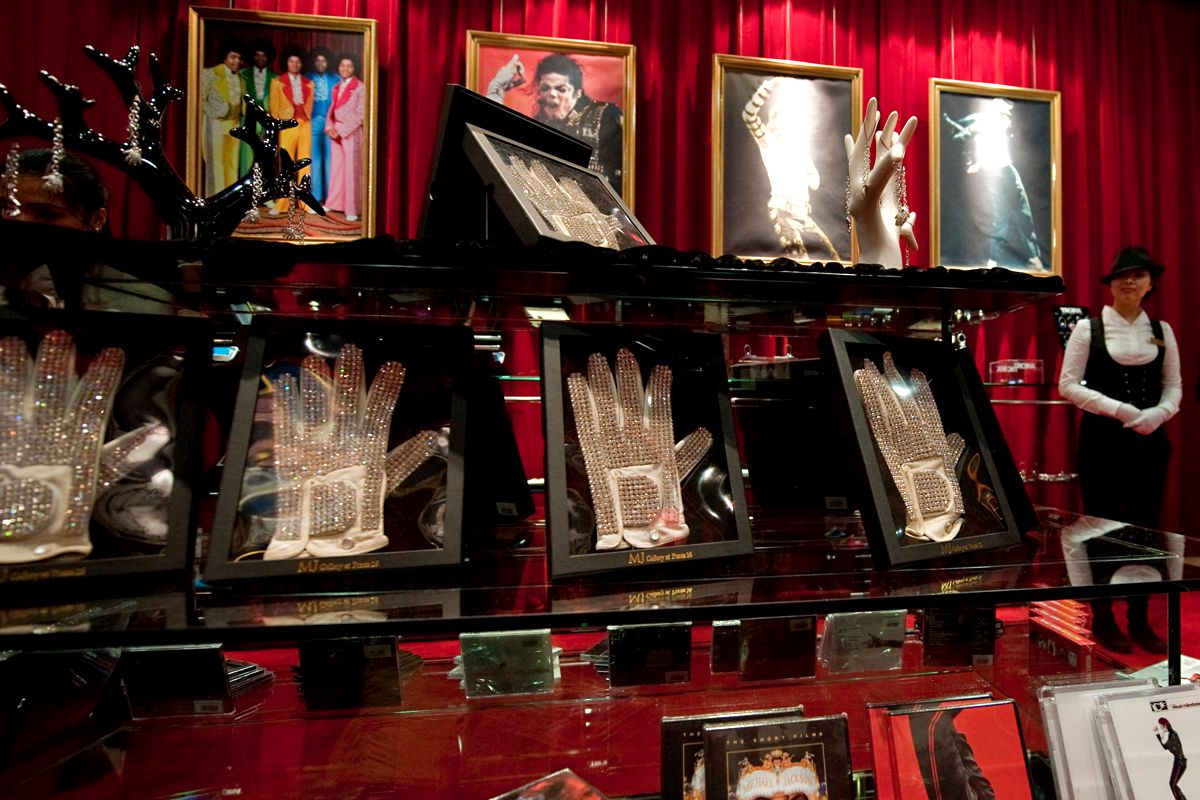 They say that getting over a death means learning to adjust to life in a world without the person who's gone. But even though it's been a year since Michael Jackson's sudden death at the age of 50, the world doesn't seem any less inhabited by the King of Pop than it was before. Jackson fans will likely find some comfort in the fact that the musician's legacy lives on strong in books, on television, at the movies, and in concert halls. This month especially, as fans pour out their love for Jackson on the one-year anniversary of his death on Friday, there's an M.J. fix for everyone. Here's our guide to a select handful of the latest Jackson tributes and exposés, and even a tell-all documentary about his pet monkey.
For the art aficionado:
Henry Leutwyler, who has photographed celebrities and their possessions for high-profile magazines including Vogue and Vanity Fair, presents an exhibition of "taxonomic portraits" of Jackson's personal items and pieces of his stage costumes. "Neverland Lost," on display at Los Angeles's M+B Gallery through Aug. 14, includes photographs of Jackson's iconic white glove, his rhinestone-studded dancing shoes, and other possessions, to which Leutwyler gained access when they were set to be auctioned off from Jackson's Neverland ranch not long before his death. Can't make it to L.A.? No problem. Just check out the hardcover monograph of the exhibition.
For the film buff:
One month after Michael Jackson's death, Ian Halperin's biography of the king, titled Unmasked: The Final Years of Michael Jackson, skyrocketed to the top of the New York Times bestseller list. Now Halperin (who predicted in December 2008 that Jackson had six months to live) returns with a two-hour documentary TV special about the end of Jackson's life. Gone Too Soon airs on the TV Guide Network Friday night and features interviews with Jackson's personal manager, attorney, spiritual adviser, and hairdresser (because, as we all know, celebrities tell their hairstylists everything).
For the classical-music lover:
The symphony orchestra concert hall is, generally speaking, not a place for crotch-grabbing and singing about possible illegitimate children (ahem, "Billie Jean"). Even so, the Baltimore Symphony Orchestra is planning a Michael Jackson Tribute at Baltimore's Joseph Meyerhoff Symphony Hall on July 15.
For the bookworm:
Esteemed music and culture critic Nelson George is out with a new book, Thriller: The Musical Life of Michael Jackson, which will give even those fans who've read all there is to read something new to dig into. Read Joshua Alston's review of the book here.
For the animal lover:
Michael Jackson and Bubbles: The Untold Story, an original documentary about M.J.'s much-loved pet chimpanzee, aired on Animal Planet Tuesday night. Animal Planet really went all the way on this one, treating Bubbles to the full-on celebrity "true story!" treatment. Bubbles, who was frequently seen riding on Jackson's shoulder or eating candy in his Neverland movie theater, lived with Jackson from the early 1980s until 2003, by which point he had matured into a difficult-to-handle adult chimp. Animal Planet reporters set out to discover where Bubbles is now, tracking him down to a Florida sanctuary for apes who have retired from show business—apparently monkey stars like to retire to Florida just like the rest of us. The show includes candid footage of Michael's sister LaToya's tearful reunion with Bubbles through the metal bars of his cage. "I want to kiss you, and I want to hug you, but I know I can't because you're so big," LaToya whines. "Do you remember me, Bubbles? Bubbles?" Sadly, the most moving thing about the scene is the fact that Bubbles doesn't really seem to care. Don't worry, LaToya, retirement can make a chimp cranky sometimes.