Russia, Iran, and a handful of other countries made a diplomatic breakthrough on Sunday to solve a dispute that has dragged on for decades.
Leaders from five countries—Russia, Iran, Azerbaijan, Kazakhstan and Turkmenistan—officially signed an agreement to determine the fate of the Caspian Sea, the world's largest body of inland water that's been in dispute since the fall of the Soviet Union in 1991.
Until 1991, the maritime area was shared between the Soviet Union and Iran. But when the superpower split into 15 separate countries, questions emerged over who should control the Caspian Sea's resources, and whether it is actually a sea or a lake.
During the Soviet era the Caspian Sea was considered a lake. After the fall of the Soviet Union, however, the successor countries changed their tune and began calling it a sea. Only Iran argued that it was a lake, and consequently that it could not be ruled the United Nations Law of the Sea.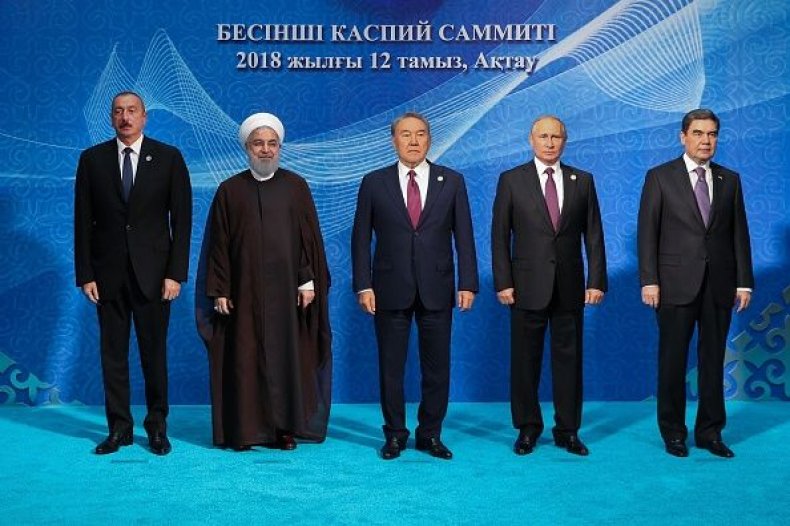 Ultimately, the new agreement signed Sunday was a compromise. It gave the Caspian Sea "special legal status," making it neither a sea nor a lake. All five countries will be permitted to patrol the body of water, and the natural resources found on the bottom of the Caspian Sea—vast reserves of oil and natural gas—will be divided between all five countries.
"The agreement fixes the exclusive right and responsibility of our states for the fate of the Caspian Sea and establishes clear rules for its collective use," Russian President Vladimir Putin affirmed after the agreement was signed.
The murky legal status of the Caspian Sea had derailed several regional pipeline projects that had aimed to bring energy supplies from Central Asia into Europe. The body of water is estimated to hold around 48 billion barrels of oil and 8.7 trillion cubic meters of natural gas. Under the new agreement, new pipelines can be constructed whenever all five countries agree to it. For many observers, Sunday's agreement was a diplomatic breakthrough that could lead to more investment and perhaps even lower energy prices.
But some social media users from Iran lashed out against the deal and accused their President Hassan Rouhani of having sold them out. That is likely because Iran has the smallest amount of Caspian Sea coastline of all five countries.
The final text of the agreement, formally called the Convention on the Legal Status of the Caspian Sea, has not yet been officially released.