Big 1/6 Reveals Ahead, Ex-Aide to Panel Says: 'Hutchinson Was the Bridge'
The January 6 select committee will reveal even more explosive claims than the ones already detailed by Cassidy Hutchinson on Tuesday, according to a former advisor to the panel.
Former Republican Congressman Denver Riggleman said that while the bombshell claims made by Hutchinson during the fifth hearing were significant, her testimony may actually act as a "bridge" towards more damning claims against former President Donald Trump and his inner circle.
Hutchinson, a former aide to White House Chief of Staff Mark Meadows, testified that Trump was aware that some of his supporters were armed on January 6, 2021, and still diverted them towards the Capitol.
Trump is also alleged to have lunged at the steering wheel of the presidential limousine in order to force the driver to take him to the Capitol, where his supporters were storming the building as members of Congress were inside certifying Joe Biden's 2020 presidential election win.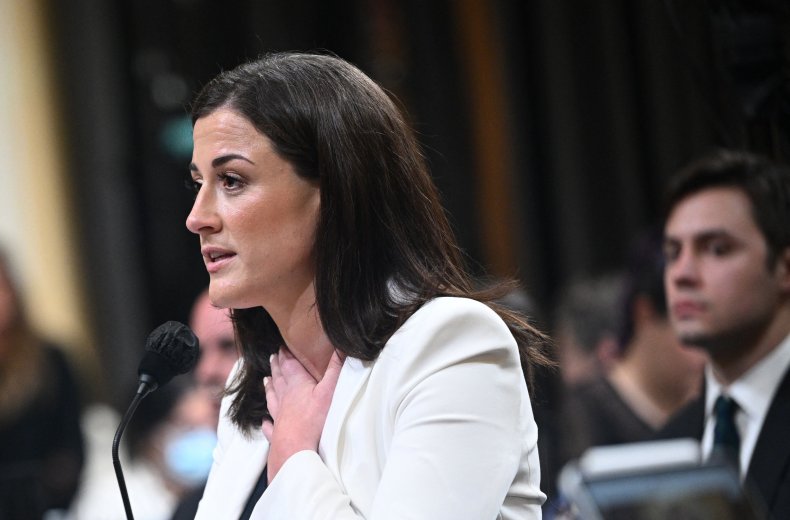 Hutchinson also claimed that Meadows warned her on January 2, 2021 that "things might get real, real bad" four day later. She suggested that Meadows had "almost had a lack of reaction" as the insurrection was unfolding.
Speaking to MSNBC, the former Virginia congressman called Meadows the "Rosetta Stone" of the January 6 investigation and said that more damning allegations about him will come forward in the war of Hutchinson's testimony.
"I don't think the American public has seen anything yet. I actually believe Cassidy Hutchinson was the bridge to the following hearings based on the operational planning and the data the committee still has in its back pocket," Riggleman said.
"Mark Meadows is the most valuable player for the committee. I think it is the Rosetta Stone. He was in the middle of it all. And I think it puts his legal team in a tremendously challenging position."
Riggleman noted that there are still text messages sent by Meadows which have not been made public, and the panel has not fully detailed how far-right extremist groups such as the Oath Keepers allegedly planned their actions on January 6.
Riggleman added that Tuesday's testimony from Hutchinson showed that key members of Trump's inner circle were "trying to satisfy the violent whims of a credulous huckster" in and around the Capitol riot.
"You had an individual at the top of our government that was facilitating or supporter supporting a domestic terrorism event on January 6," Riggleman said. "I know that strong language, but I think people need to look at this for what it was."
Trump dismissed Hutchinson's claims in a series of Truth Social posts during her testimony on Tuesday.
"I didn't want or request that we make room for people with guns to watch my speech. Who would ever want that? Not me!" he wrote.
"Her Fake story that I tried to grab the steering wheel of the White House Limousine in order to steer it to the Capitol Building is 'sick' and fraudulent, very much like the Unselect Committee itself—Wouldn't even have been possible to do such a ridiculous thing," Trump added.