Bill Cassidy Has Open Mind on Convicting Donald Trump, Puts 'Constitution Above Loyalty'
Senator Bill Cassidy indicated on Thursday that he was keeping an open mind on convicting former President Donald Trump on a charge of incitement of insurrection, following his vote to proceed with the trial earlier this week.
The Louisiana Republican told Fox 8 in New Orleans that he wasn't "leaning one way or the other" on impeachment, and that he would be making a decision based on the facts presented over the course of Trump's second impeachment trial.
He added that members of his party should put the Constitution above their loyalty to any one individual, in this case the former Republican president in the hot seat over his actions ahead of the Capitol riots on January 6.
"It isn't that I'm leaning one way or the other," Sen. Cassidy told Fox 8 yesterday. "It's that I am balancing facts, and will make a decision in a Constitutional manner, based on those facts."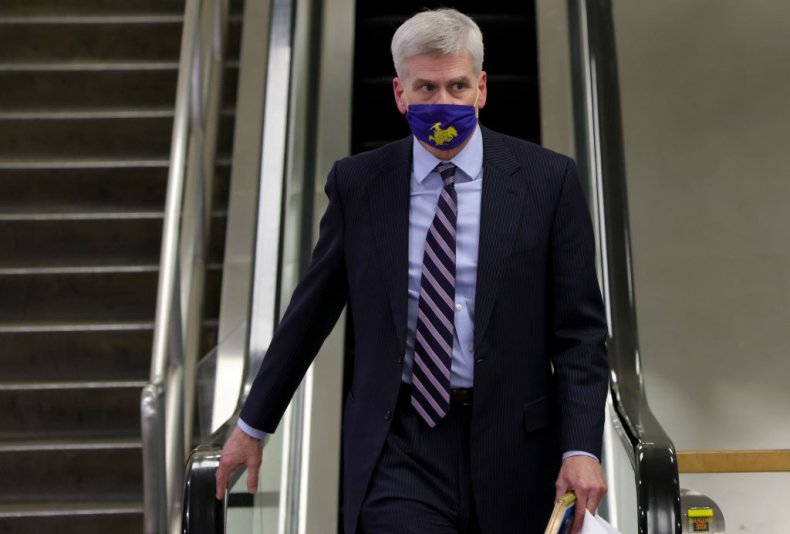 When senators voted on the constitutionality of Trump's trial on Tuesday, Cassidy broke with his party and voted with Democrats on the issue, favoring the view that it was constitutional to put a former president on trial in the Senate.
The move represented a U-turn on his position a few weeks earlier, when he voted against proceeding with the trial after Sen. Rand Paul put forward a motion that sought to block the process on grounds that it was supposedly unconstitutional.
When Paul put forward his motion last month, the Senate split 55-45 in favor of proceeding as five Republicans broke ranks on the matter. Earlier this week, the upper chamber was split 56-44 as Cassidy switched sides.
In a statement explaining his change of heart, Cassidy said: "We heard arguments from both sides on the constitutionality of having a Senate trial of a president who has since left office. A sufficient amount of evidence of constitutionality exists for the Senate to proceed with the trial.
"This vote is not a prejudgement of the final vote to convict. If anyone disagrees with my vote and would like an explanation, I ask them to listen to the arguments presented by the House Managers and former President Trump's lawyers."
The senator has faced a backlash from the Louisiana GOP in the wake of his vote, with the state party saying it was "profoundly disappointed" with the lawmaker's U-turn earlier this week.
"The Republican Party of Louisiana is profoundly disappointed by Senator Bill Cassidy's vote on the constitutionality of the impeachment trial now underway against former President, now private citizen, Donald J. Trump," its statement read.
The Republican Party of East Baton Rouge Parish also censured Cassidy over his Senate vote, calling his actions a "betrayal" of the party and its former president.
Newsweek has contacted Senator Cassidy's office for comment. This article will be updated with any response.