'Castlevania' Recap: What Happened in Season 2 of the Netflix Show?
One year and a half after the last season of the Netflix anime series, Castlevania is back for Season 3, which sees the characters of Season 2 split up after their plot in the last season. That season, streaming on Netflix, saw Trevor Belmont (voiced by Richard Armitage), Sypha Belnades (Alejandra Reynoso) and Alucard (James Callis) team up to kill Dracula (Graham McTavish) after he vowed to wipe men off the face of the Earth when they burned his wife at the stake for being a witch.
What happened in Castlevania Season 2?
As part of this battle, Netflix viewers got to see the working of Dracula's castle, which can teleport according to the vampire's will, for the first time, as well as those who live inside the fortress. Among the new characters we met in Castlevania Season 2 inside Dracula's castle were Forgemasters (the series' version of necromancers) Hector (Theo James) and Isaac (Adetokumboh M'Cormack), two human allies of Dracula with their own reasons for hating their own kind. Also new to Season 2 was Carmilla (Jaime Murray), a former general in Dracula's army with a lust for power.
Years of abuse by humans have left Isaac and Hector traumatised and resentful of humans. Isaac has taken up self-harm in order to keep himself focused, while Hector is working on a plan to harvest humans into vampire food.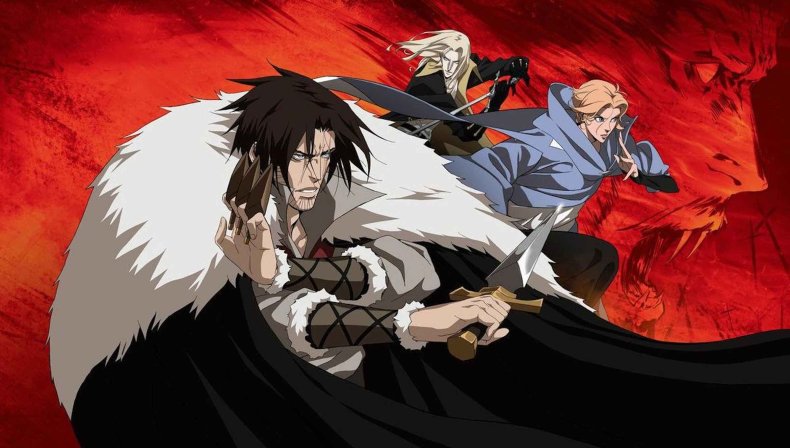 Trevor's plan is to take the castle in order to stop Dracula's campaign against the humans. At the start of this quest, Trevor, Sypha, and Alucard (the son of Dracula) head to the Belmont mansion, where there is an archive full of texts about Dracula and other supernatural monsters. The trio spend most of the eight episodes of Castlevania Season 2 in this library while the show focuses on Dracula.
At Dracula's castle, his generals cannot agree on the best way forward, so the Count assigns Hector and Isaac as the leaders of the campaign. Meanwhile, Carmilla puts her own plan into action.
She tries to persuade Dracula to teleport the castle into a new town as part of her war strategy. In reality, however, she has an army waiting there to take out the count and instil her as the leader of the campaign. She manages to get a crucial ally in this mission after she persuaded Hector to back her plan, though he does not realise her true intentions.
Meanwhile, Trevor and co have developed a plan of their own. They want to trap Dracula's teleporting castle using Sypha's magic, stopping the castle from teleporting away at the first sign of trouble. As she is casting this spell, Alucard and Trevor fight the monsters Dracula has sent to stop them, destroying the Belmont library in the process.
As this happens, Carmilla's plan starts to work, with the castle teleporting to where her waiting army is. Realising he has been tricked, Hector flees the castle, as does Carmilla. While she is away, her army loses, but then Sypha manages to teleport the castle to the Belmont estate and the trio of heroes arrive in the castle for the first time, killing all of Dracula's generals while Dracula teleports Isaac away.
In the battle between the the heroes and Dracula, he initially wins, however, when the battle heads to Alucard's old room. Dracula's hesitation in entering this room and realising he is trying to kill his own son gives that son just enough time to stake his dad through the heart.
After Dracula's death, Trevor gifts what is left of his family library to Alucard, while Trevor and Sypha go off traveling together, ready for their next batch of adventures in Castlevania Season 3.
Castlevania Season 3 is released on March 5 on Netflix.