Heartbreaking Video of Cat in Animal Shelter 'Looking for Her Family' Goes Viral
Footage of a cat in an animal shelter looking forlornly out of the window in search of the owners who gave her up for adoption is breaking hearts online.
The American Society for the Prevention of Cruelty to Animals (ASPCA) estimates that 3.2 million cats enter animal shelters in the U.S. every year. While as many as 2.1 million of those felines will be adopted, many still struggle to find a new forever home.
That's certainly proving the case for Bell, the cat who features in a video posted to TikTok by Gaston County Animal Care & Enforcement. The distressing footage has been viewed 7.3 million times online and can be watched here.
According to the clip, Bell was the only cat left at the facility when the footage was filmed as all of their other cats had been adopted. Surrendered after eight years living with her owners, the change has clearly come as a shock to the distressed ginger moggy.
In the video, Bell is shown hiding in the corner of her living space, under a stool. "She is scared here," an accompanying caption reads as Bell is shown creeping, with uncertainty, over to one of the shelter's workers.
The most heartbreaking detail is to come though as the video cuts to Bell gazing out of the window of the facility as if she is waiting for someone.
A caption explains that she "keeps looking for her family" to no avail.
An upsetting glimpse at the reality facing many older pets handed into animal shelters of this kind, the video touched a nerve for many on social media.
Midnighthxlly wrote: "The fact she's waiting for her family to return breaks my heart." Courageous_onee agreed the footage was "heartbreaking," adding: "I live in California and feel so hopeless for not being able to run and adopt her."
Others were shocked that her owners could simply give her up after eight years together. Cheese Hot Dog wrote: "I will never understand people who don't treat pets as family." MissMindyMMC concurred: "Can people please understand that when you get a pet, it becomes part of your family? And abandoning it is the same as leaving a child behind."
More than anything, however, those commenting were desperate to see Bell's story have a happy ending. As Angela Biggs put it: "She needs a forever home to live out her time."
Thankfully, those wishes have since been granted with Gaston County Animal Care and Enforcement updating fans to confirm that Bell has been adopted and is now enjoying life in a new home with a new loving owner.
Marleah Babcock, the rescue coordinator for Gaston County PD Animal Care and Enforcement told Newsweek the shelter, based in Gastonia, North Carolina, takes in an average 3,500 animals annually.
In 2021 they took in 1,277 cats, including 478 who were surrendered by their owners.
According to Babcock, Bell is now happy with a "wonderful owner who is studying to be a veterinary technician." The shelter partners with a nearby college which offers a veterinary program.
Not only do students benefit from the deal but the shelter's animals also gain access to a variety of procedures, such as dental cleanings and ultrasounds, that the shelter would otherwise be unable to provide. It was through this program that Bell met her new owner.
"Upon meeting Bell she immediately noticed how calm and affectionate she was," Babcock said. "Her new owner claims she is an 'expert biscuit maker.' Bell's sweet nature is what won her over. Bell now also lives with another kitty sibling. They are slowly being introduced but all is going well!" A video of Bell's continuing story can be watched here.
Babcock said they have been "blown away" by the outpouring of love and support for Bell.
"We hope it shines a light on shelter pets and inspires those who were touched by Bell's story to visit their local animal shelters," she said. "We have many animals waiting for their forever home each with their own story."
Bell's rescue comes hot on the heels of another centering on a Persian cat called Percy, from Kansas, who was finally adopted after a local cat cafe's social media call out went viral.
Elsewhere a 12-year-old cat called Hermes, who had been in a shelter for six years, became an overnight celebrity after a video chronicling his journey was posted online.
Meanwhile, this video of a rescue cat called Albert realizing he's "found his forever home" also proved popular on TikTok.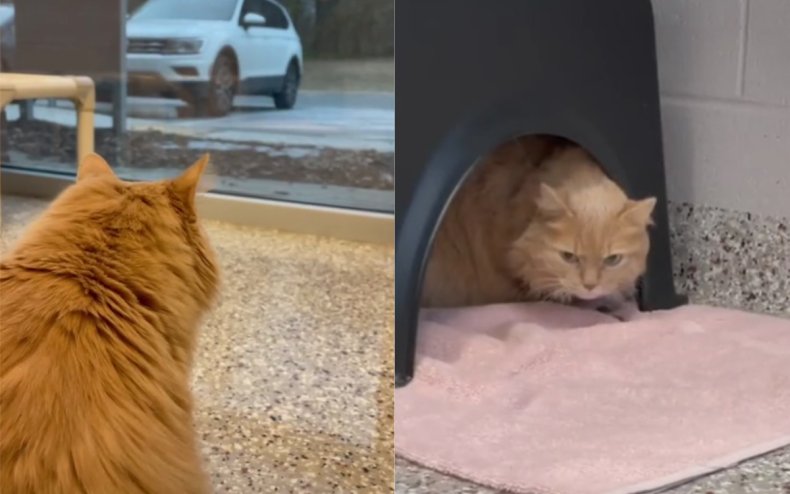 Update 2/9/22, 6:54 a.m. ET: This article was updated with comment from Marleah Babcock.