Cat Interrupts Interview About Poland's Supreme Court Crisis
Cat videos have wooed internet users in recent years, but it isn't too often that the furry felines crash news interviews to provide some levity.
But last week, academic Jerzy Targalski was speaking to Dutch news show Nieuwsuur about the current conflict between the Polish government and judiciary when his large ginger cat, Lisio, decided to make an appearance.
Lisio seemed dissatisfied to merely be a side attraction, so he crawled onto Targalski's shoulders and whipped his tail in the academic's face. Unfazed, Targalski simply brushed the bushy appendage away from his eyes and continued discussing the finer points of the judicial crisis.
If Targalski seems impressively poised, it may be because his cat seems to have a pattern of attention-seeking interjections. While talking with Poland's TV channel Telewizja Republika earlier this month, Lisio crawled behind Targalski to nap in front of the camera.
Social media users applauded Targalski's composure and have since viewed the video posted by Nieuwsuur reporter Rudy Bouma over 1.5 million times and retweeted it 36,000 times.
The crisis between the Polish government and Supreme Court climaxed last week, after the government passed reforms changing the retirement age of the country's Supreme Court from 65 to 70. The move forced over one-third of the current 74 justices to retire while increasing the court's size to 120 justices. Since the government appoints new justices, nearly two-thirds of the court would be composed of new judicial selections.
The changes have been widely criticized as an infringement of judicial independence—as well as an attempt to politicize the court—because the ruling Law and Justice Party (PiS) can fill available seats with judges loyal to the party.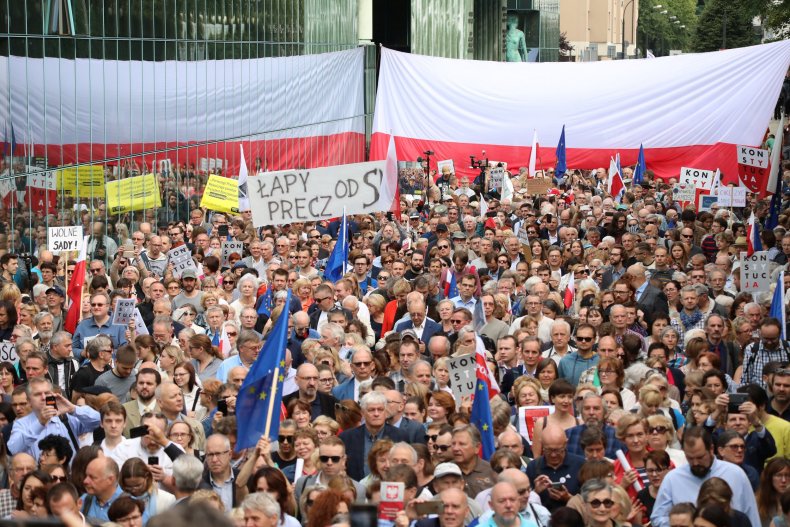 The European Union has previously threatened sanctions over attempts to restructure the judiciary, and the bloc's judicial advisory body voiced concerns about the Polish government's new judicial legislation.
"We're here to express our concerns about the situation, about the independence of judges, independence of the supreme court," said Kees Sterk, chief of the European Network of Councils for the Judiciary, which offers recommendations to the EU executive on how to maintain the rule of law in member countries. The European Commission also referred the case to the European Court of Justice.
First President of the Supreme Court of Poland Malgorzata Gersdorf has publicly condemned the judicial changes. "I want to show that the constitution and the violation of the constitution are two different things," she said to protesters last week, according to the Associated Press. "I still hope that the legal order will be restored in Poland."
This is not the first attempt by PiS to restructure the judiciary. The Guardian reported the ruling party promoted a law last year to purge the Supreme Court of all judges except those retained by the minister of justice.